August 9, 2021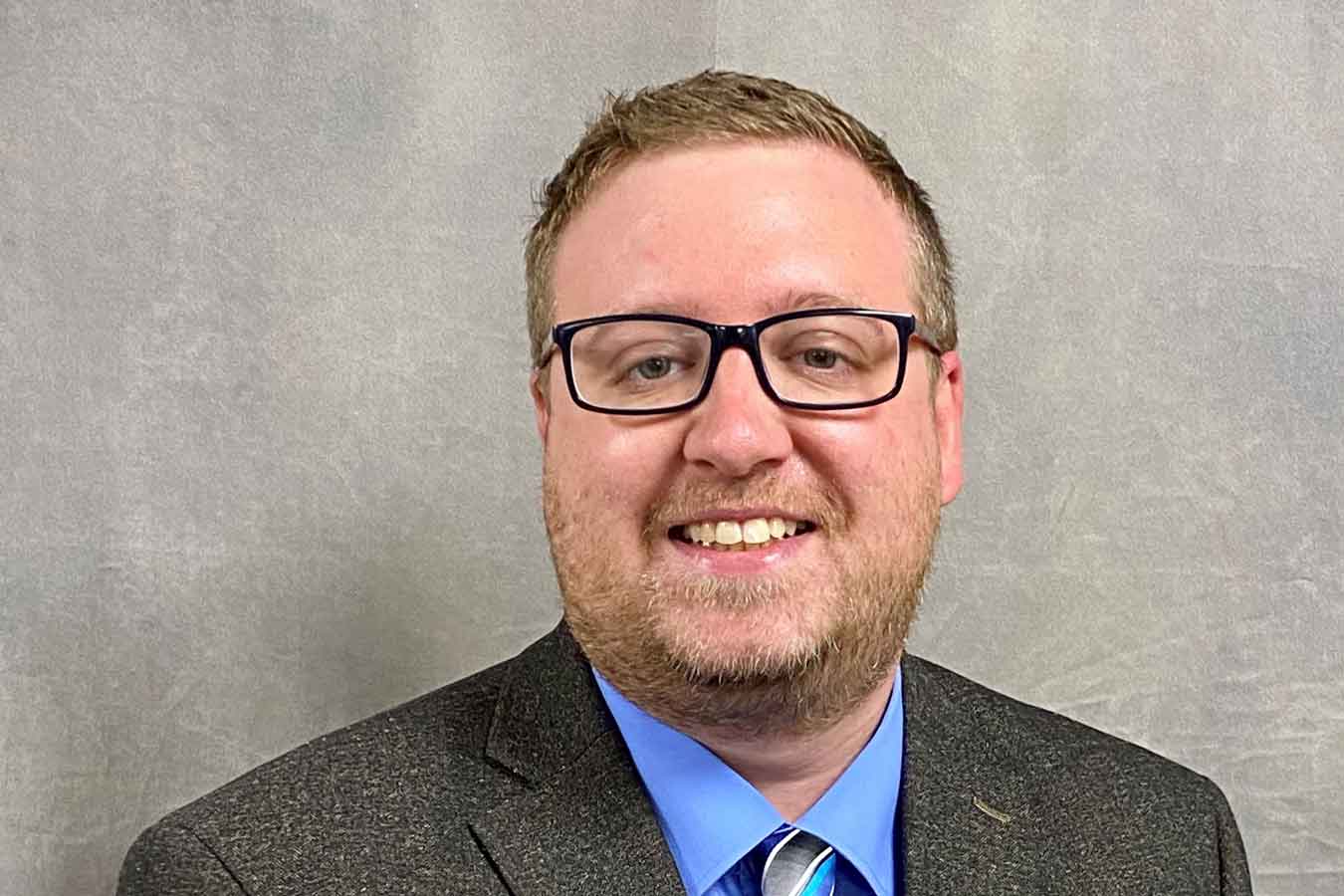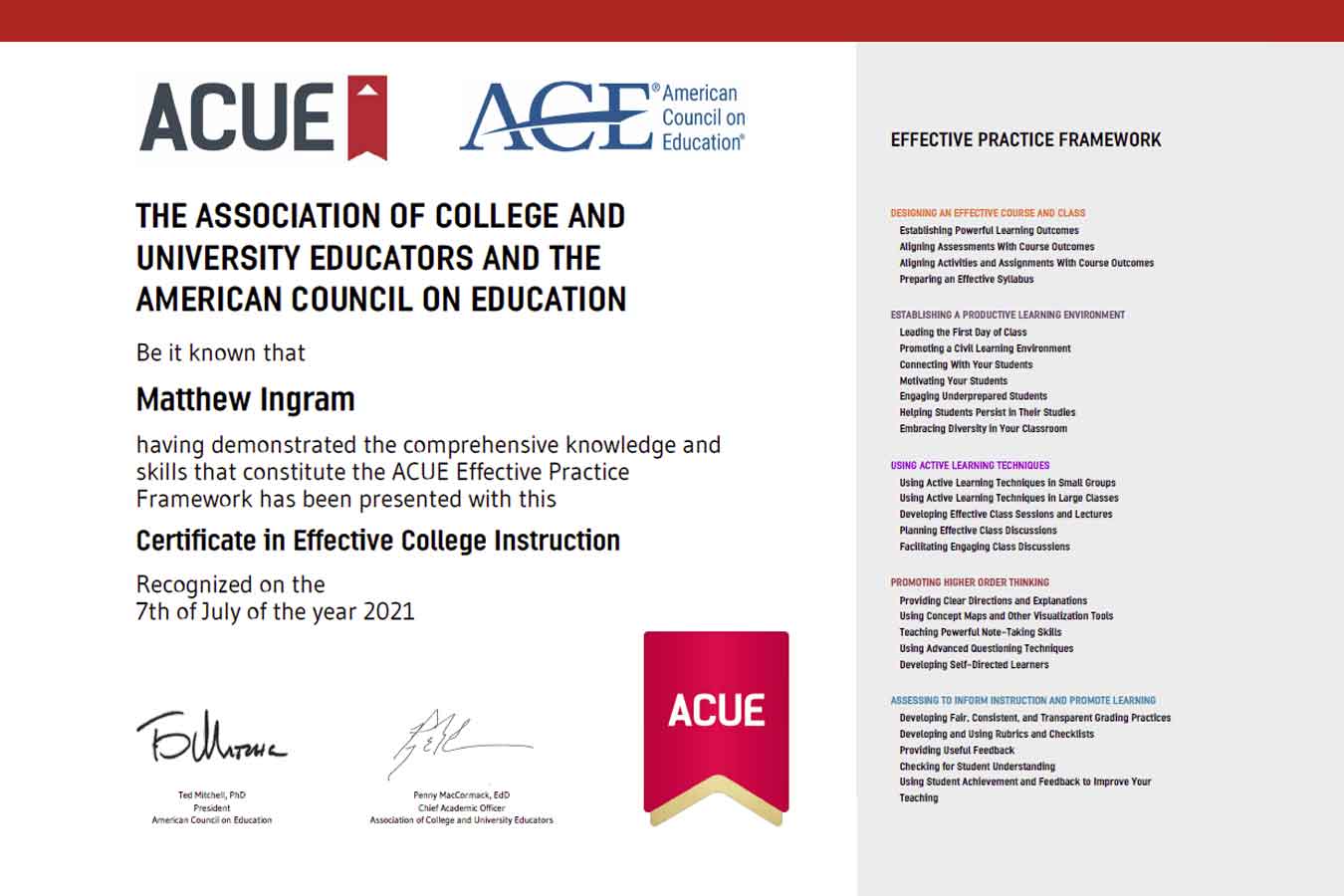 As an Assistant Professor of Communication Studies, Matthew Ingram is dedicated to helping students gain professional communication skills they can use throughout their lives.
His dedication to teaching is bolstered by his own desire to learn and improve through professional development. Over the past year, Ingram completed the Association of College and University Educator's (ACUE) Effective Practice Framework certificate, a series of four courses, each six-eight weeks long.
"I was able to engage with a community of faculty-learners from all over the globe, try out new teaching practices backed by current pedagogical research, and embrace online learning and teaching with enthusiasm," he shared.
The four courses from Effective Practice Framework are: Creating an Inclusive and Supportive Online Learning Environment; Promoting Active Learning Online; Inspiring Inquiry and Preparing Lifelong Learners in Your Online Course; and Designing Student-Centered Courses Online. The completion of these courses earned Ingram a Certificate in Effective College Instruction.
He described the process as "one of the most valuable pedagogical experiences I've had this past year."
The courses had two tracks – one for face-to-face instruction and another for online learning. Ingram chose online due to the impact of COVID-19.
"One of the most important things I learned from ACUE across the courses is really building a connection with students, talking with them, and having more collaboration," he said.
Throughout the courses, Ingram was able to try out different techniques in his classes. An example of something he will be implementing in his future courses is micro-lectures of seven minutes or less. He described this as especially beneficial for online students with varying schedules.
He will also be focusing on transparency in the classroom, so students know how assignments will be graded, what students can take away from the assignment, and how it relates to the entire course.
Additionally, he will be focusing on making sure every student takes something away from the class, no matter their background.
For example, with the general education course requirement "Fundamentals of Speech," every student will come in at different levels of preparation. Over the summer, he had adult learners, traditional college students, and high school students in the course.
"We all communicate at a basic level, but we're really working on the art of communication and being more effective," Ingram explained.
The variety of backgrounds of his students this summer encouraged him to design assignments that allow for opportunities and options. For instance, Ingram allows students to select speeches that reflect their interests and passions. And for online discussion forums, he offers multiple discussion prompts to pick from when engaging in online conversations. Giving students the ability to make choices and have a say in the types of assignments and ways they engage in the course aims to help students persist in online learning by feeling inspired and motivated.
"ACUE helped me navigate one of the most challenging academic years for students and faculty as we've worked hard to help students adapt to new forms of learning (hybrid, online, co-modal), fostered flexibility and understanding, and helped work with our campus community to help students persist in their education," - Matthew Ingram
The training is already paying off with positive student feedback from his recent courses. Students shared appreciation for how knowledgeable and responsive Ingram was throughout his courses, the inclusive, kind, and safe environment he maintained, and the timely constructive feedback he provided. One student added that the course helped them see the type of teacher they want to be.
Ingram will be sharing what he learned from the ACUE courses through a Center for Teaching and Learning (CTL) workshop session and a session through the College of Arts & Sciences at DSU this fall.
In addition to the four courses, Ingram is completing a course on inclusive teaching for equitable learning through ACUE.