Homecoming royalty announced at DSU
September 22, 2021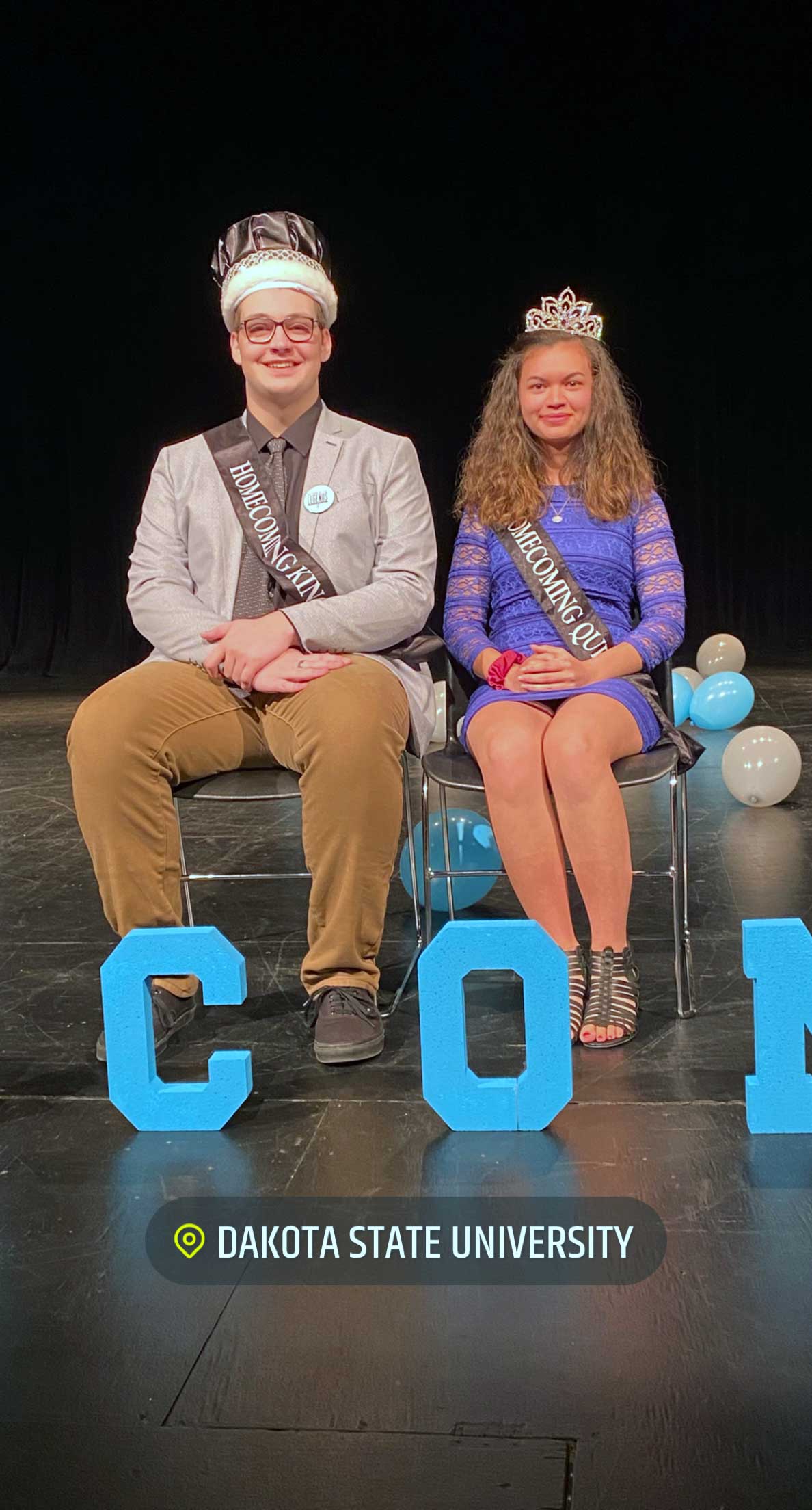 "Homecoming on any campus is a time to celebrate the university's history," said Amy Crissinger, DSU alumna and Vice President for Student Affairs and Enrollment Services.
Dakota State University is celebrating 140 years of its history in 2021, and Crissinger was pleased to serve as master of ceremonies for one of DSU's longest traditions, Homecoming coronation, held on September 20. 
Members of the Homecoming court represent various clubs and organizations on campus and are elected by the student body. The 2020 royalty, Jacia Christiansen and Piyush Vyas crowned the 2021 King and Queen, Brock McCrory and Annabelle Klosterman.
Klosterman is a junior cyber operations major from Brandon, SD; she represented the Computer Club. McCrory is a junior Cyber Operations and Network and Security Administration major from Bemidji, Minn.; he is a representative of the Esports Club.
The celebration of university history will continue throughout the week with events highlighting the theme, "Return of the Legends." The celebrations will culminate with the Trojan Days Parade on Saturday, Sept. 25 at 10 a.m., and the football game with DSU facing off against Mayville State at 4 p.m.
Also on the 2021 Homecoming Court are:
Zaki Ahmed, a master's degree student in Information Systems from Hyderabad, India, representing the Cricket Club
Vahini Atluri, a master's degree student in Analytics from Hyderabad, India, representing the International Club
Paige Bennett, a senior year Network and Security Administration major from Atlantic, Iowa, representing the Trojan Ambassadors
Jonathan Derenge, a Cyber Operations major from Sioux Falls, SD, representing the Powerlifting Club
Lucy Fods, a Marketing and Management major from Chester, SD, representing the PBL Business Club
Morgan Garber, an audio production major from Pierre, SD, representing the Esports Club
Nicholas Handberg, a computer science major from Sioux Falls, SD, representing Trojan Ambassadors
Max Hardyk, a digital arts and design major from Le Mars, Iowa, representing the Lights, Camera, Action, Film Club
Aleona Lund, a senior Computer Graphics major from Grove City, Minn., representing the Tennis Club.
Praveenkumar Manne, an Information Systems master's degree student from Warangal, India, representing the Cricket Club