Four DSU students on national Cyber Games team
October 21, 2021
Team will compete in an international tournament in 2022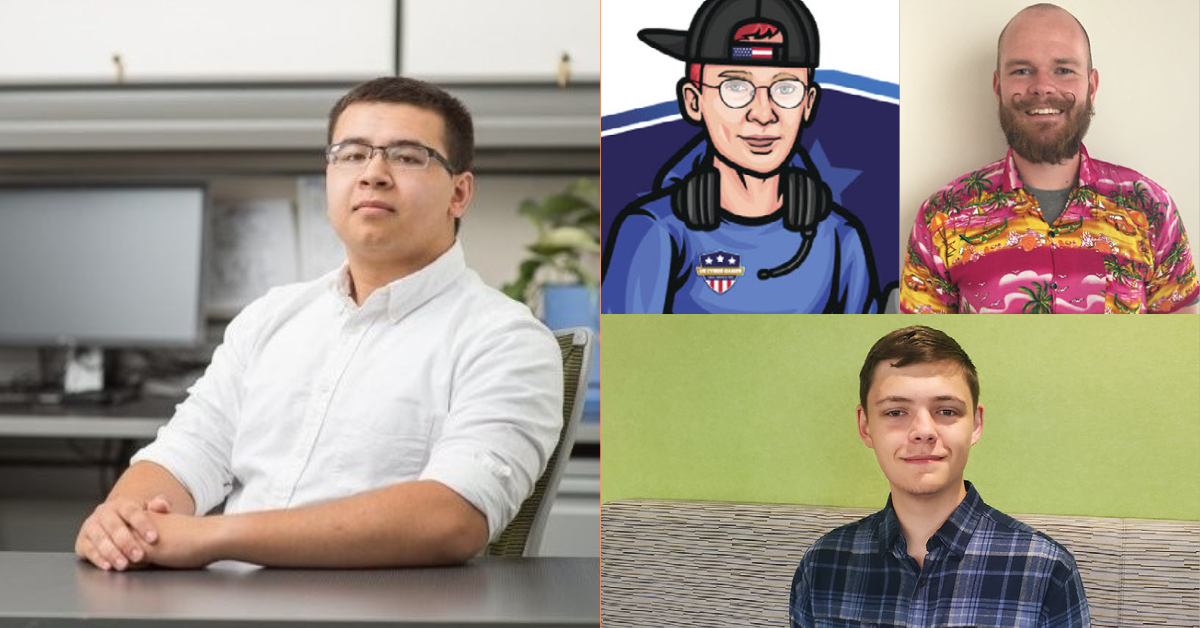 Cybersecurity is no game, but games may be the answer to developing the next generation of diverse, well-qualified cybersecurity talent.
U.S. Cyber Games™ is a new workforce development project founded in April by Katzcy, a digital marketing agency, in cooperation with the National Initiative for Cybersecurity Education (NICE) program at the National Institute of Standards and Technology (NIST). 
The project mission is to bring together talented cybersecurity athletes, coaches, and industry leaders and build an elite U.S. Cyber Team for global cybersecurity competition. They have assembled a team of 25 Americans, ages 18 to 26, who will compete against other countries in the inaugural International Cybersecurity Challenge, scheduled to be held in Greece in June of 2022. Four Dakota State University students, alumni, and staff have been selected to participate in this endeavor, Austen King, Josh Klosterman, Eric Leslie, and Logan Stratton.
"To have four members of our DSU family on the U.S. Cyber Games team is beyond phenomenal," said DSU President José-Marie Griffiths. "It is proof that Dakota State students can succeed in national and global theaters and make a distinctive impact on our world."
There is a definite need to grow the world's cybersecurity workforce to address cybersecurity issues, including notable recent hacking incidents with the game streaming service Twitch, and the Colonial Oil Pipeline. The students are well aware of this need.
"There definitely isn't as much focus on cybersecurity as there needs to be," said Leslie, a computer science major from Springfield, Oregon. "We're getting better every year but so are the adversaries." As part of the U.S. Cyber Games team, he is "happy to say that I am contributing towards the overall cybersecurity posture of the nation."
To accomplish this, the project uses gaming (or esports) such as King-of-the-Hill and Capture the Flag (CTF) games.
"There aren't too many other fields where you can take the same skills you use in a competition and apply them to real-world problems and challenges," said Klosterman, a Senior Cyber Security Engineer at MITRE. He graduated from DSU in 2017 with a B.S. in Network and Security Administration, and in 2018 with an M.S. in Information Assurance. He is originally from Brandon, S.D.
This is an effective approach, however. "I do believe the gamification methods through activities and competitions such as CTFs are a helpful method for getting experience and learning new methods to target potential areas of professional growth," said Stratton, a research engineer at DSU. A native of Luverne, Minn., he holds two Dakota State degrees, a B.S. in Cyber Operations (2019), and an M.S. in Computer Science (2021).
King agreed. "Gamification of learning, either through competitions or different small rewards, is the best way to get students like me to push further and learn more. Competitions help show me where I need to focus on improving in a broad scope." King is a Cyber Operations major from Volga, S.D., and works as a student researcher in the Madison Cyber Labs® Deep Red Lab.
To be chosen for the team, applicants participated in a CTF competition called the U.S. Cyber Open. The top 60 moved on to compete in an eight-week-long US Cyber Combine. The final team members were chosen based on this event. They represent universities from all across the nation, including the Air Force Academy and Carnegie Mellon, George Mason University, Rochester Institute of Tech, Rutgers, and The Ohio State University. Dakota State has the largest representation.
"At Dakota State University, we are proud of every student's accomplishments, but sometimes, they rise above our expectations, and take our breath away. These four have demonstrated the caliber of our students by being chosen for the U.S. Cyber Games team," said Griffiths.