August 28, 2023
After a friend spotted a snake with weird-looking scales on the outskirts of Sioux Falls, DSU student Adam Peak was intrigued.
"We researched it and discovered that it was likely a rare infection that was going on," Peak said.
That infection, commonly referred to as Snake Fungal Disease, is caused by the fungus Ophidiomyces ophiodiicola, which is a threat to wild snakes, explained Dr. Andrew Sathoff, Assistant Professor of Biology.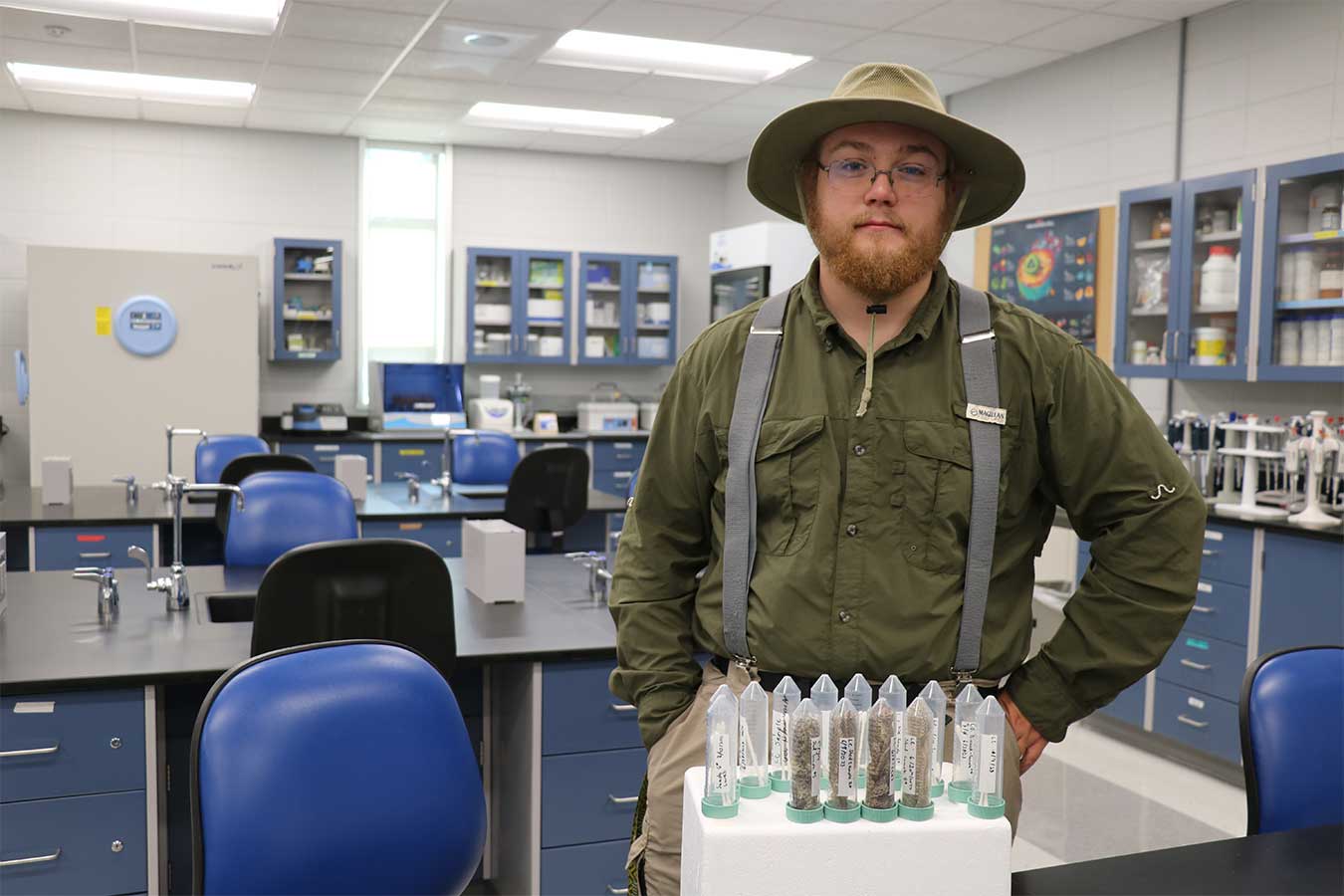 Peak, a senior biology major, started using assignments in classes to do more research on the disease.
"Adam gave an excellent disease profile presentation in microbiology," Sathoff said.
The presentation inspired Peak to partner with Sathoff on a research project. Peak started with a literature review in 2022 and found that the disease had not been recorded so far in South Dakota. Most published research has focused on vipers, other venomous snakes, and Colubrids (typically nonvenomous) affected by the disease.
Through his research, Peak hopes to discover whether the Snake Fungal Disease can affect the Plains Garter Snake, South Dakota's most common snake.
"From what we've been reading, the disease appears to have a very wide host range," Sathoff explained. "That's common for fungal diseases."
Dr. Kristel Bakker, Professor of Biology, has also assisted Peak in securing permits to go on state land for the research.
To conduct the research, Peak has been collecting shed snakeskins and live samples from snakes. He has been storing them in the refrigerator at about 4 degrees Celsius, which helps preserve spores.
This fall, Peak will work with Sathoff to complete cultures, swabbing the snakeskin and attempting to feed the fungus to encourage growth.
So far, he hasn't noticed the disease forming or growing.
"I have noticed a lot of scarred scales along snakes because older specimens can survive it," Peak said. His literature research indicated that "A lot of older populations have been found to have had trace amounts of the disease in their white blood cells, showing they fought the disease off."
The disease eats the scales of the snake. However, scales can also be removed through competition, fighting, and predator attacks. Peak's research will help determine the cause of scarred and missing scales.
While many may see snakes as pests, they are an essential part of the ecosystem, and play a crucial role in leveling the populations of pests like grasshoppers, locusts, and even field mice, Peak explained.
Peak and Sathoff hope to do some soil DNA extractions as well. Regardless of the results, the research will produce a publication.