AT&T contributes to CybHER
October 2, 2023
As part of AT&T's nationwide commitment to help bridge the digital divide, AT&T contributed $27,000 to the Dakota State University Foundation to help youth with limited internet access from South Dakota's nine tribal nations.

The AT&T contribution will help Dakota State University (DSU) expand its CybHER® program to enhance digital literacy for tribal students who have limited or no access to technology due to issues of accessibility, affordability, and adoption. Thanks to support from AT&T, DSU's CybHER teams will work with Boys & Girls Clubs on tribal nations, bringing technology outreach and digital literacy training.

"This gift from AT&T will allow us to hire and support more student workers who can travel to the Boys & Girls Clubs on tribal lands to do technology outreach," said Kanthi Narukonda, Director of CybHER. "The grant will also allow us to purchase the necessary equipment such as iPads and robots. This is truly an excellent opportunity for us at CybHER."

In South Dakota, it's estimated that nearly 18,000 K-12 students, including many on tribal lands, don't have digital basics at home, including access to the internet, computers, or skills needed to benefit from the online world – an issue known as the digital divide. DSU's CybHER program works to bridge that digital divide for tribal youth through technology support and digital literacy training.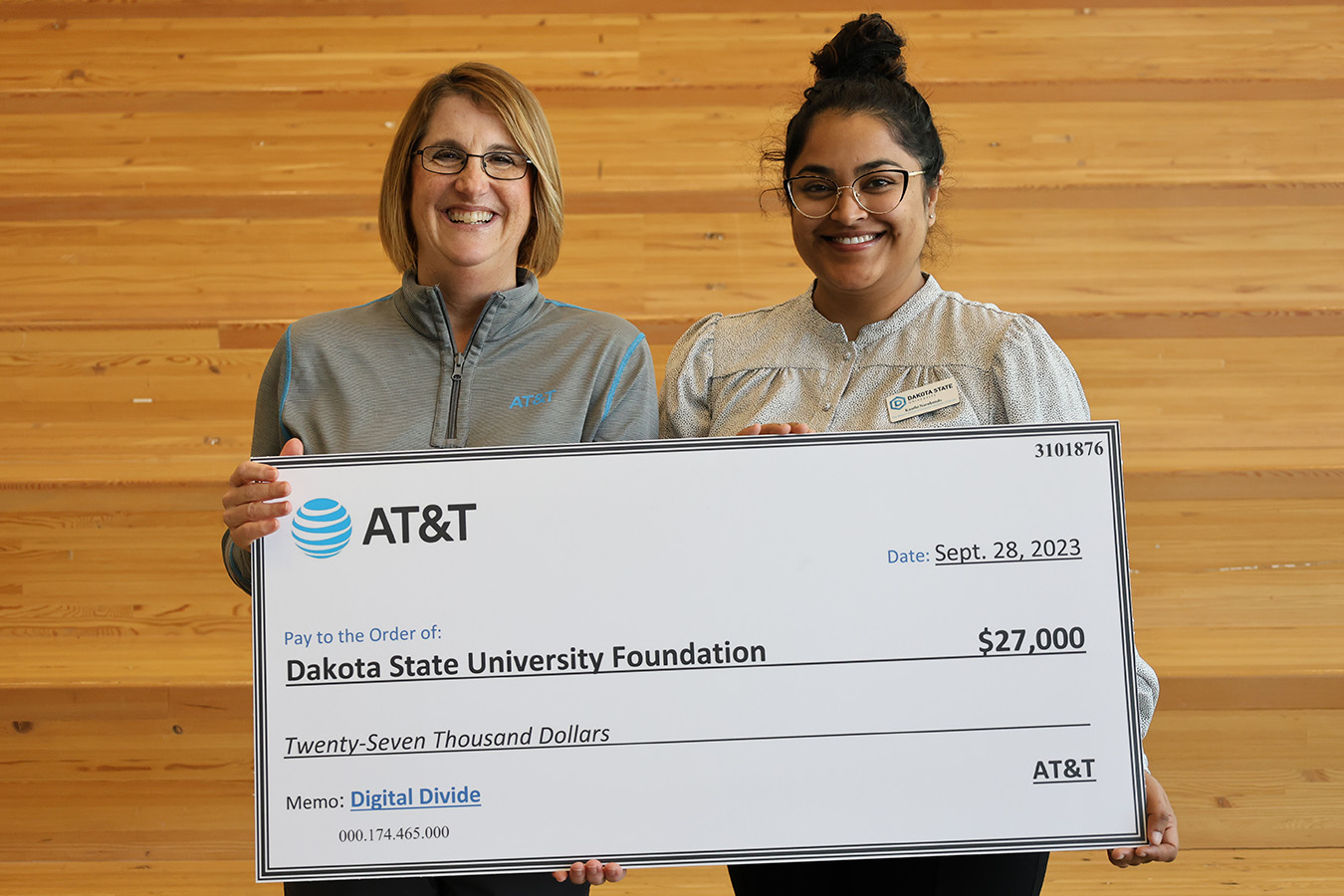 "AT&T is proud to support Dakota State University's efforts to help close the digital equity gap for tribal youth in South Dakota," said Cheryl Riley, President of AT&T Northern Plains. "Digital literacy training and access to connectivity are vital to bridge the digital divide, and we are glad we can help expand the CybHER program to reach even more tribal youth in need."

AT&T has long been a supporter of CybHER programs, providing funding for students to attend camps and grants for specific initiatives. A 2022 grant from the AT&T Foundation made it possible for CybHER teams to travel to the nine South Dakota tribal nations to teach coding, robotics, online safety, and cyber concepts. Over 340 tribal students were supported through CybHER last year. This year's AT&T contribution will help DSU continue its work to support even more tribal youth affected by the digital divide.

Created in 2013, CybHER hosts many events and programs to empower, motivate, and educate students of all ages by providing the training and resources about cyber fields.

The $27,000 AT&T contribution is part of the company's commitment to help bridge the digital divide by connecting students to skills, resources, and opportunities for success in school and in life.