Schedule
Dakota State Commencement Ceremony for fall 2021 graduates is scheduled for Saturday, December 11, 2021. The commencement ceremonies will be held at the Dakota State Fieldhouse.

Commencement
Friday, December 10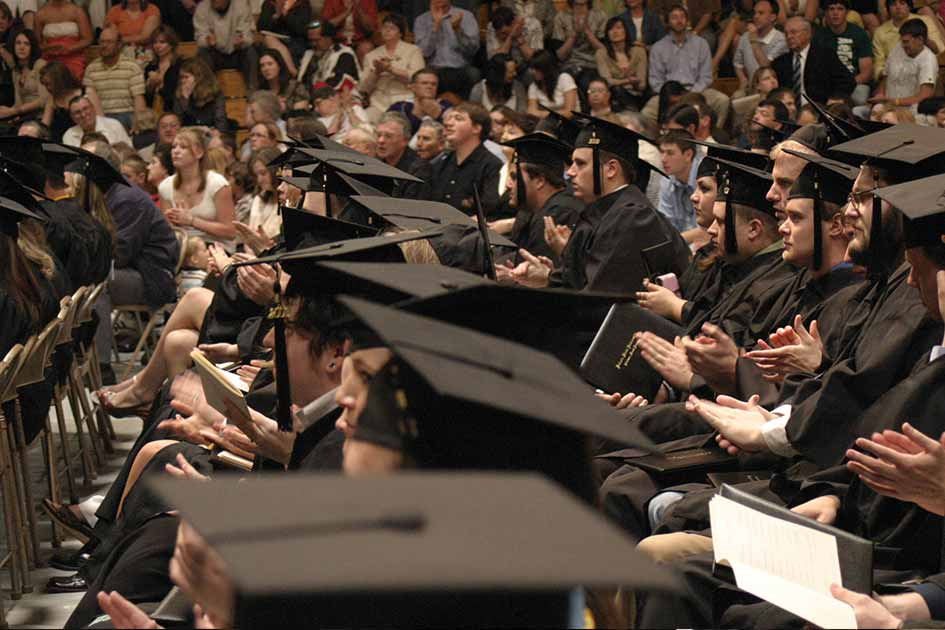 Rehearsal
A commencement rehearsal will be held on Friday, December 10 at 4:15 p.m. at the DSU Fieldhouse. You are encouraged to attend this practice session, so you will be familiar with:
the location where graduates meet,
the line of march,
and the procedures for the ceremony.
For the benefit of our master's and doctoral graduates, we will also quickly walk through the hooding procedure.
Saturday, December 11
Commencement Ceremony
The Commencement Ceremony will begin promptly at 10:30 a.m. and the Fieldhouse doors will open at 9:45 a.m. to allow guests to be seated.
All graduates, master's and doctorate graduates should arrive by 9:45 a.m. at the Madison Community Center double gym dressed in regalia.  Enter through the Community Center doors.
Fieldhouse
North Washington Ave.
Madison, SD 57042
graduation@dsu.edu
Reserved Seating/Tickets
No tickets are required for general admission bleacher seating for the Fall Commencement.
Special Accommodation Seating: Tickets are required for floor seating which is available for family or friends who are unable to sit in the bleachers. To request floor seating tickets or to notify us of special needs (wheelchairs, walkers, crutches, canes, vision or hearing impairment, etc.) that we need to accommodate in our planning, please complete the survey referenced above as soon as possible.
The university will be following CDC standards and at this time no face coverings are required.
Questions? Please contact our events staff or call (605) 256-5666.