December 3, 2019
Tom Farrell planned to be a typing teacher and a coach when he started college in 1966. Since graduating from Dakota State in 1970, he has had three or four total careers over the last 49 years, all at DSU.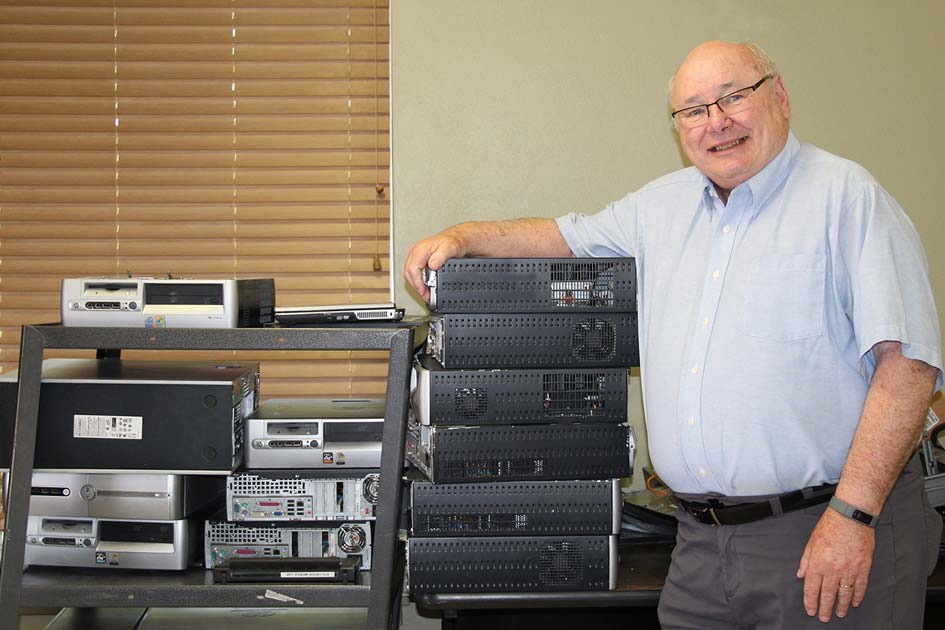 "People believed in me and gave me opportunities," so "when a door opened, I looked in and said, "I guess I'll try that.'"
He did manage to keep the coaching aspect of his life goals, coaching golf, wrestling, volleyball, and women's basketball, but he also served twice as athletic director, and as academic coordinator "managing people I'd had as professors."
But with the 1984 mission change, "typing became computers," Farrell said. There were no textbooks at the time, no established curriculum, so he and a few other faculty members trained at the IBM Education Center in Texas, and brought their newly developed skills back to teach students.
"A big factor is you've got to become a life-long learner. If you quit learning, it's over."
The switch from teaching athletics to computers wasn't hard." Teaching is teaching," Tom said. "You just have to break it down into individual steps, whether you're teaching a badminton serve or programming a computer."
Tom and the other DSU faculty first taught the programming language PL-1. Over the years that became Pasqual, C, C++ and then Visual Basic; networking courses were added later. Distance courses started when the university mailed video tapes of class lectures to students around the state. "It was very rudimentary, but it worked." Later, classes were recorded, encoding, and digitized. "This really started many of the things we do today," he said.
Distance education is still changing. Tom now teaches a summer course, CET 751, "Technology Hardware and Networking," a six-day, residential class in which students learn about computer networks by disassembling computers. This course is part of the Master of Science in Educational Technology (MSET) program. This summer, one student in Vermont is going to take the class with the telepresence robot Dewey. "Dewey will be the 12th student in the class," he said.
"We may be teaching face-to-face classes with just robots in the future," he said. "Who know what that's going to lead to?"
Tom also can't predict DSU's future in the next 50 years, but "I'm so pleased that DSU exhibits the ability to change."
At one time, "we were happy to be a player in the state of South Dakota. Now we've launched ourselves into the national and international level of prominence," Tom said. "I see nothing but positive things going forward.
"It's a great time to be a Trojan."