December 14, 2020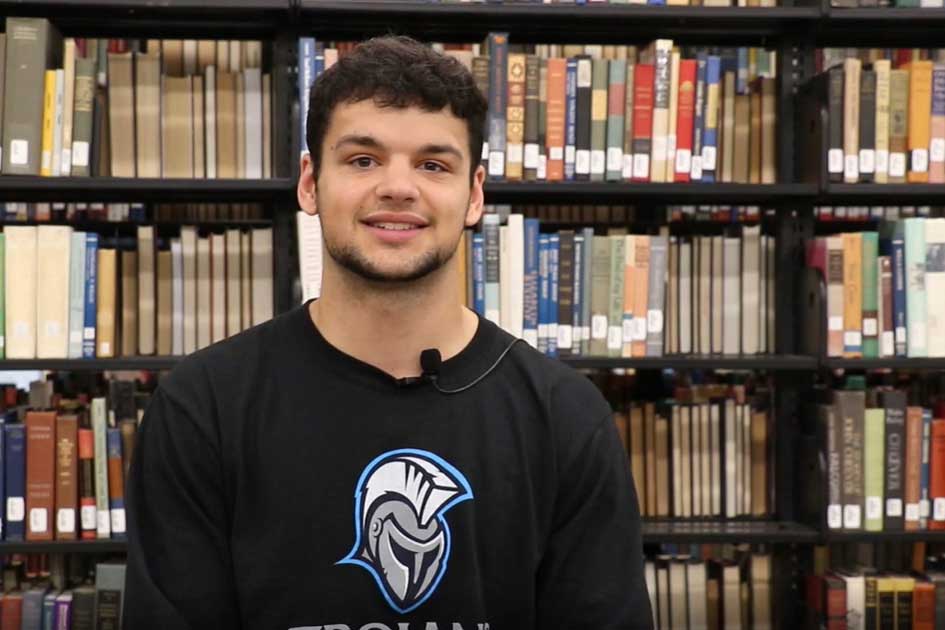 "I loved the family feel that came with the university," Josh Snook said. "A lot of bigger campuses can cause you to get lost, whereas DSU really reaches out and makes everyone included."
A business management and accounting major from Yate, Bristol, England, Snook is a student athlete and Campus Watch employee.
From athletics to the classroom, Snook appreciates the support he receives at DSU. Faculty members like Scott Richardson have made an impact on his time here. "His interest in where I am from is what initially connected me with Mr. Richardson," Snook said, "but his constant reaching out and care for my well-being is what grew the relationship."
Some of Snook's favorite experiences at DSU so far involves his participation in athletics. He was recruited as a sprinter. As part of the track team, Snook has earned back-to-back indoor track conference titles. "The team effort and resilience to do it back-to-back was something great to be a part of," he said.
"A lot of bigger campuses can cause you to get lost, whereas DSU really reaches out and makes everyone included." – Josh Snook
This fall he also joined the football team and is glad he has expanded his activities on campus, something he recommends to other students as well. "There are so many opportunities out there to suit a wide range of interests," he said. "Even if there's not something that initially interests you, try it anyway. I would have never thought I would be playing American football, let alone making so many new lifelong relationships."
Additionally, Snook has added to and strengthened relationships with those on campus by working as security member of Campus Watch, a safety program at DSU in which two student employees patrol the campus Tuesday through Sunday evenings to provide assistance.
"Participating in activities is what calmed my nerves about being so far from home," he shared.
Snook recommends all students get involved in activities, adding that it completes the university experience. There are many opportunities that suit a wide variety of interests and can help students find new hobbies and make friends.
He is thankful for Dakota State's many courses, majors, clubs, and organizations that help students find their interests and passions.
Snook is excited to continue his track and field career at DSU and hopes to obtain a graduate position in England after graduation.