'Go Baby Go' car gives child gift of accessibility
January 4, 2021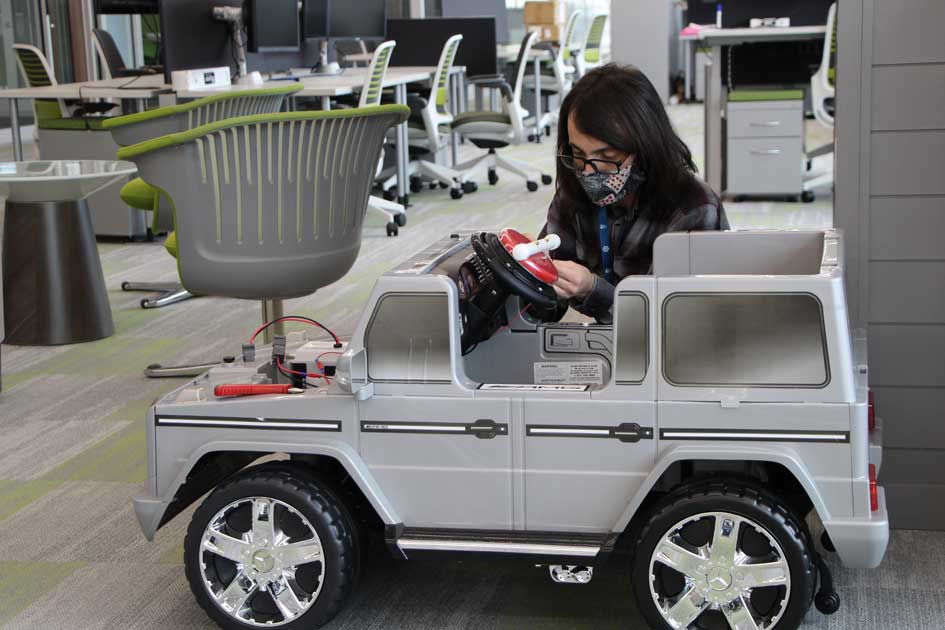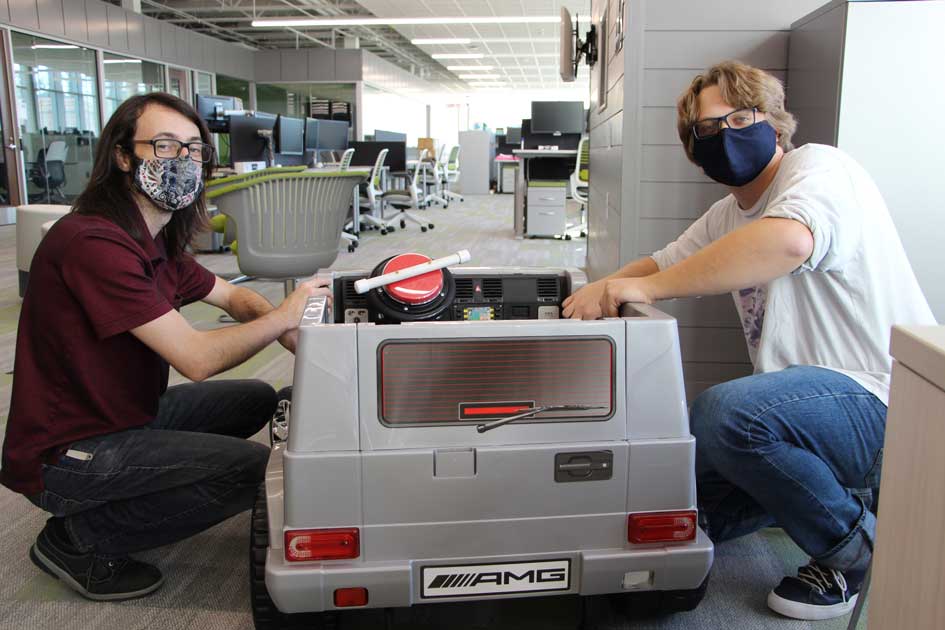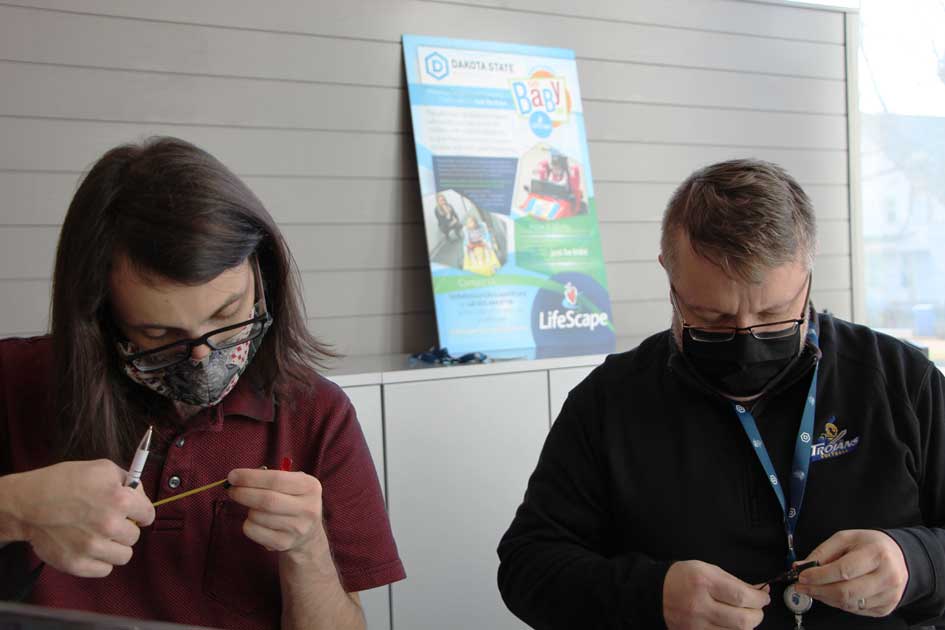 Some DSU students acted as Santa's helpers this past fall, adapting a ride-on electric car for a child in Aberdeen.
"Then we watch the magic happen," said Dr. Justin Blessinger, Professor of English, commenting on the day when the Go Baby Go car was delivered, just in time for Christmas. Watch the magic here, covered by Dakota News Now.
The "Go Baby Go" program was originally founded as part of a research project at the University of Delaware. Volunteers have now been trained in more than 40 communities around the world, including South Dakota, through a partnership with DSU and the non-profit LifeScape.
This is DSU's fourth "build" with LifeScape, said Nicole Koskovich, program development manager and physical therapist with LifeScape. The cars help provide children with early mobility, which promotes other mobility skills. They work closely with the families to determine needed modifications, such as adequate support getting in and out of the car, driving care and accessibility, and LifeScape provides that information to DSU, she explained.
Mark Eisenbraun (left) and Nick Gourley, work on the electric car provided by DSU's CybHER program. The modified electric car was presented to a South Dakota child, in partnership with LifeScape.
"We meet with physical therapy to understand the needs of the child, things important for development and learning," said Blessinger. This can include adding extra seat belts, handrails, moving the accelerator up to the steering wheel with a steer stick, extra padding, or equipment to work on special skills such as neck strength, motor skills, or repetitive motion.
A Go Baby Go car can cost around $1,000 on average, to purchase the car and refit the vehicle with necessary modifications. This particular build was also a new partnership with DSU's CybHER program, which supplied the Mercedes car, which features two seats and cargo space.
"Children want to play with their friends. This build gives them that ability," said Kim Haiar, Director of Development and Public Relations at LifeScape Foundation. With the extra room featured in this car, she expects the child "will be the envy of all."
This build was to have taken place in conjunction with the summer CybHER GenCyber girls camp, with the middle-school age campers helping with the project. The pandemic caused the camp to be moved to a virtual, fall event, so the project adapted into a volunteer effort by several students. Nick Gourley, a sophomore Cyber Operations major from St. Paul, Minn., Mark Eisenbraun, a junior Cyber Leadership and Intelligence major from the Black Hills area, and Isaiah Emond, a Computer Game Design and Computer Science major from Rapid City, S.D., worked on the car over the period of a few weeks, following virus mitigation protocols.
The DSU students were able to learn things such as the importance of measurement, and working with tools, said Blessinger, but they also brought ideas to the project, such as attaching a raspberry pie (a small computer) to control lights. Another feature is a Bluetooth kill switch, giving parents some control if the car gets too far away. "This plays into the DSU student skillset," Blessinger added.
Because of this expertise, Haiar said, "It's so appropriate to partner with DSU."
But everyone's main focus is the child. When they receive the car, "they just light up," Blessinger said. "It's so cool to see them drive off with it."