March 16, 2021
The research poster focused on alfalfa pathogen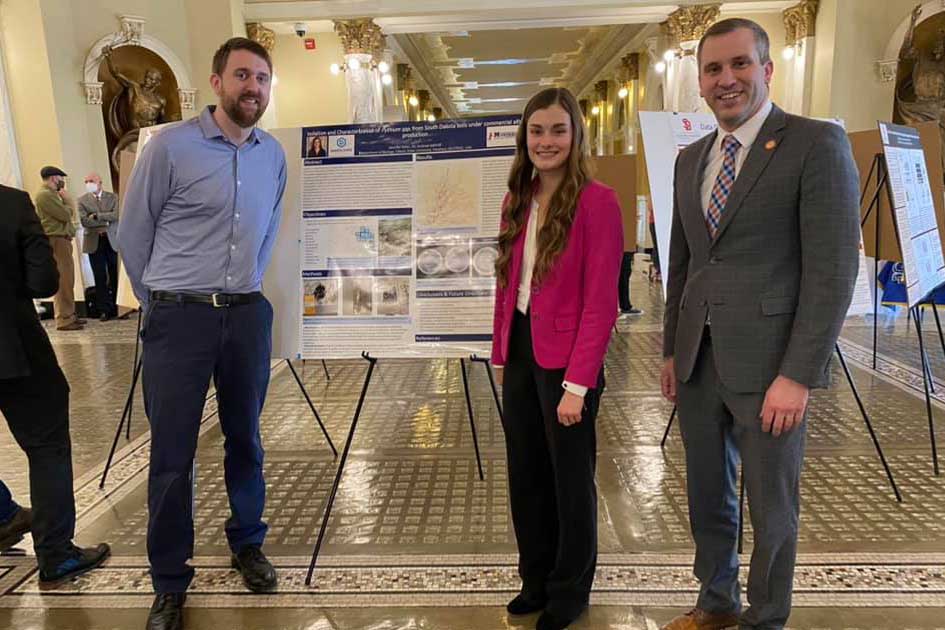 In under a year, Jenni Giles went from research novice to sharing her alfalfa pathogen research at the 2021 Student Research Poster Session at the State Capitol.
Giles, a junior biology major from Madison, and 14 other undergraduate researchers from South Dakota colleges and universities shared their research work with lawmakers and the public at the State Capitol.
The annual event showcases the research and creative activities of undergraduate students. The session is organized by the South Dakota Board of Regents and South Dakota's Established Program to Stimulate Competitive Research (EPSCoR).
Giles' research journey began in the summer of 2020 when she and fellow student Conner Tordsen joined Dr. Andrew Sathoff's research team to study alfalfa. Sathoff, assistant professor of biology, and his students partnered with Mustang Seeds to research Aphanomyces (alfalfa root rot) in South Dakota fields.
This fall she continued researching alfalfa, concentrating on Pythium, another alfalfa pathogen. Her research poster focuses on Pythium that she was able to bait out of the soil samples gathered from Eastern South Dakota fields this past summer.
"My poster highlights Lake County and the isolates uncovered from Lake County alfalfa fields," Giles said. "It emphasizes the need for more Pythium research to be done around the area in order for farmers to maximize yields and combat possible Pythium species that may be affecting alfalfa field establishment."
Her research found not only the presence of Pythium in Lake County soil but also a lack of fungicide sensitivity to common fungicides.
"Fungicides are normally used as a preventative measure for Pythium," Giles explained. "A lack of sensitivity to popular commercial fungicides shows that there is a need for updated fungicide treatments."
While she has been conducting this research throughout the school year in preparation for the poster session, she also spent nights and weekends working in the lab to further the research.
Sathoff helped her prepare her poster, offering advice like limiting the text, particularly in the methodology section.
"She took this advice and had an excellent pictorial display of one of her main techniques," he said. "Jenni did every piece of work that was on her poster, so she knew how to explain it very well."
Giles was excited to share the research she worked on all throughout the school year with South Dakota leaders and felt honored that DSU chose her to represent the school.
"The experience was incredible," she said. "I had never made or presented a poster before, so it was a great experience for me to develop some new skills. I learned a lot throughout the process."
The research Giles has done with Sathoff and Tordsen will soon be submitted for publication, bringing them to the national level with their alfalfa pathology program, according to Sathoff.
Giles plans to continue her research this summer and hopes to help South Dakota farmers increase their alfalfa production rates.
While she's unsure of what path she'll take upon graduation, Sathoff knows she can succeed in scientific research if she chooses. "Jenni is a gifted researcher and would be successful in any molecular biology lab."