June 16, 2021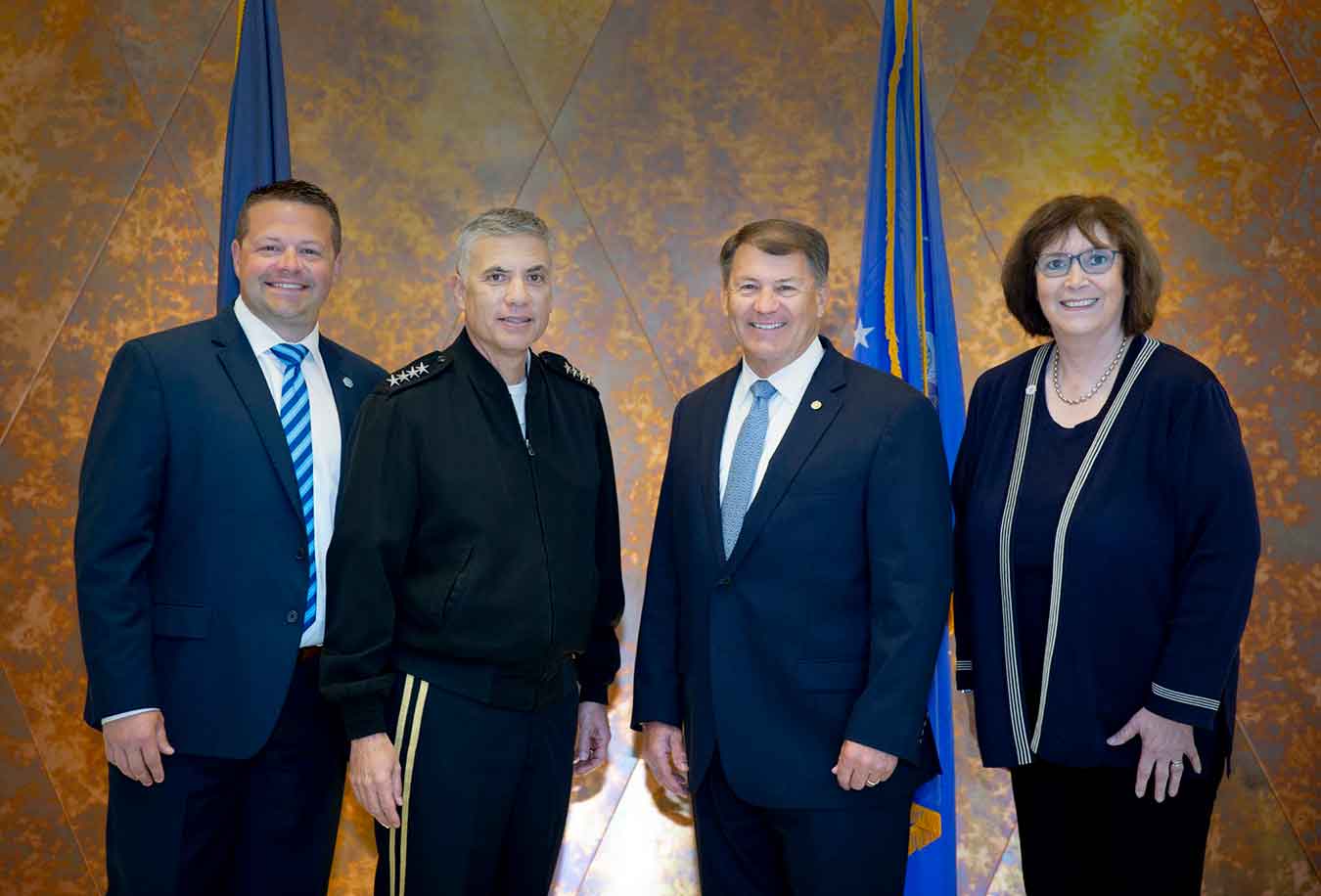 WASHINGTON – U.S. Senator Mike Rounds (R-S.D.), ranking member of the Senate Armed Service Subcommittee on Cybersecurity, facilitated a meeting between leadership at Dakota State University (DSU) and leadership at the National Security Agency (NSA) and U.S. Cyber Command at Fort Meade in Maryland.
In attendance were Sen. Rounds, DSU President Dr. José-Marie Griffiths, DSU Applied Research Lab Director Dr. Josh Pauli, and Gen. Paul M. Nakasone, Commander, U.S. Cyber Command and Director, National Security Agency/Chief, Central Security Service.
"Cybersecurity is more important than ever as we face increasing cyberattacks on our critical infrastructure," Rounds said. "Unfortunately, the United States has a cybersecurity workforce shortage which makes us vulnerable to cyberattacks.  Dakota State University is working diligently to train students to address this shortage. I was glad to bring DSU officials to Fort Meade to meet with General Nakasone. We were briefed on our nation's latest cybersecurity efforts and discussed the best way to prepare students for a career in cybersecurity. DSU has been a national leader in cyber-related research for years and has a strong track record of sending students to work for our federal government. We believe that record will only continue to strengthen."
"It has been a privilege to visit the National Security Agency and U.S. Cyber Command and discuss issues of common interest with Senator Rounds and General Nakasone," said DSU President Dr. Griffiths. "The work of NSA and US Cyber Command has never been more important to the security of this nation than they are now."
"I appreciate the opportunity to welcome Sen. Rounds to U.S. Cyber Command and NSA. It was great to show him the talented people from both organizations who ensure cybersecurity is National Security," said Gen. Paul M. Nakasone Commander, U.S. Cyber Command and Director, National Security Agency/Chief, Central Security Service.
According to CyberSeek, a project supported by the U.S. Department of Commerce, the U.S. has a total employed cybersecurity workforce consisting of 715,000 people. There are currently 314,000 unfilled positions.
DSU is a national leader in Cyber Education. It currently holds four Centers of Academic Excellence designations from the NSA and Department of Homeland Security: Cyber Defense Education, Cyber Defense Research, Cyber Operations, and Cyber Defense Consultative Regional Resource Center. The Beacom College of Computer & Cyber Sciences has a 96% placement rate for undergraduates and a 100% placement rate for graduate students.