August 3, 2021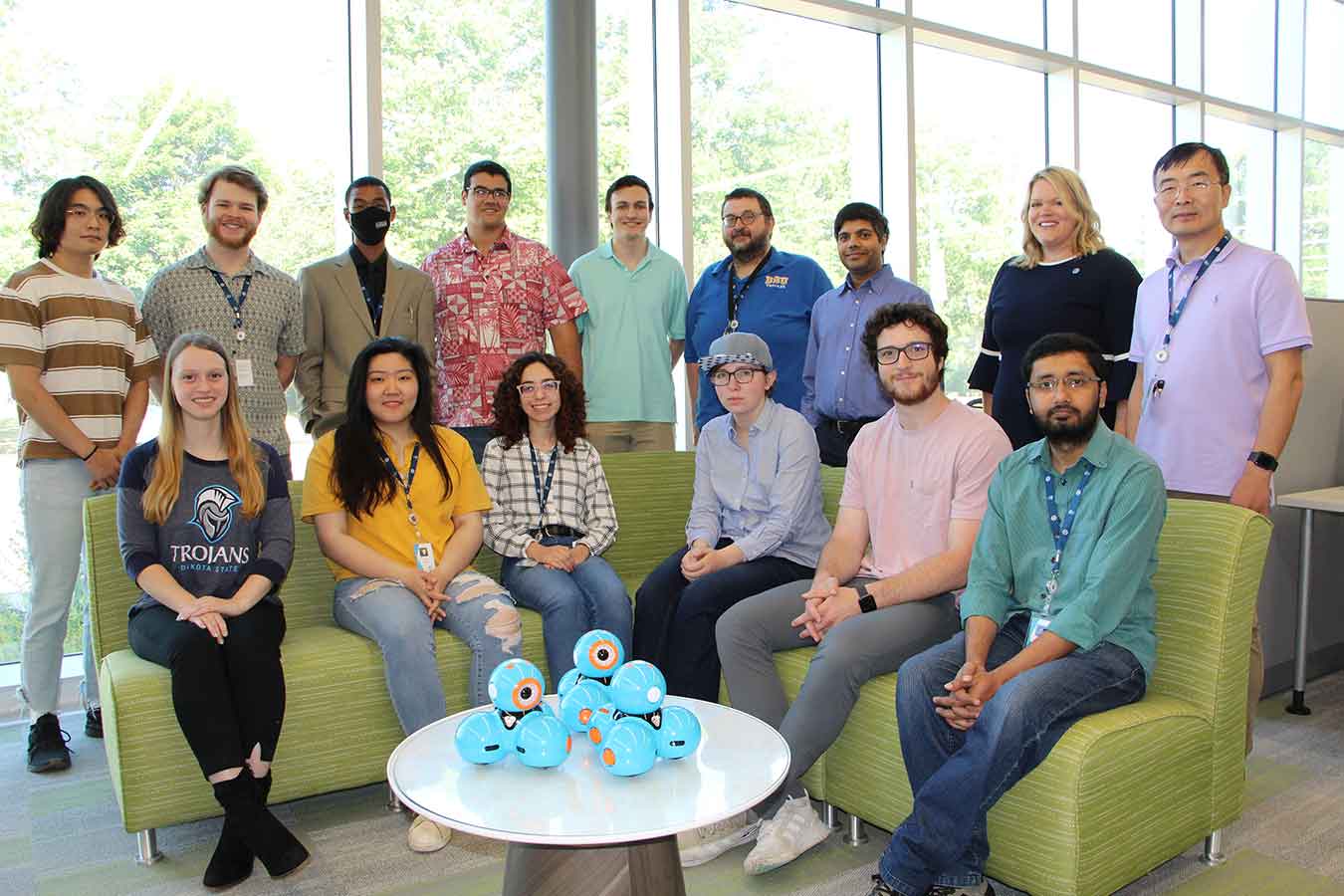 Research Experiences for Undergraduates (REUs) are all about meaningful educational opportunities.
Ten students from across the country have had that experience this summer at Dakota State, studying Internet of Things (IoT) devices. Topics include device security exploitation, device identification, smart intelligence transportation, and IoT device digital forensics.
The research was a new experience for several of the students, who found the process takes longer than they expected, but they have learned to take one day at a time. "It's hard, but I like being challenged," said Paulo Gentry, a cyber operations major from Southern Florida.
James Suh and Katja Mathesius also noted there was a learning curve to the research process. Their project is a simulated 5G vehicle communication system.  Suh is a physics and computer science major from Williams College in Mass. Mathesius is a data analytics major from Drake (Iowa).
The challenge is worth it. "It's nice to get experience on legitimate projects," said Easton Hay, a computer information systems and information security major from Louisville, Kentucky. He and DSU student Alexis Kulm have been researching drone forensics. Kulm is majoring in cyber operations.
The process also teaches them to become better researchers, said Jason Quick, an applied technology cybersecurity from Lonestar Community College in Houston.  He and Max Soto researched vulnerabilities in smart lock devices.
Soto, a senior information security assurance major from the University of Hawai'i West O'ahu, said the experience will "open the door to more opportunities in academia and research."
One of those additional opportunities was to share their results with the 2021 Undergraduate Research Symposium of the SD EPSCoR on July 29.
This 2021 research is similar to IoT research which took place at DSU in 2019;  no REU students were on campus in 2020 due to COVID-19.  After the disruption caused by the pandemic, the students appreciated the in-person experience and the open format of the Madison Cyber Labs.  
"The environment is fantastic, and the collaboration is encouraging," - Paulo Gentry.
Helen Chen, a senior computer science major from the University of Maryland – College Park, was in a virtual REU setting in 2020 and said the in-person format is better. "It's really cool to share ideas and ask questions."
Sofia Crespo Maldonado is Chen's research partner, and she agreed that "you learn from each other."  Crespo Maldonado is a computer science junior from the University of Puerto Rico – Rio Piedras.
Dr. Yong Wang agreed that "the interactions have been amazing." He is an associate research professor at DSU and the principal investigator (PI) for DSU's REU grant.
Research mentors from DSU during the 10-week summer program included Robert Richardson, Dr. Bhaskar Rimal, Dr. Ashley Podhradsky (co-PI), and Wang. Doctoral student Kaushik Muthusamy Ragothaman also supported the research projects.