September 27, 2021
Wang, Rimal will study IoT Device identification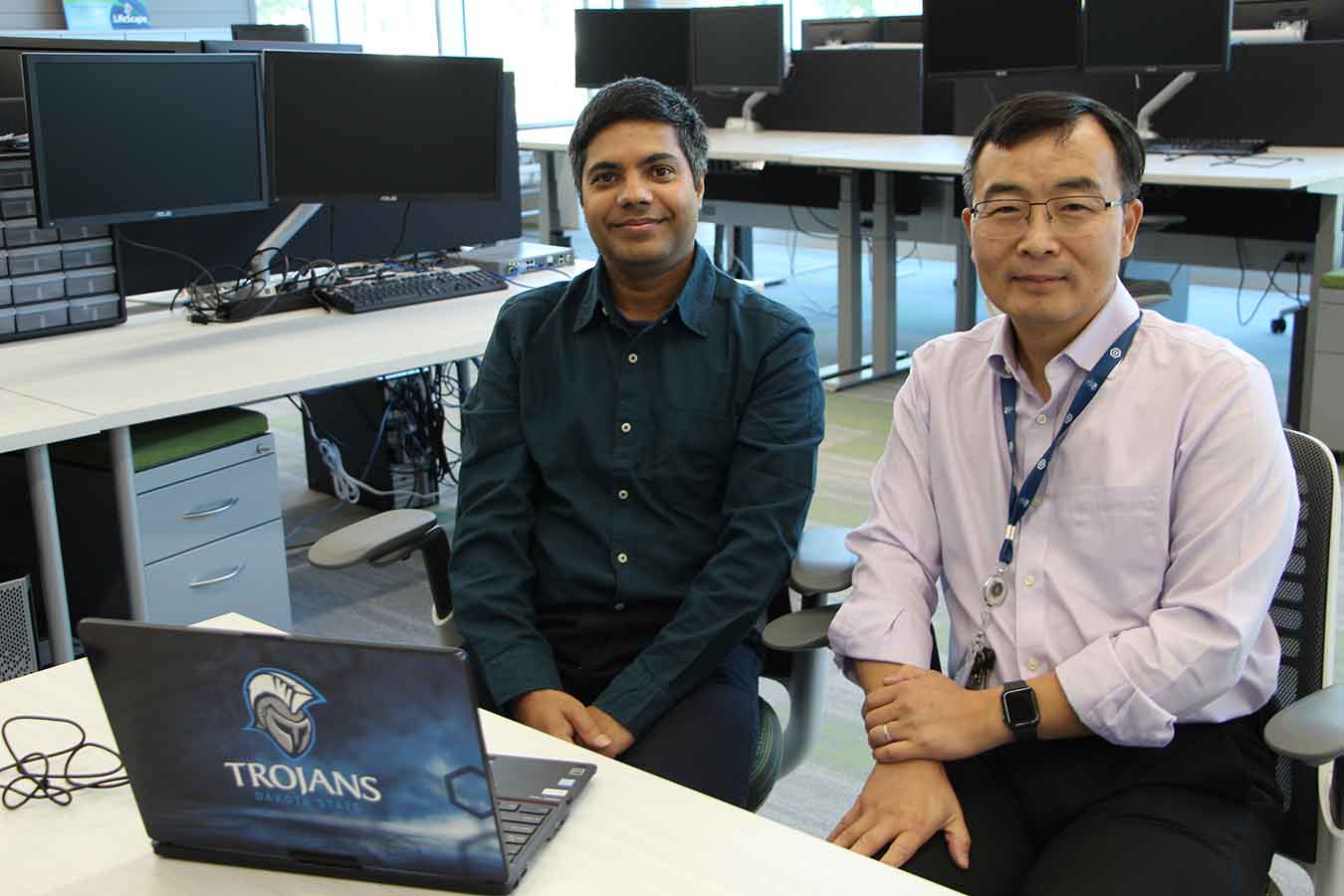 Dakota State often uses the term "DSU Rising." Dr. Yong Wang likes to say that "Research is Rising" at DSU.
Wang is part of that success; he and colleague Dr. Bhaskar Rimal have been awarded a National Security Agency grant for research work that take place in the PATRIOT Lab, one of the divisions of the Madison Cyber Labs at DSU. They are co-directors of the lab.
PATRIOT stands for Protection and Threat Research for the Internet of Things. Their research proposal, titled "Machine Learning Assisted Cloud-Based Continuous Learning Approach for IoT Device Identification," does just that – looks at threat research for Internet of Things, or IoT devices.
Rimal said people have "tons and tons of IoT gadgets" from cell phones to home automation devices. "The problem is how to manage those devices and protect them from attack, and how we can uniquely identify those in a narrow environment."
In addition to personal devices, enterprise networks are vulnerable, public service organizations such as the Department of Defense that have thousands of devices are connecting to the entire structure every day.
When a device like a computer is compromised, you want to disable that device from the network. "To do this you need to know the device location on the network, the device type, and what kind of control you can apply on it," Wang stated. "Without knowing those, you aren't able to apply access controls on the device to disable it and get it out of the network."
This is challenging for IT administration to be this strategic and is why IoT device identification is important. "It will be a mess if we don't solve this issue," Rimal said.
They are in the process of purchasing IoT devices and gadgets, some known, some entirely new to the market. "In a few months, there will be tables full of devices in the lab," Rimal said, from tiny robots to Alexa devices to smart lights.
Through the research, "our hope is to try to create a product that can be used in the enterprise network to help uniquely identify the device so if the project is successful, we can make a lasting impact," Wang said.
Dakota State has the perfect infrastructure for this type of faculty research, but students also directly benefit from the project.  The grant funding allows the professors to hire four graduate students and at least three undergraduates.
"This is a very rare opportunity for students to work on an important, real-world problem," said Rimal. It also provides students with a multidisciplinary blend of hands-on research.
"One student may be working on devices, another writing code, another reading research papers," Rimal said. This high-quality research will benefit the students whether they intend to pursue graduate or post-graduate work, enter business or industry, or go into academics "the students can go to the job market and demonstrate what they have done on this project." The students will also have opportunities to have their work published in high-quality publications and experiences at conferences.
"Their résumés will be enhanced with all we will be developing here," Rimal said.