October 25, 2021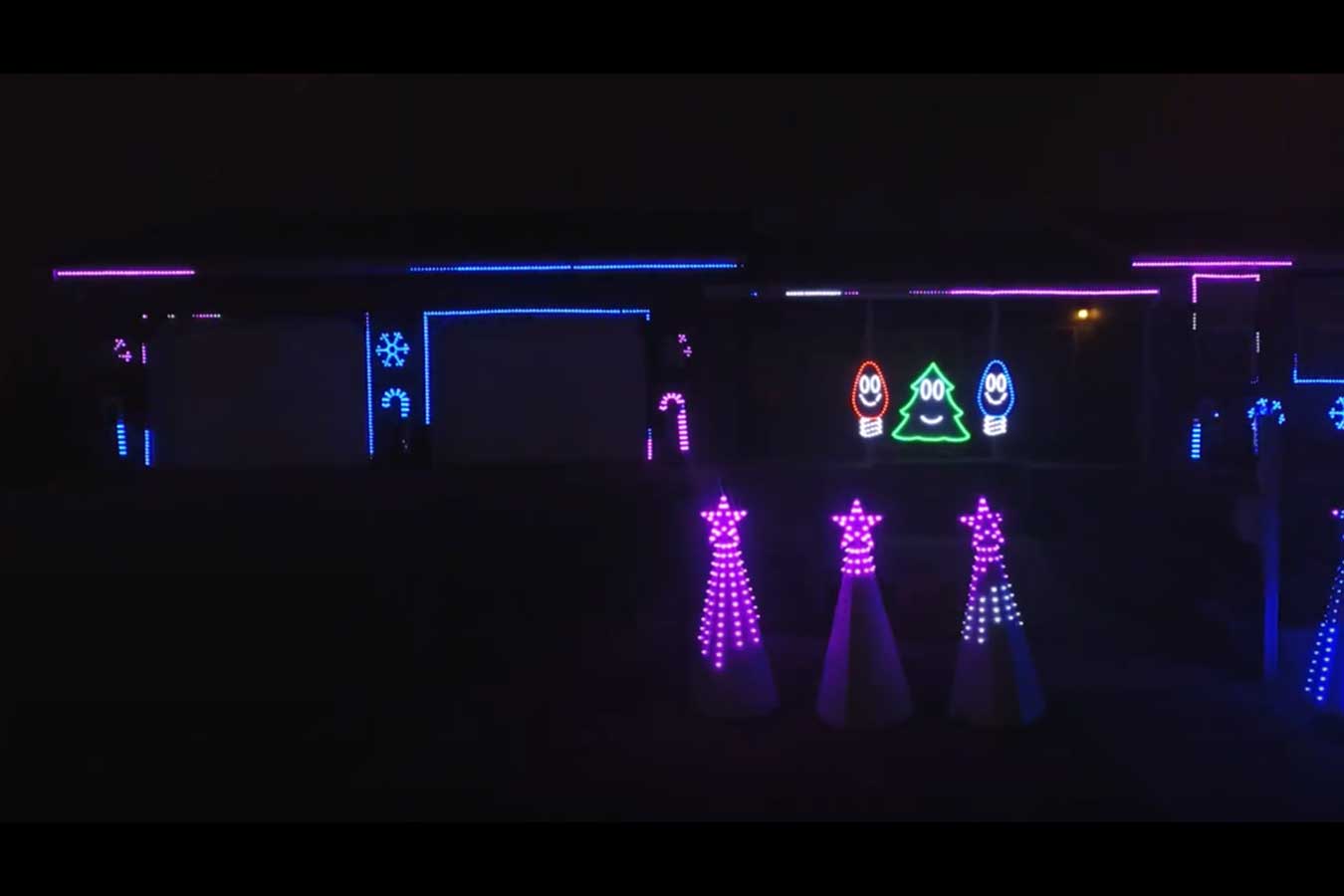 There's an old saying that those who can't do, teach. That's not true for Dr. Cody Welu, assistant professor in Dakota State's Beacom College of Computer and Cyber Sciences.
He teaches during the academic year and at the summer outreach GenCyber camps that Dakota State University hosts, but "I'm always looking for something new and fun things to do," and GenCyber is "a great place to try new things."
One personal project that made its way to GenCyber is holiday lighting displays.
"I always liked lights and lighting things up for the holidays," said the Milroy, Minn., native. For several years he's been decorating his home near Madison. About three years ago, he decided to apply his technology skills (he has three degrees from Dakota State) to create a more elaborate holiday lighting display.
"The tech side of what I do professionally and what I like to do personally led me to learn about pixels and how to control them individually," Welu said. Working with pixels allows him to make images appear to dance or sing, so last year, he designed the Halloween and Christmas displays to music. People watching the show could go to the display's webpage, madlights.net, and request which song on the playlist they wanted to see.
His displays are relatively small as far as holiday displays go; the Halloween display includes 4,600 lights with six talking elements; the Christmas show can use over 5,600 lights.
"I get people stopping by to tell me how much they enjoy it, and I get joy out of that. And if the weather's good, you see kids get out of their car and dance around. I love that. It's fun," Welu said.
Because it's something he enjoys doing at home, he brought this personal hobby into the classroom.
"I used this real-life example to show what underlying code can do for this style of lights, and then showed the campers some of the higher-level software that I actually use for my house," Welu explained.
By seeing how the underlying concepts worked, the students can see "how the abstract concepts they were learning can apply to larger software platforms that can have a big impact."
Students really enjoyed seeing how to use programming to create repetition in lights to make patterns with a small string of lights. "I love seeing that. It keeps me going."
The lessons learned from this real-life elective can help students in the workplace. By introducing the lower-level concepts and giving an example to extract that into larger tools, students can see how different pieces work together. "That can expose the students to different applications and how it can be applied outside the classroom," Welu said.
"In all my classes, I want all my want students to understand why what they're doing matters, how this is actually used in the real world, and how they could use it in a job in the future," he stated. Granted, they may not all be programming lights, but it's important for students "to see possibilities and to see that the programming they're learning can actually have value."
Welu is also director of the DEFEND Lab (Digital Exploration for Enhanced Network Defense) in the Madison Cyber Labs®, and volunteers with the Dakota State University Alumni Board.
Welu's Halloween show runs through October; the Christmas show starts after Thanksgiving. Both can be seen at the corner of 237th Street and 458th Ave., just south of Lake Madison.