December 3, 2021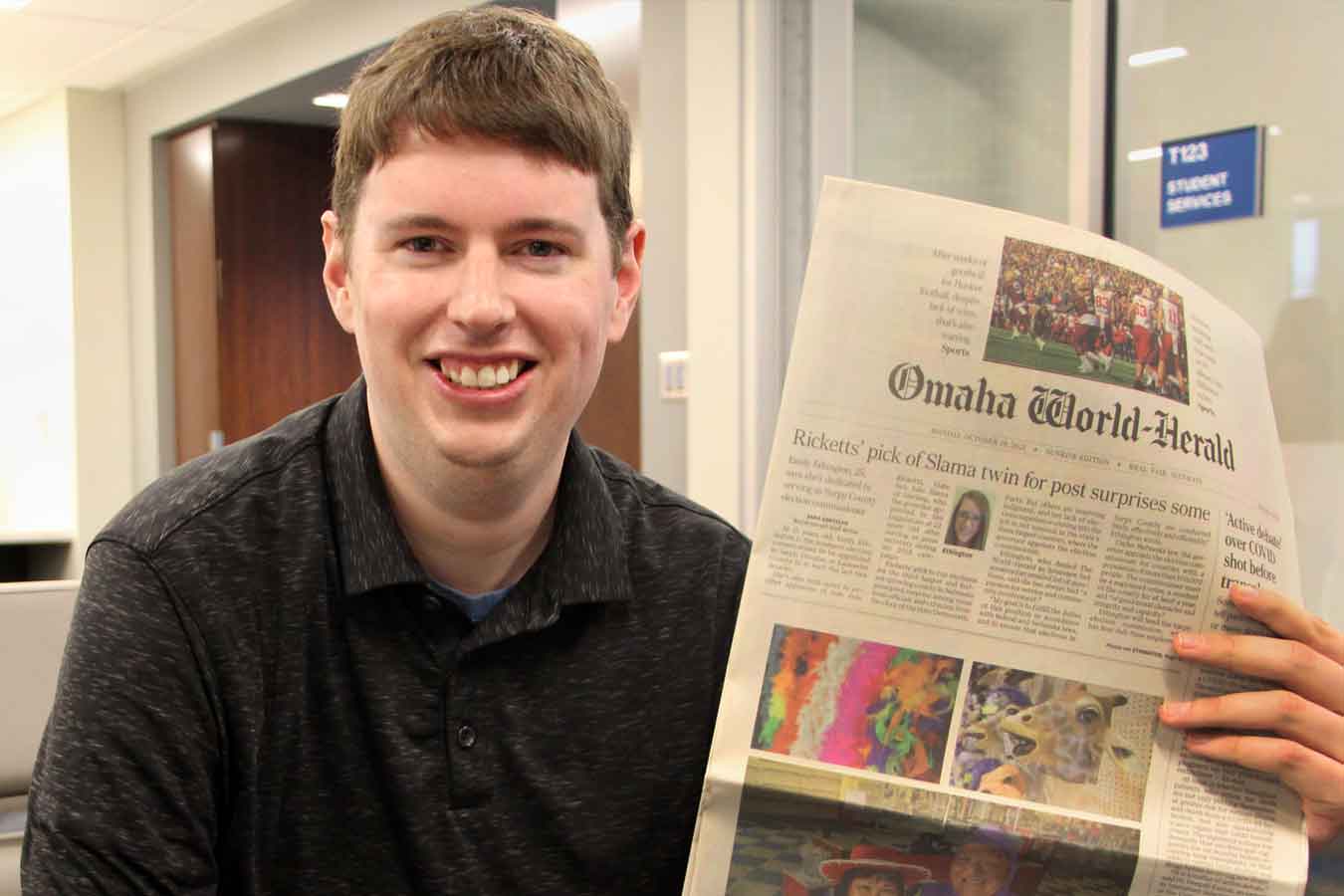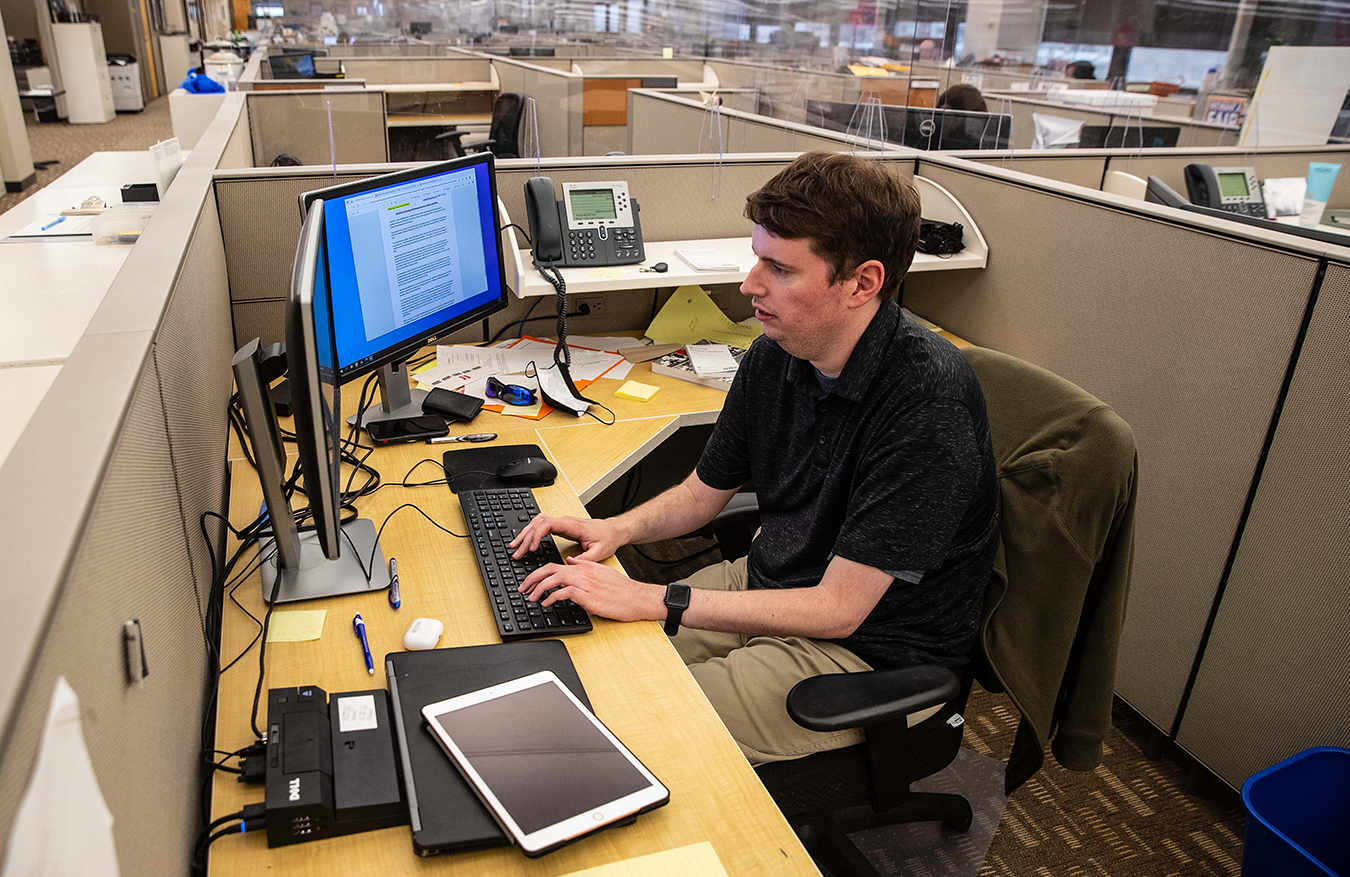 Pick up an Omaha World-Herald, and you're likely to see a byline that reads, "Dan Crisler, World-Herald Staff Writer."
Crisler is a DSU alumnus, with a degree in English for New Media. While not a traditional journalism school, "my Dakota State education made me a well-rounded person and journalist."
His supervisor agrees.
"Dan is a keen reporter, eloquent writer, and a total-package journalist. He can digest complicated subject matter, which is valuable when writing about convoluted topics like business, and present it to readers so that they can understand it," said Ryan Hoffman, Assistant Metro Editor with the Omaha World-Herald. "His reporting is rich in context, which is critical for informing readers of the world beyond our small corner of it."
Crisler said his diverse abilities are a result of his college education. His English courses developed critical thinking, important because "journalists are definitely critical thinkers," he stated. Classes with Dr. Stacey Berry helped him learn to analyze and debate. He also developed creative skills and expanded his ability with technology.
"Given the broader industry challenges, a lot of schools preach the value of having diverse skills," said Hoffman, explaining "it is not enough to just be a reporter – you have to write, shoot photos, create videos and do just about everything else imaginable. While this is true to a degree, often the result is you can do a bunch of things adequately."
"Dan, on the other hand, can go out and come back with a good story and sharp photos. As an assignment editor, having a reporter like Dan makes my life a little less stressful. And you can't ask for much more than that," Hoffman stated.
Dan has diversity from his work experience as well. After graduating in 2013, Crisler worked at a couple of small South Dakota weeklies before landing a position at the Watertown (SD) Public Opinion. He started as the education reporter, but over the next five and a half years, Crisler developed a broad base of experience by covering a variety of news, including major stories such as hiring a new school superintendent, and a contentious mayoral election.
"I can't say enough good things about Watertown, the city, the people, and how it led me to where I am," he said. Colleagues at the Public Opinion "were patient with me and helped me change from a shy, nervous person to a mature adult."
Although he enjoyed his experience in Watertown, it had been a career goal to work at the Omaha paper. When he was hired at the World-Herald in April 2021 as the business and higher education reporter, "it was like winning a championship." He writes business stories on start-ups or big companies, along with workforce development, which is where the higher education component can often come in.
Going from a small city to a metropolitan area in a different state has been a learning curve, but Crisler is enjoying Omaha. He's been to the College World Series, an Elvis Costello performance, covered cultural events like the Cinco de Mayo parade, and has met people such as Preston Love Jr., a civil rights activist who was campaign manager for one of Jesse Jackson's presidential campaigns. Even meeting his colleagues has been "intellectually stimulating," he said. He works with about 40 other reporters at the World Herald.
"There are obviously people in the world smarter than you, but it hits home when you work in an environment like that, where everyone's smart, and there's a lot to learn but they're willing to teach you," he said. "It's like an investment in your future."
Crisler's career goals for the future are open-ended. "I've learned not to look too far ahead because life always throws you curveballs," but for now, "I'm happy in Omaha, and I'll see where life takes me."