November 9, 2022
Jacob Davie knows that one good idea can spark another.
While attending the 2021 DSU Research Symposium, the topic of wireless keyboards came up. "That resonated with me," he said, so this year, when it was time for Student Mentored Research Initiative (SRI) grant applications, he approached Assistant Professor Andrew Kramer about doing a research project.
This is how research is supposed to work, said Kramer. "A past SRI inspired this one, and it keeps building on itself, building excitement and engagement on campus."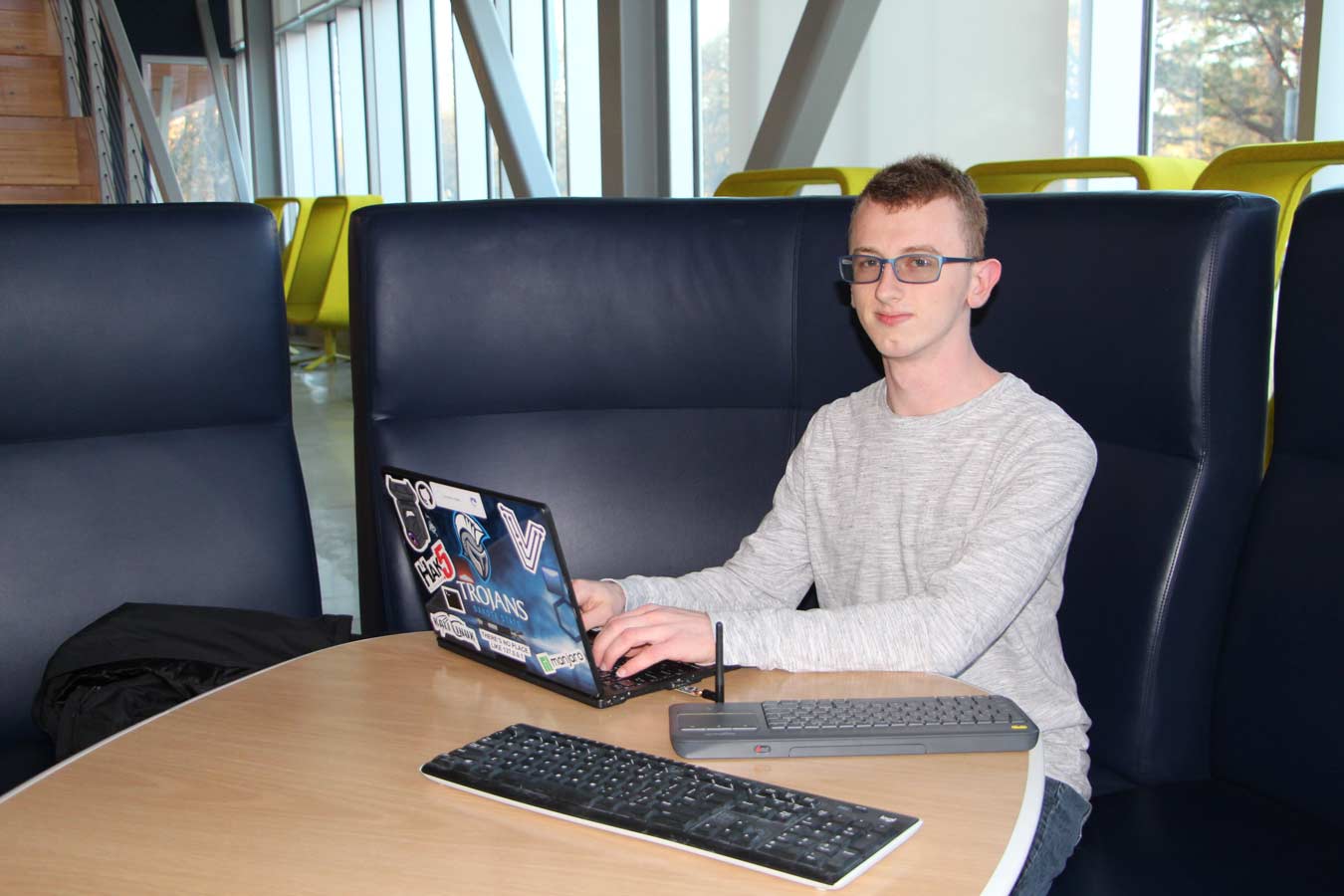 Davie's project was funded, and he will investigate the "Interception of Unsecured Keystrokes." It is his first experience with research.
A simple definition of "unsecured keystrokes" would be sending data so anyone can look at it, such as through the dongles, small devices that allow wireless access with computer accessories. Davie said that secured keystrokes would be mixing mix up data, in a way that's not easily read.
Kramer added a visual analogy: consider two people on opposite sides of a room who want to share information. There is also a person in the middle of the room, and they don't want this person to understand that message, so they would need to obscure it so it can't be understood. "That's the nature of encryption," he stated.
Davie will look at different product brands and new technologies, and is curious what the research will prove.
"Name brands can carry a premium," he said, but he will see how generic brands will compare, but his end goal is simple. "I like data to be secure and will do anything I can do to help that out," Davie said.
Davie and the other SRI students will gain much from their projects throughout the research process, Kramer said.
"Students are going to gain knowledge about how to approach a problem methodically with a question and a goal in mind, as opposed to wandering through an idea they're exploring," he said.
There is a process to formalize those questions, collect data in a scientific way, and analyze that information to support or disprove a hypothesis, Kramer said, and this gives students an opportunity to apply the scientific method to their work. Also, the SRI provides seed funding that allows students to do things they wouldn't otherwise be able to do because of hardware restrictions or software costs. 
Davie and other student researchers will present the results of their efforts at the annual Research Symposium in March 2023. He is a senior Cyber Operations major from Blaine, Minn., and will graduate with his bachelor's degree in May. He will continue on at DSU for a master's degree in Computer Science, specializing in cyber operations.