February 8, 2023
For those considering a career in cybersecurity, Ben Bowman's advice is simple: be a little bit stubborn.
Growing up on a ranch near Fairburn, S.D., he was interested in cybersecurity, but was sometimes discouraged when he wanted to explore the field because people didn't always understand that cyber can be a valid career path.
Yet, he saw applications in his life on the ranch. For example, they have a cattle gate that uses an FM radio signal to open and close. They only had one fob for this gate, but he was able to clone the signal and hook up all their vehicles to get in the gate.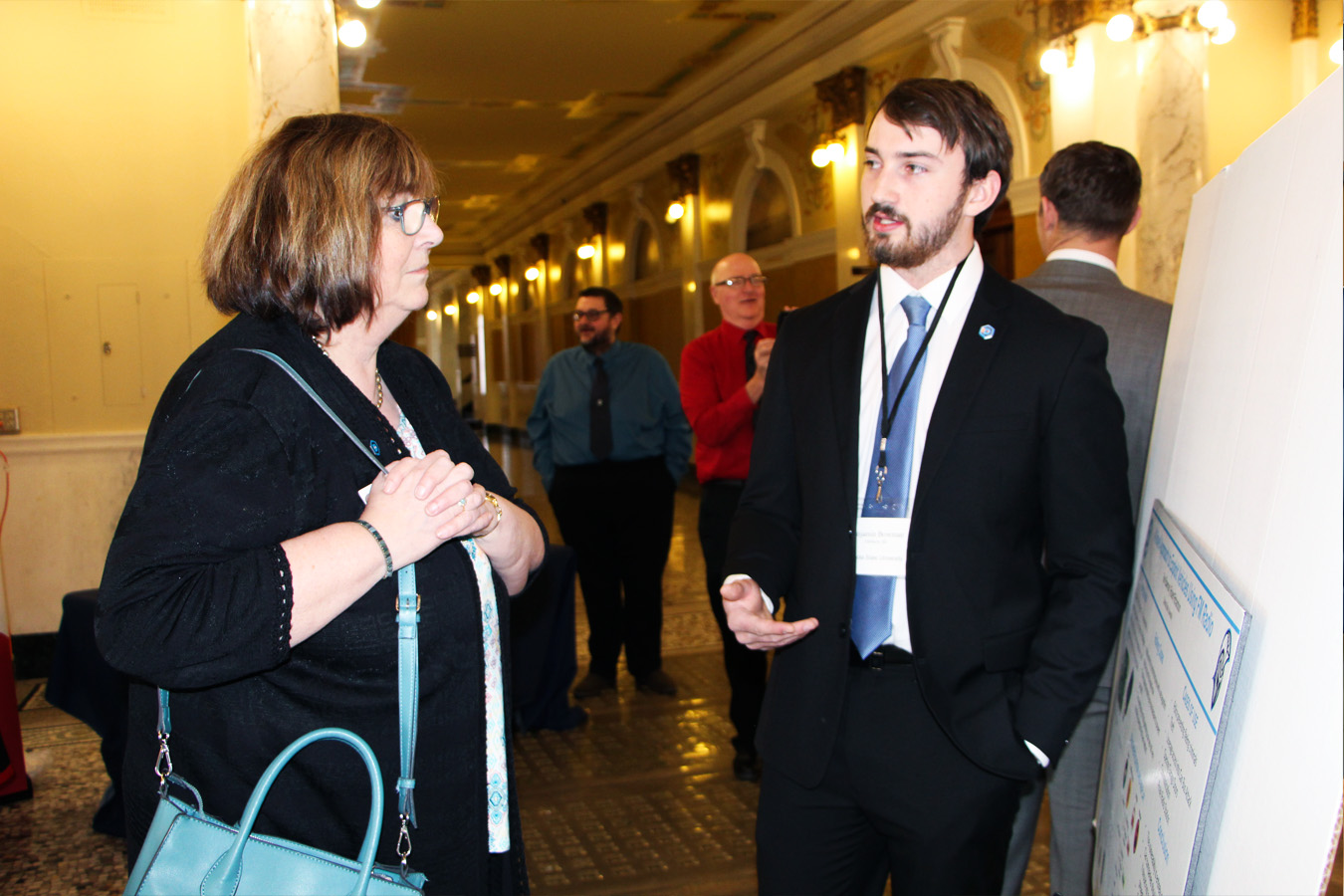 "Almost all my pet projects are borne out of necessity," he said, but "I felt like the only guy in South Dakota like that, but here at Dakota State, I'm with like-minded people," so "don't let anybody discourage you from getting into cybersecurity. You have to be a little stubborn."
The field can appeal to a range of interests because it is very broad. According to the National Initiative for Cybersecurity Careers and Studies, there are 33 specialty areas and 52 work roles, including programming, project management, policy development, or law. 
Bowman said, "you do not have to be a programmer to be in cyber, and you don't have to be a genius. It's not about how smart you are, it's just how willing you are to apply yourself."
At Dakota State, Bowman is applying himself as a Cyber Operations major, and turning his pet projects into more formal, academic research arena. This academic year, he received a Student Mentored Research Initiative (SRI) Program grant to research bypassing rolling code encryption. DSU Instructor Robert Richardson is his faculty mentor.
Bowman's project, similar to the gate project at home, focused on car security with fobs. While the wireless setup is convenient, it makes it possible for someone to clone the code, get into the vehicle and steal items, or the car itself.
His completed research showed that "if people want to keep items safe in their cars, they should use a physical key," he stated. If they lock their car with the lock button on the fob, "they should also hit random buttons afterward to mix up the signal." Car owners could also push the lock button on the inside of the door.
This project will be helpful to his career in multiple ways. "You learn a lot, and round yourself out. It's good to have a wide set of knowledge."
While the lessons in technology are good, learning to network has been even better, he said. "It's important to ask other people if you don't know the answer."
Bowman had additional opportunities to network when he represented DSU student research at the Legislative Research Day Student Poster Session on Feb. 7.  This annual event allows policymakers and other capital visitors to speak with students and faculty engaged in research activities on the public university campuses. In this way, they can better understand how research benefits the state and the education of students.
Bowman and the other students were available in the Capitol Rotunda over the noon hour, and were introduced to the legislature during the afternoon sessions.
After graduation in the spring of 2024, Bowman would like to stay in South Dakota and work in security, and eventually start his own contracting company in Rapid City. Both cybersecurity options give him "the opportunity to improve something I care about."