March 9, 2023
Dakota State University has recognized 62 employees for their dedication and commitment to the university at the annual Longevity Reception on March 1.
These 62 individuals represent 834 years of service to the State of South Dakota and DSU; if that number were averaged out it would be over 13 years per employee. This is quite a milestone, given that the national average stay for an employee is currently four years or less in the same job.
Because of the dedication of these employees, President José-Marie Griffiths said, "this virtue makes DSU a nurturing environment, a place that is transforming the lives of people here and in our community and our region every day."
Deb Roach, DSU's Interim Director of Human Resources, said these people were "the gifted, talented, dedicated individuals who make Dakota State University what it is."
Roach thanked everyone for their engagement, commitment, and the unique gifts they bring, which ensure that DSU students receive a quality higher education.
The employees recognized include:
5 YEARS
Joseph Bottum, Associate Professor

5 Years

Megan Bousquet, Administrative Assistant I

Micah Brandsrud, Registration & Transfer Assistant

Edward Dennis, Assistant Professor

Carrie Graves-Warden, Professional Academic Advisor

Rex Groos, Building Maintenance Supervisor

Pete Hoesing, Associate Vice President for Research & Economic Development

Britney Jencks, Admissions and Financial Aid Functional/Technical Specialist

Dylan Johnson, Information Systems Security Officer/Site Security Officer

Sharon Johnson, Print Shop Assistant

Madison Kaplan, Sports Information Specialist

Pamela Lewis, Administrative Assistant I

David Link, Program Director

Teresa Maier, Sponsored Programs Analyst

Brett McKeown, System Administration Manager

Marie Millage, Support Desk Administrator

Jordan Oberg, Research Engineer II

Sarah Olson, Course Materials Specialist

Anna Opsahl, Research Engineer II

Sue Peterson, Facility Worker

Robert Richardson, Instructor

Debra Roach, Vice President for Human Resources

Wendy Simmermon, Instructor

Nicole Steele, Clinical Supervisor of Pre-Service Teachers

Nicolas Steilen, Assistant Director of Residence Life

Stephen Vassalotti, Head Strength & Conditioning Coach

Richard Wicklein, Assistant Professor

Harold Winker, Building Maintenance Specialist
10 YEAR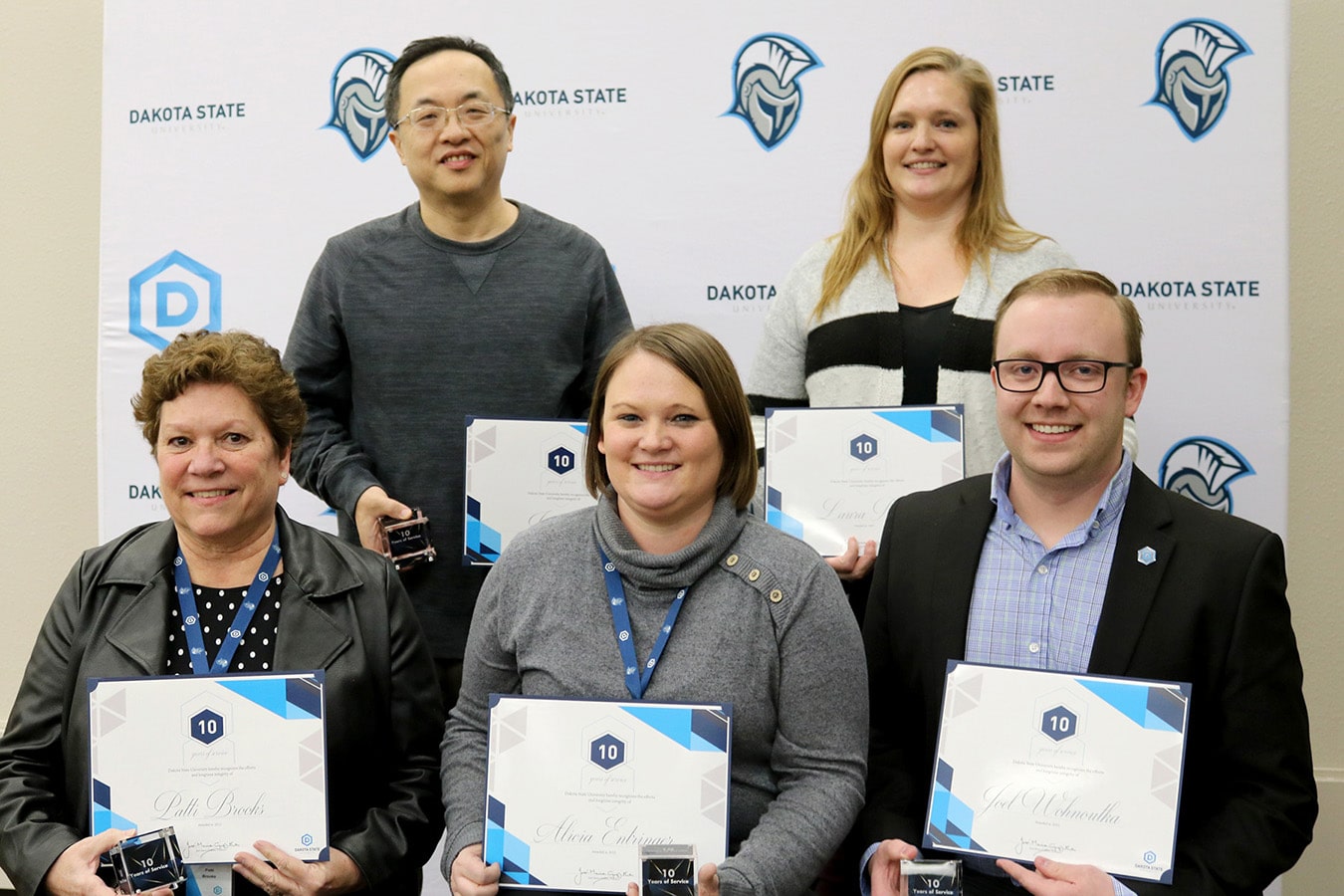 Patti Brooks, Assistant Professor/Director of CAHIT
Alicia Entringer, Human Resources Manager
Kati Larsen, Professional Academic Advisor
Jun Liu, Associate Professor/ Coordinator for Master of Science in Analytics Program
Laura Reed, Financial Aid and Scholarship Advisor
Cody Welu, Assistant Professor
Joel Wohnoutka, Executive Director of Applied Research Lab
15 YEARS
Tory Bickett, Admissions Operations Specialist

15 Years

Addie Borah, Academic Advisor
Nicole Bowen, Director of the Counseling Center
Jill Corbin, Scholarship Coordinator
Lori Engebretson, Retention Specialist
Mary Francis, Director of the Karl Mundt Library
Anne Hauglid, Administrative Assistant I
Jill Ruhd, Director of Development
Linda Williams, Facilities Services Supervisor I
20 YEARS
Vickie Bird, Facility worker

20 Years

Mandy Hendrix, Director of Student Engagement and Leadership
Kurt Kemper, Professor and General Beadle Honors Program Director
Michael Roach, Assistant Professor
Brent Van Aartsen, Chief Technology Officer
25 YEARS
Denise Grayson, Director of Financial Aid
30 YEARS
Kathryn Callies, Registrar

30 Years

Amy Crissinger, Vice President for Student Affairs and Enrollment Management
Dian Doblar, Parking Attendant/Groundskeeper
Amy Dockendorf, Controller
Gabe Mydland, Associate Professor
Shelly Nelson, Graphic Designer





35 YEARS
Scott Allbee, Systems Integration Engineer

35 Years

Dorine Bennett, Dean, College of Business & Information Systems
Roxie Draper, Facility Worker
Kathy Engbrecht, Instructor/Retention Specialist






RETIRING
Gary Garner, Head Men's Basketball Coach

Coach Garner - Retiring