Strategic Plan
A strategic vision for Dakota State University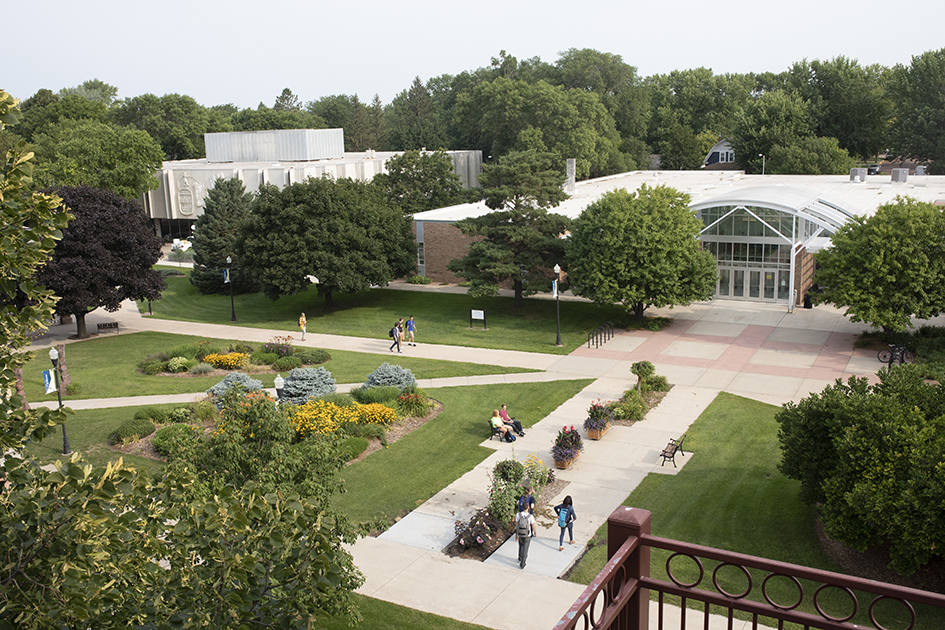 Dakota State University's strategic plan begins with our mission, vision, and values.  These build a framework for our university goals.  It builds on our strengths and focuses our attention and commitment on the most pressing issues we are distinctively positioned to address. As an important initiative, DSU continuously seeks to advance student success through highly engaged, high-impact educational practices.
Strategic Plan
The ADVANCE strategic plan began in 2022 and will continue to evolve through 2027 and beyond. We will consider our strengths and challenges as we bring stakeholders together to move our University forward. Our strategy focuses on quality, research, engagement, athletics, and student success.
Full overview of our 2027 goals and vision
The ADVANCE strategic plan began in 2022 and will continue to evolve through 2027 and beyond. Foundational goals are operational priorities which already exist and will continue in the future.
Ensure Financial Stability
Strengthen Regional and National Relevance
Enhance Ability to Recruit and Retain Talent
Increase Student Enrollment
Enhance Student Success
Maintain Higher Learning Commission Accreditation
Ensure Responsible Stewardship of State Resources
Strengthen Risk Management Process
Pillar, Goal, & Milestones Defined
Pillar:
A pillar is a focus area over the next 5 years which will raise DSU to a greater performance and accomplishment. This document outlines five pillars.
Goal:
A goal defines measurable direction for a change.
Milestone:
A milestone is an action or event marking a significant change or stage in development.
Definitions
Computing and Information Technologies (CIT) include any computers, storage, networking and other physical or virtual devices, infrastructure, architecture, processes, and policies to create, store, secure, access, use, analyze, exchange, manage and govern all forms of electronic data and their enabling technologies. This definition applies at multiple scales: personal, organizational, community, state-wide, national, and international. DSU's educational and research activities address all aspects of current, emerging, and future CIT/Cyber Security.
The term Cyber has more recently been used as a generic description for all aspects of Computing and Information Technologies. This term has been associated with the variety of applications areas: Cyber Security, CyberSpace, CyberHealth, CyberAgriculture, Cyber Physical Systems, etc. Cyber Security is a focus within CIT and Cyber that deals with strategic threat assessment, protecting and securing the CIT/ Cyber Technologies and data from criminal or unauthorized access. The security approaches range from off ensive (Cyber Operations) to defensive (Cyber Defense and Network Security).
Pillar 1: Increase Student Success
Earning a college degree develops opportunities in life. It prepares students, both intellectually and socially, for their careers and personal lives. This means higher skilled careers with higher pay, but it also leads to overall happiness, stability, and community engagement.
Dakota State strives to ensure students complete their degrees efficiently and are prepared to enter the workforce ready to make a diff erence immediately. This is good for students and good for South Dakota.
Goal
2027 Milestones
40% of students will graduate in 4 years.
60% of students will graduate in 6 years.
80% of full-time students will be retained after their first year.
100% of students will be hired in their fields within 6 months of graduation.
Pillar 2: Improve Engagement, Governance, & Communication
Talented, high-skilled, committed, and student-centered. These are DSU employees. As the
university rapidly transforms into a national center for cyber and cyber-intensive education, it
must ensure employees are empowered to advance the interests and reputation of the university.
Goal
Improve employee access to critical data.
2024 Milestones
Select employees will have access to real-time-financial dashboards.
Employees will have access to an internal communications portal.
Goal
2027 Milestone
More than 50% of employees will feel engaged and are enthusiastic about their work.
Pillar 3: Grow Scholarship, Research, Intellectual Property, & Economic Development
DSU is a powerhouse on the prairie which is quickly making its mark in research and scholarly
work. Its faculty, staff , and students are actively engaged in applied research which creates dynamic opportunities for everyone involved. DSU continuously seeks out ways to leverage its highly specialized cyber talent to protect the state, region, and beyond.
Goal
Increase the productivity of research and scholarly activities.
2027 Milestones
Faculty will increase their peer-reviewed publications and creative works output by 10%.
Research and Economic Development will have generated 10 new research jobs.
The number of staff participating in sponsored research will increase by 25%.
Sponsored research will have $12 million in annual expenditures.
Faculty participating in sponsored research for the first time will increase by 50%.
The number of students participating in sponsored research will increase by 25%.
Pillar 4: Elevate Athletics
Trojan athletes are dedicated and push their physical limits and mental endurance daily. Student athletes pour their concentration, leadership, and teamwork into their team and carry it into their classrooms and professional careers. With more than 500 student athletes and a new Athletics Events Center under construction, there's never been a better time to be a Trojan.
Goal
Increase the number of athletics programs.
2026-27 Milestone
DSU will have 18 athletics programs.
Goal
2027 Milestones
DSU student athletes' average GPA will be 3.0.
14 DSU athletics teams will be named NAIA ALL Scholar Teams.
Pillar 5: Increase Sustainability & Resilience
The heart of DSU is its students. DSU will continue to live out its mission, leveraging challenges into opportunities, and continue to make the university prosperous and its graduates successful.
Goals
The Beacom College will be equipped to double its number of graduates in
select programs to 400 annually.
Execute the Trojans Unite Comprehensive Campaign.
2027 Milestones
The number of graduates in computer science, cyber operations, and artificial intelligence will increase by at least 10%.
DSU's Trojans Unite Comprehensive Campaign will raise $250 million.
DSU enrollment will exceed 3,700 total students.