May 28, 2021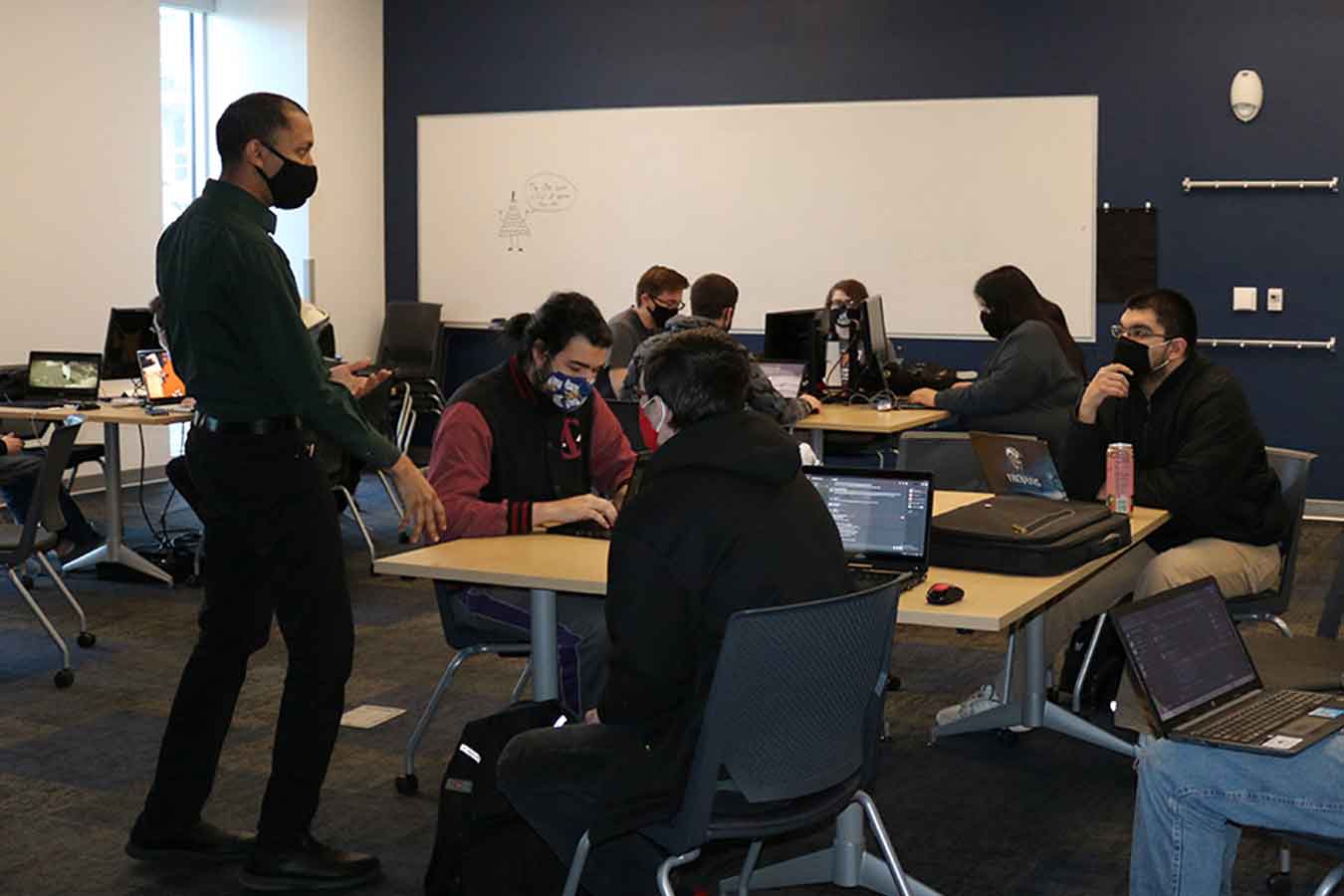 There's a lot more to designing games than just a love of playing them, a point impressed upon students by the new game design professors at DSU.
"Game design is the combination of the arts and computer science put into practice," said Peter Britton, Assistant Professor of Game Design.
Britton and Erik Pederson, Assistant Professor of Game Design, joined Dakota State University in August of 2020. Together they bring decades of industry experience to the program.
Earning a degree in game design requires students to study and become proficient in several areas of subject matter. "Game development is production based," Pederson shared. "It's a lot of troubleshooting, research, solving problems, especially solving technical problems."
There are three different areas of emphasis in the game design program: game art, narrative design, and software development. In addition to developing proficiencies in their chosen track, students in the program develop skills like teamwork, programming, and critical and creative thinking that can be applied to several industries.
Throughout their first year of teaching at DSU, Britton and Pederson have enjoyed adding their own touches to the program.
"Our goal is to have students make products in games and interactive software that can compete with big time universities.
Britton encourages students to learn about all different types of games, which enables them to better understand game mechanics. This understanding helps the students look at the process of game development.
In addition to offering a new look at current courses, the professors are working on a couple of new courses, a business class specifically for game development, and an experimental games course.
The business class will allow students to study the world of independent games, how they can start an indie game company, while also recognizing how the AAA game industry works, Pederson explained. A AAA game company is a large company usually with several hundred employees like EA.
Experimental games will introduce students to games outside of the "typical first-person shooter genre," Pederson said. The goal is to get students to think beyond the type of games you would find produced by EA.
Both courses will offer a broad knowledge base to students graduating within the program, preparing them for a future of possibilities. Curriculum within these classes, as well as others, will also enable students to become proficient in several areas of subject matter.
These skills, a production-based industry focused on creating content for consumers, and a stable market for entertainment can help assure parents that their child is not going to school just to play games.
Furthermore, the program teaches students to take and learn from criticism, while remaining resilient. "We, as humans, we don't like being criticized, we feel uncomfortable or incompetent," Britton said.
However, he teaches students to review all criticisms and evaluate it and see if it's valid. Not all criticisms are equal, but if it's a valid criticism, you make the changes, he said.
These lessons and so many more are just some of the ways Britton and Pederson are preparing students to excel in the game industry upon graduation. They are excited to help DSU build a real presence in game design through student work.
Britton and Pederson remain connected through development, family, and friends within the gaming industry. These connections assist them in constantly evaluating the program to ensure it's up to date with current industry practices.