September 1, 2021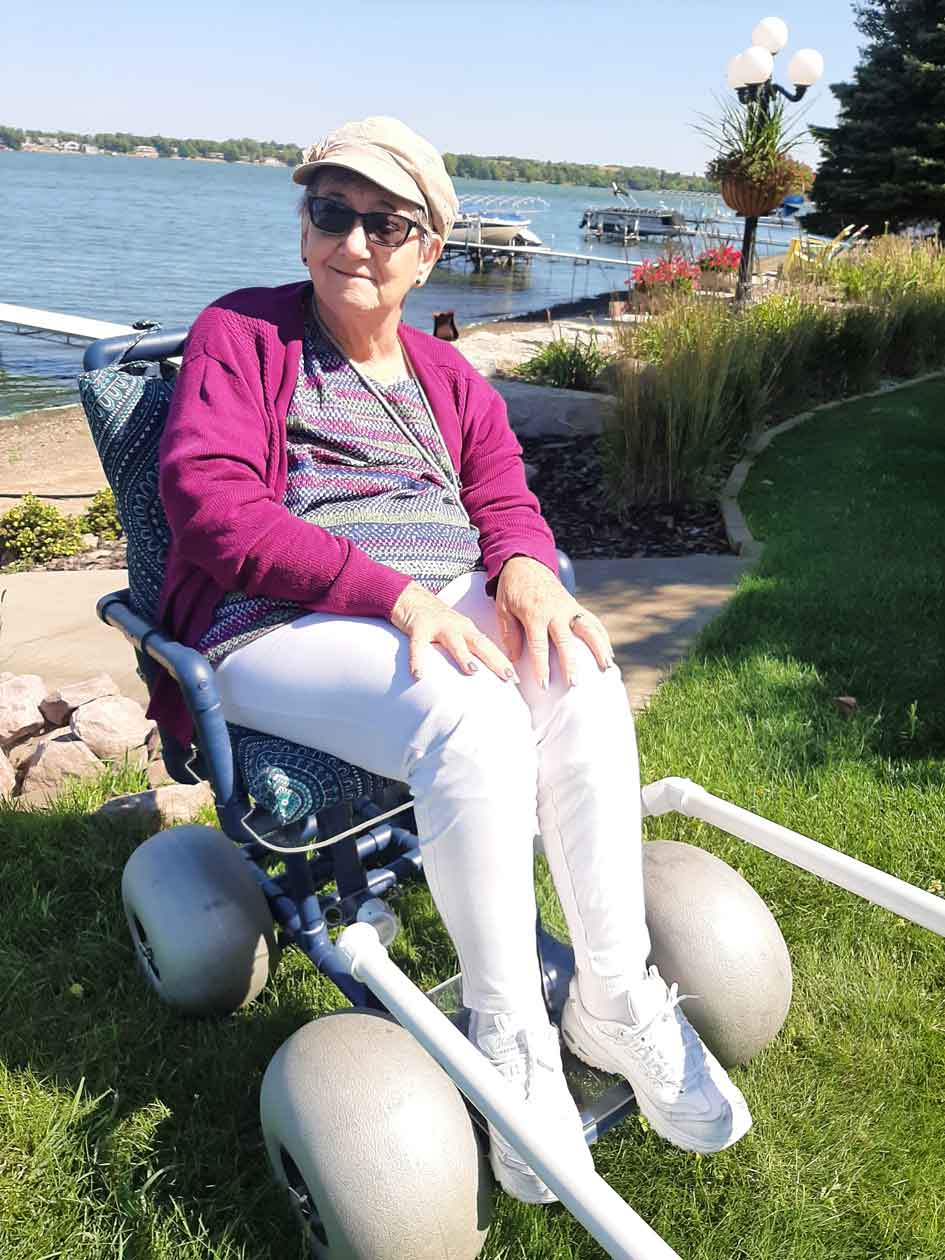 Ted and Marietta Faszer were first introduced to a beach wheelchair on a trip to the Bahamas.
"I like being on the beach and in the sand," Marietta said, of her time using a beach wheelchair. While she enjoys the warm waters of the ocean, she is most excited to use the chair to be on the beach with family and friends and not watching from a distance.
In 2009 Marietta was diagnosed with Paraneoplastic Cerebellar Degeneration, which is a loss of nerve cells in the cerebellum, the area of the brain that controls muscle functions and balance. This has impacted Marietta's ability to walk, requiring her to use a wheelchair, which is difficult to use on sand or in water.
Marietta loved the beach wheelchair, so they approached Dr. Justin Blessinger and the DSU AdapT Lab about building a customized PVC pipe beach wheelchair for Marietta.
"Justin loves finding ways to make the quality of life better for people," Ted said. "And I'm just delighted that there is such a thing as the AdapT Lab at DSU."
The AdapT Lab is a research lab dedicated to the mission of using technology to navigate and structure environments to achieve "barrier-free-living." Blessinger, DSU professor and Director of AdapT Lab, was excited to help design a beach wheelchair.
Premade beach wheelchairs come with a considerable cost – they can be well over $1,000 to purchase; the cost of materials to build the chair made by Blessinger and the AdapT Lab is under $400.
The beach wheelchair is made of PVC pipe, which keeps the chair lightweight. It also utilizes beach wheels, a very wide pneumatic tire with low air, Blessinger said. The beach wheels work on sandy and rocky beaches.
Most of the PVC pipe is glued, but a few screws are used in the middle of the chair to allow for the chair to be dismantled, which can be done in three minutes with a power drill. The frame can be detached from the axles and the wheels and can fit in a small car trunk.
Local businesses helped with supplies for this project. Jeff Hyland with Hyland Machine donated the axles, which are stainless steel for a salty, beach environment. Shawn McGillivary modified the axles with a metal lathe and made some design suggestions.
He recommended utilizing plastic bushings and making them removable, so they can be easily and cheaply replaced if they become worn down, Blessinger explained.
"We really appreciated working with some local folks, local businesses on this," he said. "We've been able to buy almost all of our components locally with the exception of the beach wheels."
To create this beach wheelchair Blessinger worked with the Faszers to make the best chair for Marietta, but the plans can be customized for the specific user's wants and needs.
On Marietta's chair, hidden holes take in water so her chair can be submerged into a body of water, and a Velcro safety seatbelt has been added to prevent Marietta from floating away from her chair. Additional customized adjustments for Marietta include outdoor furniture cushions to add some comfort and style, and a mount, which allows for attachments on the rear portion, such as a beach umbrella.
Another potential attachment would be tubes from large diameter PVC for each side of the chair and a strap that would go down and around the bottom of the chair, so someone could float instead of being submerged, Blessinger said. Other ways the chair can be customized include adding an adhesive to make the chair watertight, making the chair longer or wider, and/or making a child-sized version.
"It's good to have those things quite flexible so that people of different sizes and shapes and postures are able to modify the design to their specs," Blessinger said. His goal is to offer these plans online for free. People would be able to download the plans by signing a waiver.
Marietta and Ted are happy to be able to contribute to the AdapT Lab and are always looking for ways to advocate for people with disabilities and educate others.
"It's our mission to teach others, or make them aware," Marietta said.