Student tutors certified with CRLA
September 13, 2022
Dakota State wants all students to succeed, so the Trojan Tutoring Center has resources available for both on-campus and online students.
They also have tutors who are not only subject matter experts, but are also trained in tutoring. Patti Beck, Coordinator of Academic Support Services, announced that three recently earned their College Reading and Learning Association (CRLA)  ITTPC Master Tutor certifications -- Jose Magana, Jonny Derenge, and Ryan Morganti.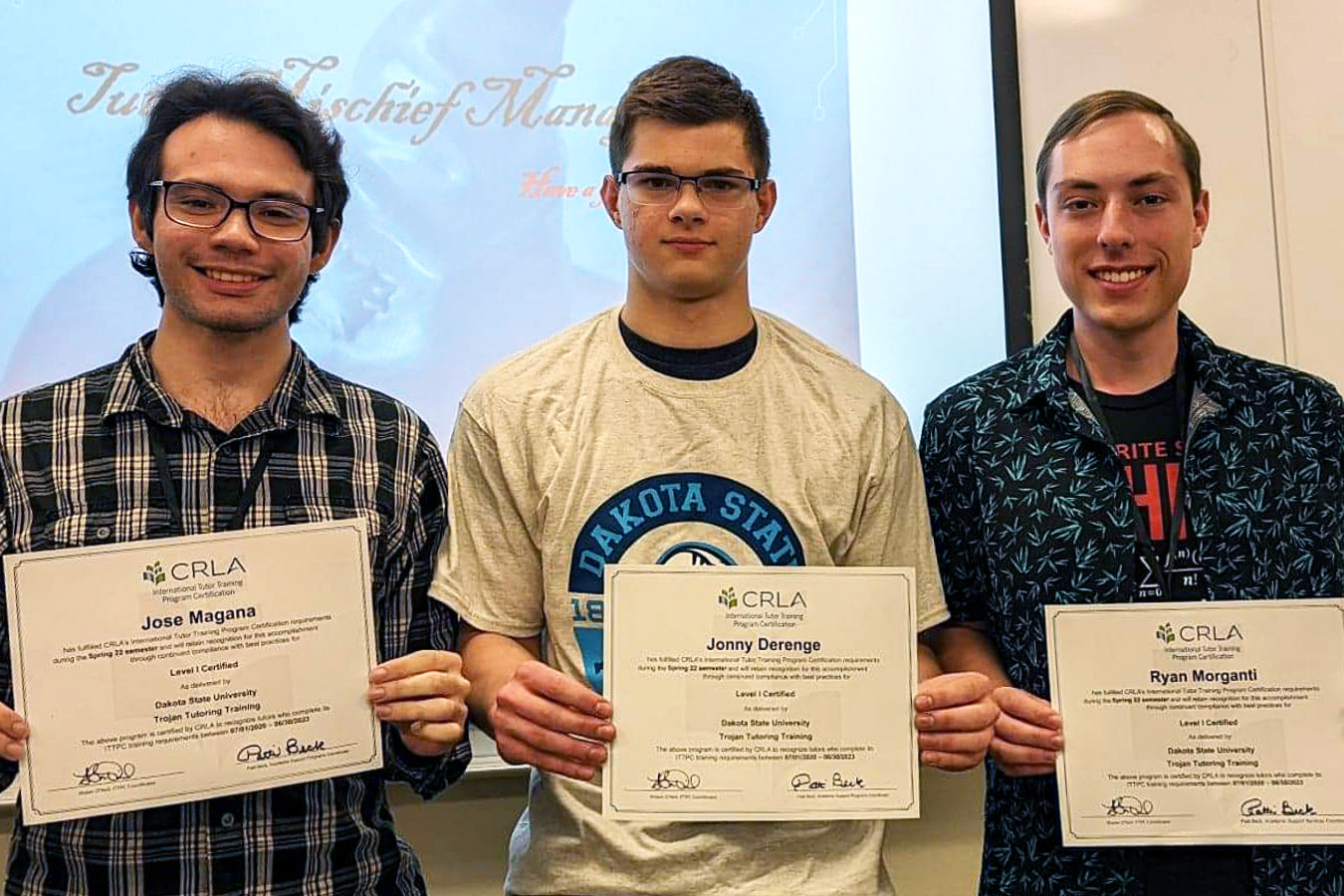 CRLA (formerly WCRLA) is a group of student-oriented professionals active in the fields of reading, learning assistance, developmental education, tutoring, and peer educating at the college/adult level. 
Magana, a computer Game Design and Computer Science major, said that through the CRLA course he learned that communication is the key to a productive tutoring session. Because the individuals they work with come from a large spectrum of backgrounds, "we have to be really flexible with how we communicate with students to make sure the session is a fit to their needs," said Magana. "We hopefully can improve their experience as a student at DSU." He tutors mainly computer and game courses, plus math.
Derenge, a Cyber Operations major, said the training reviews "soft skills," how to interact with people, converse with them, and adapt as necessary. He tutors students in computer science and cyber courses.

The students must have completed the courses they will tutor; helping others with this same content allows Morganti stay up-to-date and familiar with the subject matter. He enjoys using his course knowledge to help his peers better understanding class content. A Computer Science and Math double major, he appreciates "being able to build up a relationship with the people coming in and helping them along their college careers."
Magana is also the lead tutor, which involves some supervisory and administrative tasks, including managing session logs, social media, and sending out surveys to see how the students' experiences have been.
These are also good job skills for him, but he enjoys that the tutoring is satisfying.
"It's nice to be able to help out in something that you have confidence in. It makes you feel like the individuals you work with have something to take away from the experience," said Magana.