Templates
Establishing a consistent impression with our audiences is an essential part of the Dakota State University brand. Whether you're giving a lecture to students or sharing ideas with an organization or business, using the provided templates will allow you to communicate in an appropriate and impactful manner. 
When customizing the sender's name and department information area of your DSU email, adhere to the following guidelines. This ensures consistency across all university departments while allowing us to maintain a professional appearance in our electronic communications. To make this process simple for faculty and staff, Dakota State University uses an email signature generator. Do not create your own email signature or use any third-party software to generate an email signature graphic. To create your official DSU email signature, click here. 
Two signature variants are available to all DSU faculty and staff: the initial signature and the response signature. 
The initial signature allows the sender to sign their preliminary correspondence with the fully designed email signature, complete with logo, official title, department, phone numbers, and any other relevant information. The name you use can be customized to your preference. 
The response signature features a simplified design and is used for subsequent messages in an email chain. This variant keeps the most relevant contact information while preventing your email thread from becoming saturated with unnecessary signature elements.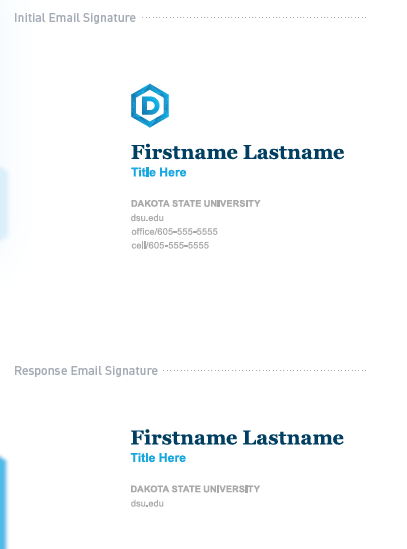 When creating your DSU presentations, only use official DSU PowerPoint templates.
Download Light Background PowerPoint template
Download Dark Background PowerPoint Template
Powerpoint Accessibility Tip Sheet
Layouts
Use simple themes, pre-defined slide layout templates.
Slide titles are meaningful and unique. If same topic, add i.e. 1 of 3, 2 of 3, 3 of 3.
Use default bulleted and numbered lists.
Avoid text boxes (inaccessible) which do not show up in Outline View.
Readability
Sans-Serif font (Arial, Calibri, Verdana, etc.)
Maximum 6-8 lines of text per slide.
Minimum font size 24 points or above.
Avoid transitions and animations
Images 
Use alternative text (alt text), a written description of images and/or objects.
Be brief and descriptive.
"Image of…"or "photo of…" or "graphic of" is not needed.
The best method to practice is using captions, this will provide equal access to all users.
Color
Select colors with deep contrast.
Provide captions if using color to convey meaning i.e. which section is highlighted in red?
Links 
Links should be clear and directly relate to the title or heading of the linked page.
Use "Visit the Universal Design Center" instead of "Click here for more details."
Do not use the same link text to refer to different resources.
Do not use different link text to refer to the same resources.
Tables
Use tables to organize data not format information.
In Table Tools, make sure the Header Row checkbox is checked.
Include table alt text, captions or brief description.
Avoid merged, split, or blank cells.
Multimedia 
Ensure video files have captions.
Ensure audio files have transcripts.
Charts
Use pattern fill or dotted lines texture instead of solid fill or line with labels for each.
Provide a text summary and a properly coded data table near the chart.
Avoid color-coding which may not be distinguishable for colorblind users.
Reading Order
Reading order is shown in reverse, bottom to top in the Selection pane.
To check or fix reading order, select Home > Arrange > Selection Pane.
Accessibility Checker
Use Outline View for a quick check of text accessibility. Ensure title and body text are identified correctly in each slide.
Use the built-in Accessibility Checker in PowerPoint.
The checker will scan for errors and provide tips on how to fix them.
Download Light Background PowerPoint template
Download Dark Background PowerPoint Template