First patent granted at Dakota State
January 19, 2021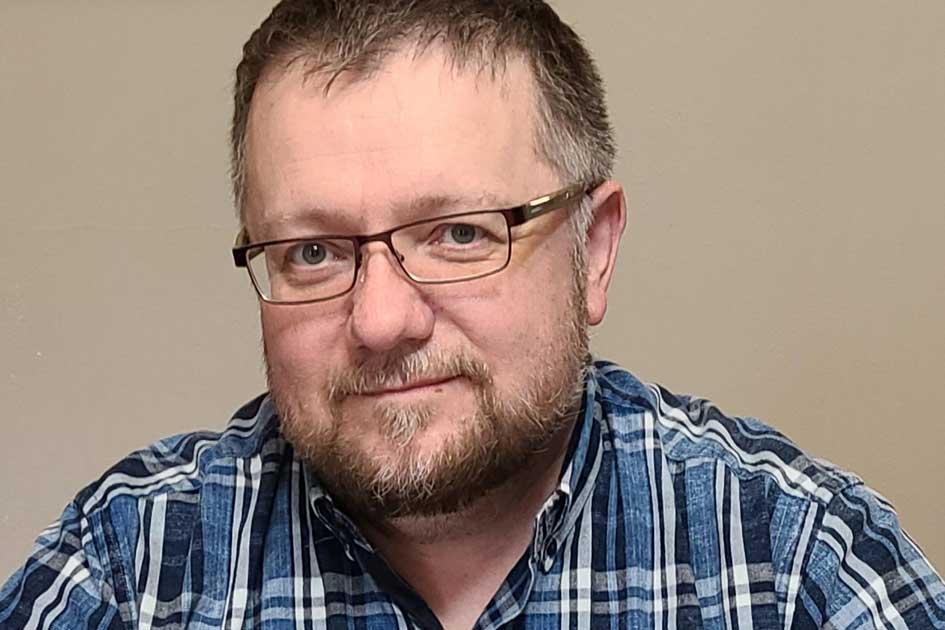 Dr. Justin Blessinger has been granted a provisional patent for an assistive technology device. This is thought to be the first patent granted at Dakota State University. Blessinger is director of the AdapT Lab at Madison Cyber Labs (MadLabs), and a professor of English at DSU.
The device, currently called a Power Block, draws power from the batteries of a powered wheelchair or mobility scooter. Allowing both 5v and 12v access, this device allows users to charge smartphones, power nebulizers, or even use heated lunch boxes. There are also iterations in the provisional patent which will allow for future device designs, including the ability to easily charge the chair.
This milestone is an outgrowth of the dynamic research focus that has been cultivated at Dakota State, particularly since 2015. This momentum includes the opening of the MadLabs research building in 2019, but Blessinger said "MadLabs is more a concept, not just a building," he said. There are now 16 institutes and labs operating across the university researching topics from cyber-ethics to security with internet-connected devices to artificial intelligence.
"The MadLabs were designed with technology commercialization, economic development, and cyber innovations in mind," said Dr. Ashley Podhradsky, interim vice president for research and associate dean of The Beacom College of Computer and Cyber Sciences. "Dr. Blessinger is the first to secure a patent-pending technology, which demonstrates the importance of our research, work, and efforts. We applaud his efforts and hope this is the first of many."
The idea for the device came from a discussion between Blessinger and colleague Dr. Chris Olson, who uses a powered wheelchair. Olson needed a way to keep his cell phone charged, and power a heated scarf he uses in colder weather. Blessinger began design development, creation, and testing independently at first, through a business of his own, TransForm Accessibility.
This fall the AdapT Lab received an i6 federal/state partnership grant which allowed a partnership between TransForm Accessibility and the AdapT Lab, to investigate ways to bring the product to market. By utilizing the resources of the university, the process was able to move more quickly and get the device into people's hands sooner, so he has shared the intellectual property with the university.
The next steps will be to produce and sell the Power Block, either through a manufacturing partner or through TransForm Accessibility with the help of capital investors. There are about a million people in the U.S. who use powered chairs or mobility scooters, and the convenience of this device will increase dignity and independence, Blessinger said. Using technology to make the world more accessible is the motto for the AdapT Lab, "Accessibility via Tech."
The patent process has been a learning experience for Blessinger, but the intellectual property firm Suiter Swantz has been helpful. "They have been knowledgeable, and instrumental in helping protect the derivative devices," he said.
Colleagues at DSU have been important throughout the process as well, including Olson, an associate professor of information systems. "He has been a willing tester of every iteration of the device, and a great source of inspiration and vision," Blessinger said. He added that Dr. Peter Hoesing, director of Sponsored Programs, was instrumental in securing funds for this patent application, as well as being a source of encouragement and advice. He also noted Podhradsky has been very supportive of these efforts.
While Dakota State and the researchers there have not had much experience with patents, Blessinger has always loved the encouraging attitude at DSU. He hopes he can now be a resource to others with novel ideas.
"We are expanding in multiple directions at DSU, and I'm thrilled to be a part of it," he said.