December 8, 2021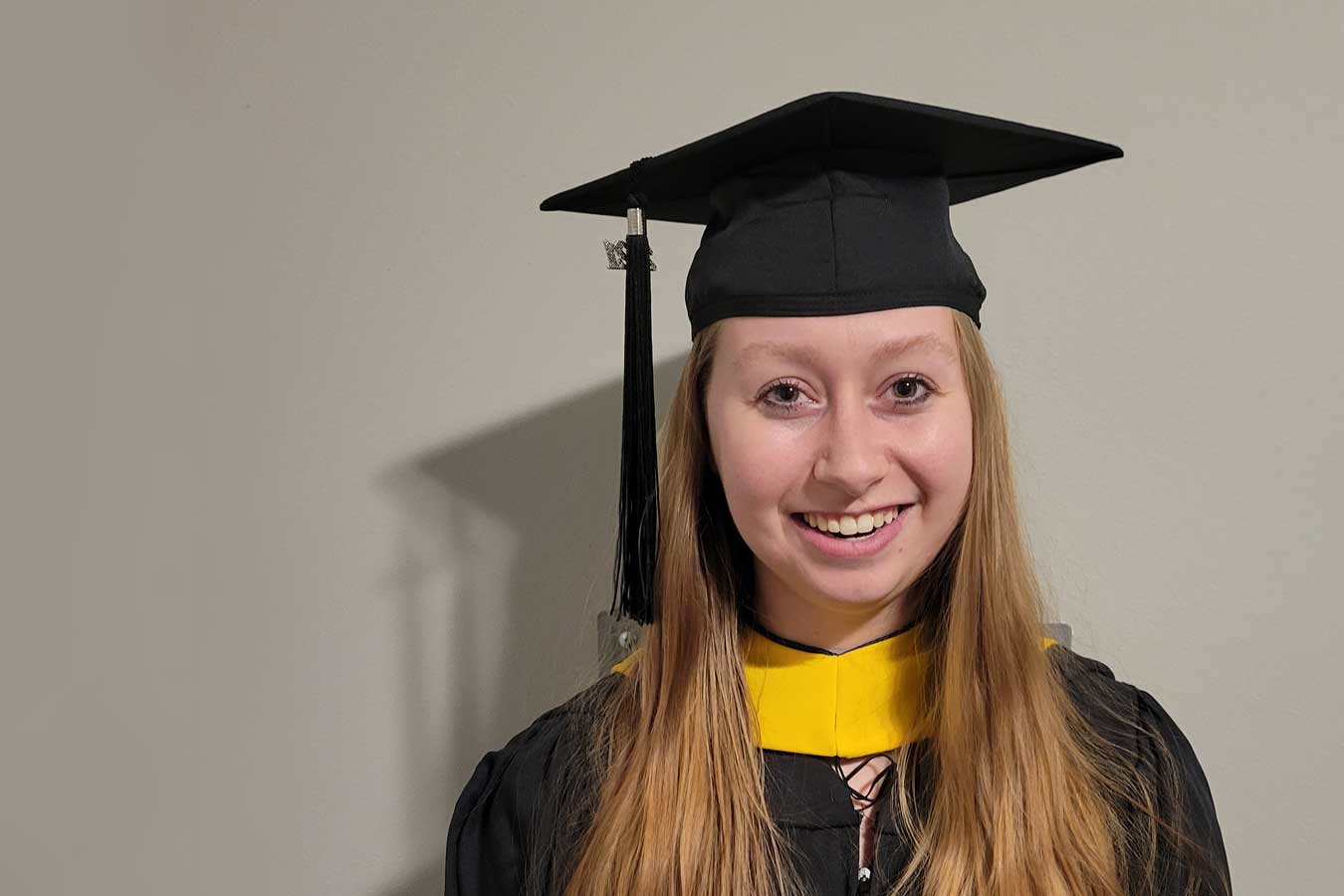 VanderWilt is student speaker at graduation
Alexis VanderWilt knows dreams can change.
As a high school student, she attended a GenCyber Camp at Dakota State to see the magician that was performing. Instead of being enthralled by the magic, she fell in love with Dakota State and computers.
She is now graduating with her third DSU degree, a Master of Science in Computer Science. She graduated in May 2020 with bachelor's degrees in Computer Science, and in Math for Information Systems.
VanderWilt will talk about changing dreams when she speaks on behalf of the graduates at Saturday's Fall Commencement ceremony at 10:30 a.m. in the DSU Fieldhouse.
She will tell her fellow graduates that "you don't have to have an answer to every question, and it's ok to not have it all figured out," she said, because "it will be OK because DSU has prepared us well."
Her experience at Dakota State has been very positive. "DSU was amazing for me," she said. "Everyone treated me very well."
For example, her professors were all "amazing, and they always had the students' best interests in mind," she stated. "That makes DSU unique, and I love that."
As a woman entering a cyber field, VanderWilt was often the only female in many of her classes, yet she never felt excluded here. "As long as you do your job well, people will notice you, regardless of your gender," she said.
Outside the classroom, she participated in a variety of learning experiences, from club participation in groups like CybHER, to research projects, to national and international conferences. She recalled all the traveling she did, to Chicago, Texas, Florida, Germany, and studying abroad in Mexico for summer for her Spanish minor.
Through these experiences, VanderWilt met people from all over, heard their stories, and talked about what's different between their homes and South Dakota. "Learning about other cultures broadened my horizons with different perspectives."
Seeing things from other people's points of view helps personally and professionally. "You learn the world is not as small as it may seem, and learn about jobs you didn't know existed."
VanderWilt has a full-time job lined up with the Department of Energy and will be based in Watertown, S.D., relatively close to her hometown of Mitchell. "I'm very grateful for that because I have a six-year-old brother and I want to see him grow up."
The best thing about her job now is that she can experience a number of aspects in the profession; she can spend a day with the networking team, then a day with the security team. This is particularly important in the technology field because it is growing and changing every day, so it's all right if your dreams change.
"Don't be afraid to try new things," she said, because "you may end up loving it."