Cyber Defense Master of Science (MSCD)
Secure and protect
Put your skills to the test and advance your career.
With an MS in Cyber Defense from DSU, you gain the expertise needed to stay ahead of hackers, protect valuable business assets, and prevent and detect attacks.
Gain knowledge in cyber security incidents through incident response, forensic imaging, and computer forensics. Discover what it means to lead strategic technical efforts. Become an expert in data privacy, computer forensics, and intrusion detection. Ensure the availability of information systems. Work with world-class faculty who are some of the nation's top authorities when it comes to battling digital crimes. Get prepared for a promising career. 
Offered entirely online, this program gives you the ability to advance your professional career while getting your degree.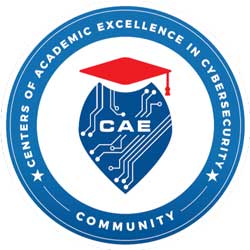 Graduate with recognized excellence
At DSU, we have a recognized excellence in cyber security, education, and research that is central to our mission. We currently hold four prestigious Centers of Academic Excellence Designations from the National Security Agency and Department of Homeland Security, including the most technical for Cyber Operations and the most prestigious as a Cyber Defense Consultative Regional Resource Center, one of only four university-based centers in the nation.
Learning outcomes
The Masters of Science in Cyber Defense (MSCD) degree is designed to prepare professionals who will have the skills to:
Prevent network attacks through risk management, vulnerability assessment, intrusion detection, and penetration testing. 
Respond to cyber security incidents (external or internal) through incident response, forensic imaging, memory forensics and computer forensics.
Protect data through cryptography.
Protect data through security practices (offensive and defensive).
Faculty