CTL Programs
New faculty orientation and academy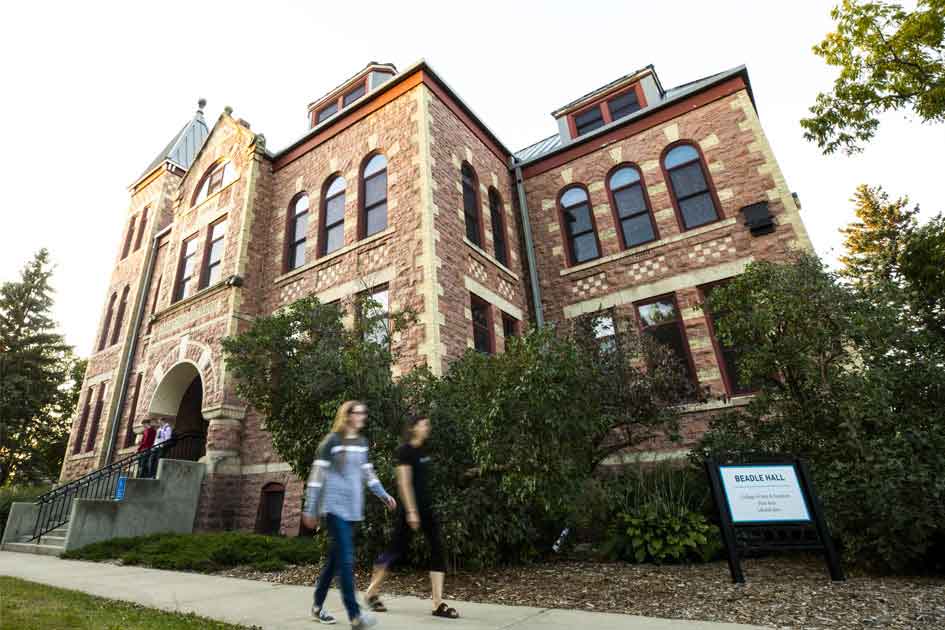 Becoming an effective educator takes more than just content knowledge. It takes more than merely implementing a syllabus and it doesn't happen in a linear way. It's hard work, reiterating, and can be a life-altering experience ranging from intellectual highs to emotional lows. Teaching and learning happen within a social environment and demand a relationship between you and your students. It's a learning process that never ends.
Most professors have not had any coursework in teaching and learning but are expected to "know" how to teach well. Some professors are gifted with exceptional people skills and enter the classroom with those gifts. Others try different techniques or various ways to reach their students. For many, some immersion in learning theory, course design, behavior management, and reflection makes learning how to teach a more successful endeavor.
This course is for new (and relatively new) educators. It is built upon the belief that new faculty members can be given the tools to develop their own "teacher persona" through reading, discussing, reflecting, and practicing. Along the way, they have opportunities for feedback from the instructor, other faculty members, and their peers. The goal is to equip our new colleagues with skills that will set them on the path of teaching effectiveness.
This course is divided into four units: Designing a Course, Teaching Strategies, Assessing Learning, and My Academic Life.
Peer-to-peer: faculty developed teaching and learning workshop
The DSU Center for Teaching and Learning welcomes faculty and staff members to participate in professional development workshop sessions that promote institutional excellence, lead to enrichment of teaching and learning strategies, and enhance teaching effectiveness. These sessions are held and led by your colleagues throughout the semester and touch on a variety of topics. Please refer to the sign-up sheet for dates, times, and topics.
Abstracts
Floop is a technology tool that enables you to provide feedback to students quickly and easily. In addition, it helps manage peer review activities. In this session, you'll learn how to get started using Floop in your courses.
Having a toolbox of instructional strategies that you know how to implement is an important part of being an educator. In this session, you'll learn about 2-3 proven instructional strategies that work in terms of helping students learn. I'll explain the strategy, walk attendees through how to implement it and model how it works with students.
Understanding Human rights helps students situate events within a global context. One of the objectives of the course evaluations is "Developing knowledge and understanding of diverse perspectives, global awareness, of other cultures." Understanding human rights and how they were adopted gives students the understanding of a widely accepted set of principles that many nations have agreed to, at least in principle. Helping students to understand the tensions between rights can also help them understand diverse perspectives.

It would depend somewhat on the course being taught. EDFN 365 has a focus on developing digital citizenship (a ISTE Standard). Other courses might have different objectives that they would fit into, or they could use the IDEA objective mentioned above.

For example, as part of our Mars/technology/Minecraft activities, I ask my students to select which would be the three most important human rights to emphasize on a new Mars colony. The answers will vary, and the goal is to get students to engage in thinking about what would create a workable and just world, not just pick any three at random.

Another example might be: While reading "To Kill a Mockingbird", select one or two human rights that were violated during the story. This can help students generalize from incidents to principles.

Benefits to the stakeholders as faculty would be another option for helping to raise student awareness of the way social justice issues have been or could be applied, within the context of IDEA goals or their individual course goals. The advantage for students is it could help them recognize patterns of repeating events, rather than seeing events as isolated incidents. For example, for our preservice teachers, there is always the issue of salary, which is connected to the right to education. However, there is a natural tension between that right and the right of land ownership, as the landowners' property taxes (needed to retain ownership) are required to fund the schools, in most cases.
Class discussions are an essential component of higher education as they foster student connection, collaboration, and reflection. In an online class environment, however, it is more challenging to facilitate meaningful discussions among students. Factors to consider when creating online class discussions include determining when to use them, crafting worthwhile questions or prompts, and choosing an appropriate discussion platform. Beyond the limited D2L discussion board, tools such as Padlet, Insert Learning, and Flipgrid can elevate and innovate the typical class discussion.
The first step of learning is to memorize the contents. Once we have them memorized, the ability to recall those contents and apply them according to the tasks is considered to be critical. Learning something the hard way implies a waste of time and effort while learning in a smart way is highly desirable. The lesson plans for good teaching should be creatively tailored to fit all learning styles and preferences of students and use strategies to make learning easier and more interesting. As stated, memory plays a key role in our ability to carry out complex cognitive tasks, such as applying knowledge to problems never before encountered, making judgments based on existing knowledge, or drawing conclusions. This workshop will cover the new way of learning and teaching, how to creatively challenge your students, how to determine the appropriate mode of instruction to match the nature of the subject, and how to select appropriate and challenging assessment methods. Once we make the content "easy" to "stick", the knowledge can be recalled and applied like "Do-Re-Mi" with Julie Andrews from the Sound of Music!
Workshop based on the book "Make It Stick" by Peter Brown. Participants will have opportunities to participate in the workshop's active activities and possibly construct some new ideas for their class instruction. While the participants are not expected to sing "Do-Re-Mi" they are going to participate in a very active workshop where they will have to move around and discuss.
This workshop will review three activities that use a game type or role-playing format to enhance learning. The first is Classtools.net, which has many activities on its site that can help teachers. This workshop will focus on the arcade game generator tool, which will show teachers how to help students go beyond flashcards to memorize content. The process of creating a game is fairly simple, with teachers creating a simple question*answer format, but saving the URL for future use can be a little tricky. The second tool is JeopardyLabs, an online version of Jeopardy where instructors can enter their course content as the question base. While this can be used as a stand-alone tool, I have used it mainly within classrooms, and students find it to be a fun and engaging review activity. Students can be divided into teams of two or three. The workshop will briefly cover how to sort content into categories but will also address how to manage the teams. The third activity will be WebQuests. This is an old web-based activity, so the renewed focus will be on helping students find quality sources and critically analyzing them, with a focus on mediating multiple perspectives. This will not be a scavenger hunt format, which sometimes appropriates the WebQuest title into a superficial format.
This workshop will cover a wide variety of Zoom functions that range from preparing for Zoom sessions, to engaging students, specific teaching scenarios, and accessibility. Zoom session preparation techniques and tips will be covered. The participants will be introduced to many tools that will make their Zoom session engaging such as poll, chat, break out room, and non-verbal feedback. The key take-aways from this workshop are 1) how can I prepare my Zoom session; 2) how can I make my session interactive, 3) how can I engage my students during my session, and 4) how can I accommodate my students. Experienced instructors who recently used Zoom effectively will also join the session to share their strategies and approaches. This session will also include a demonstration of Nearpod + Zoom Engagement Tips by Dr. Kevin Smith.
This workshop is based on the HyFlex Teaching workshop session in the Fall of 2020. The participants of this workshop will be briefly re-introduced to the HyFlex course model theoretical framework as well as other related design theories that can be implemented when developing HyFlex classes. The development process will be covered along with tips and tricks for instructors who recently learned and wanted to deploy HyFlex teaching. In addition, participants will also learn about accommodating and supporting students in this class format.
https://www.buffalo.edu/edc/AcademicPreparedness/HyflexModel.html
https://www.niu.edu/keepteaching/resources/hyflex-course-model.shtml
Simplify the nav bar
Add videos to guide students
Put everything students need in one place
This D2L workshop will cover the basic elements of the grade book and other D2L tips and tricks for using the LMS to make effective teaching for instructors and make learning easy for students. Test proctoring service, Respondus Test Proctor (Lockdown browser and Test Monitor), will also be covered in this session. This function can help instructors uphold the integrity of the class assessments. Additionally, participants are also encouraged to bring any questions that they may have to the workshop.  
In the throes of a global pandemic first identified in Wuhan and spreading throughout the globe, it is crucial that educators consider culture as it shapes the experiences and success of Asian students.  Further, societal shifts with COVID-19 and the mobilization of Black Lives Matter have brought about a moment of reckoning in U.S. higher education institutions with a push to re-examine the classroom and larger university as a place of welcoming, diversity, and inclusion to maximize student success. In this talk, I will draw from scholarship on teaching and learning as well as my own observations and experiences teaching sociology to Southeast and East Asian students (among others) in the U.S. and at schools in Thailand and China.  Differential social and cultural norms as they affect student success in terms of communication, classroom type (student-centered v. teaching-centered), relation to course content, and needs beyond the classroom will be addressed.
This workshop will discuss the background, theoretical framework, benefits, and challenges of the Flipped and Active classroom model as well as activities that complement the model. The presenter will share their experiences regarding teaching this model and the results. Participants will also have the opportunity to ask questions and discuss implementing the model in their classroom.
Can you tell a real smile from a fake smile? What does steepling mean? Why is isopraxism important for developing rapport? This workshop will cover body language basics that you are likely to find in business and classroom situations. Knowing these basics can help you improve your communication and interactions with others. You'll learn the 10 rules of non-verbals and specific actions for face, arms, hands, legs, feet, body position, mirroring, seating positions, and more. Become a better communicator by going beyond the spoken word.
The participants of this session will learn about the DSU multimedia tool, Ensemble. Instructors can use this tool to deliver contents and instructions via the video lecture capture as well as in-video quizzes. Instructors can also embed the video clips directly into their D2L for ease of access. The presenter will present a variety of Ensemble functions that will complement online classes as well as accommodate students' various learning preferences.
As part of the ongoing improvement of online class delivery, DSU offers its faculty members the choice of technology equipment that will enhance the quality of online instructions. The presenter will present the tips, techniques, and how to use the equipment during this workshop. The benefits and challenges of each equipment will also be presented. Faculty members are welcome to pick up the equipment of their choice at the university bookstore or put in the online order via the link provided at the end of the workshop and pick them up at the bookstore later time.
Jan 5th - New Devices Training - Writing & Drawing Tablet
Jan 6th - New Devices Training - USB Microphone and Headset
This workshop will introduce and discuss the benefits of incorporating undergraduate research into classes to enhance student learning opportunities. Participants will also be introduced to Problem-Based Learning and Authentic Assessments which can be used as fundamental concepts of undergraduate research. Past and present faculty members who have participated in the SRI program will also share their ideas, experiences, and example student projects. The Undergraduate Research Coordinator will explain the application process and procedures for participating in the SRI.