May 27, 2021
By the numbers, Odin Bernstein is a very busy student.
He is working on the 4+1 program to receive two degrees (his bachelor's degree in Cyber Operations in May 2021, and his master's degree in Computer Science in December 2022).
He has been working with professors on two research grants, and received his own grant funding for an independent student research project.
He has been vice president of a student club.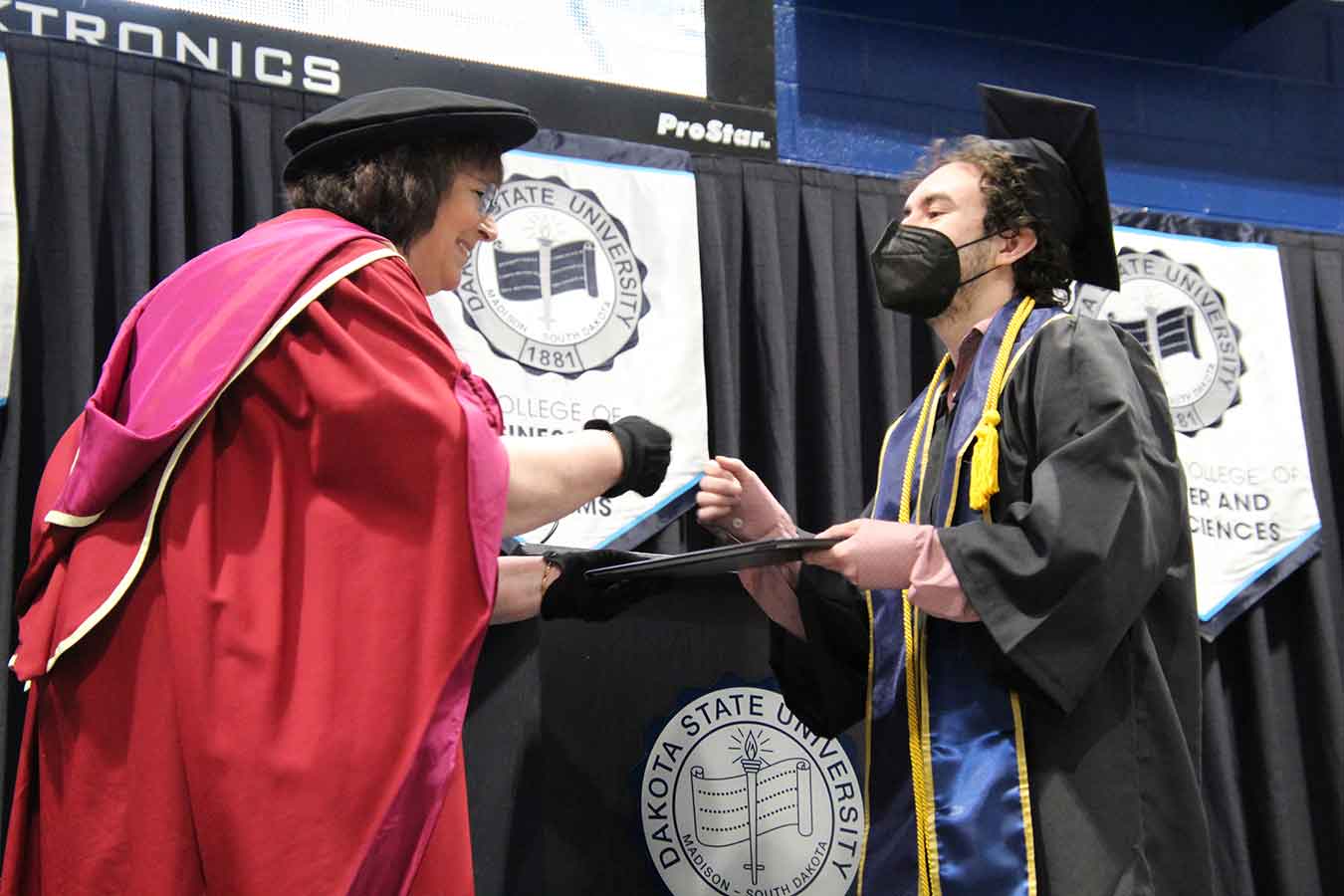 Of all the colleges he considered, "It seemed like DSU had the best program with the most to offer for me," Bernstein said, noting DSU's several distinctions as Centers of Academic Excellence, and opportunities for research.
"Research was always a consideration of mine," when looking at colleges, he stated.
Enrolling at Dakota State was a wise decision for the Newport, RI native, who said he has had a good experience here: "There are a lot of opportunities, despite it being a smaller school." He has certainly taken advantage of the opportunities he's found in classes, research, and extra-curricular activities, developing technical skills along the way.
Working with cyber security assistant professor Dr. Josh Stroschein and the MADRID Lab, he is helping develop a new tool for the automation of malware analysis. "If corporations respond to an incident such as a breach of network intrusion, often they'll need to analyze that malware," Bernstein explained. This can be time-consuming, so there is a need in the field to develop tools that can automate the process.
His work on a grant with Dr. Bramwell Brizendine is helping to develop a curriculum related to malware analysis. This will provide training to veterans who may want to start a career in the field.
"There is a huge number of unfilled positions in cyber so we need all the people we can get," he said.
As part of the General Beadle Honors Program, Bernstein received a Student Mentored Research Initiative grant. "I have done a lot of work in my free time with penetration testing, which involves exercises to break into vulnerable machines," he stated. He noticed there was not a lot of research in how to bypass modern antivirus solutions, so his project focused on this aspect of the problem.
Titled "Evading Modern Antivirus Detection," his research findings can be used by antivirus companies to see deficiencies in detection software and improve its effectiveness; offensive security professionals can use the findings to see strengths and weaknesses of antivirus tools.
Bernstein notes that in addition to technical skills he has developed "soft skills," such as time management.
"My interpersonal skills have also grown through this experience," he said, through communication with professors and other students. He has also written a blog post on proxy scripts, part of a cooperation fostered between Stroschein and the ANY.RUN company.
As vice president of the Malware Club in 2020-2021, he has gained leadership experience. "Leadership is important," he said, "and will definitely be helpful as I move up in my career."
All these skills will help him with the job he will begin in the summer of 2021. Bernstein will work with Aon, in a cyber solutions training program; he will rotate throughout three different business units -- incident response, proactive testing, and compliance -- for nine months. At the end of the training, he will pick one area, and become a full-time consultant with the company. He is able to continue his graduate work throughout this process.
"It's good to get this experience before I start a full-time job," Bernstein said.
When he does begin his career, he would like to move into a managerial position, then possibly be in charge of information security for a Fortune 500 company.
His dream job would be to start his own company, related to some type of consulting in information security such as pen testing, or digital forensics, or developing different types of exploitation.