Social Media
Dakota State University's Marketing and Communications Department consumes, produces, and shares social web content in a real-time environment while giving a human voice to the university. We advance and protect the image and reputation of the university and continuously create and strengthen relationships both internally and externally, to build a stronger and more prominent Trojan Nation.
Dakota State University is using many social media channels to communicate and build relationships with our faculty, staff, students, parents, fans, alumni, and friends. 
Contact the DSU Marketing & Communications Department by email at digitalmarketing@dsu.edu to request social media avatars and cover photos.
For optimal resolution, social avatars and profile photos should be designed to 960 pixels square. The DSU Hex Icon should be 700 pixels wide and centered both horizontally and vertically.
This will yield a clean result regardless of whether the icon is to be used in a square or circle. These avatars can be used in a variety of combinations, using our primary colors with the DSU Hex Icon. As these graphics are often shown at small sizes, do not use any photography as a background (including jeweling), or add other logo elements. Doing so will have a detrimental impact on readability.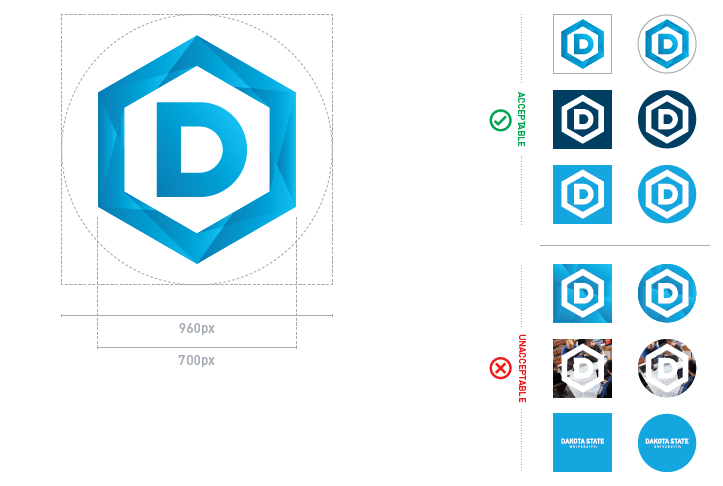 Use the spec below when designing cover photos for Facebook*. Doing so will ensure readability on both desktop and mobile. The full size should be 1230 pixels wide by 540 pixels tall, but the focus of your design should lie in the center section of 960 pixels wide by 468 pixels tall.
Facebook crops the cover photo differently for desktop than it does for mobile. On the desktop, the top and bottom 36 pixels are cropped out, but the outer 135 pixels on either side will be visible. Conversely, mobile crops out the outer 135 pixels, but shows the top and bottom 36 pixels.
For custom cover imagery, contact the DSU Marketing & Communications Department by email at marketing@dsu.edu.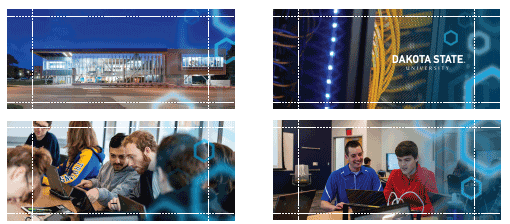 Dakota State University uses social media to engage in conversations with all members of the Trojan community. Whether it is staff, students, employees, fans, or alumni, DSU uses social media to learn what is important to the entire Trojan Nation and to share that information with each other and the world.
We have developed this guide to provide you with conventional wisdom regarding the use of social media.
Our hope is that you will learn how to strategize effectively to ensure your social media channel is targeting the right audience effectively.
Requirements Before You Start
To receive authorization to present a social media account as an official university activity, you must have approval from:
The DSU Marketing & Communications Department, and
The vice president/Dean of your department or his/her designee.
DSU Social Media registration
If you have already created a social media account representing the university, it must be registered with our DSU Marketing and Communications Department. Please register your account below.
Make a plan – define your goals
Clearly defining your goals can help you choose what social media channel is best suited for your primary objective. Think about your organization's communications and marketing and how these social media channels will help you achieve your goals. Pay close attention to the level of available resources for your social media channel. Although they are free to create, successful social media use requires time and attention. An inactive account that does not have a continuous stream of new and relevant content will weaken and fail.
If you find that you do not have enough time to devote to the ongoing cultivation of a social media platform, consider leveraging another existing account: for example, a small department can funnel their message to the college's account, a lab to their department's account or a related student organization, etc. Once you determine your audience and message, you can then brainstorm which site would be most appropriate to accomplish this.
Determine a manager
Designating a coordinator role to one person in your department will ensure that you maintain a focus on your social media goals. This does not need to take up a significant amount of time, but successful maintenance of social media sites involves updating the content frequently, conversing with and engaging viewers, and responding to relevant events or problems that may arise. You should update your site at least once a day. Assigning a backup person for this will ensure your accounts are managed when the primary manager is away, on vacation or is otherwise unavailable. While the social media site can be a department-wide collaborative effort, establishing a coordinator will allow for the messages to have cohesiveness and timeliness.
Listen and monitor
How comfortable and knowledgeable are you about the platforms and audiences? Take the time to listen to the different channels before engaging so you have a clear understanding of the audience.
The right tool for the job
Be aware of current and emerging tools but try to consider ones that will further your marketing goals. Spreading yourself too thin can jeopardize your valuable audiences.
Identify yourself
Creating an account name that demonstrates your association with Dakota State University as well as your literal name is the best approach.
Your account should include "Dakota State" in the name and in the handle. Example: Dakota State Research - @DSUResearch.
We recommend consistency in naming multiple social media channels. When starting your accounts, first consult with digitalmarketing@dsu.edu to ensure you have the same username across all platforms.
The "About Us" or biography section should outline who you are, the purpose of the social page, and a link to the website dsu.edu.
Use a Disclaimer
If you participate in online media and you reveal your affiliation with Dakota State University or your content has something to do with your work here, state that your opinions are your own and do not represent the views of the organization.
Most social media platforms allow the user to create a custom profile photo or avatar. Make sure your image demonstrates who you are. Incorporating the Dakota State University logo in your visual presentation is required.
Best Practices
Be respectful
The number one thing you never want to do is engage in an argument via a social media site. Remember, everything you post is a direct reflection on Dakota State University.
Be transparent
Be yourself. Social media is all about transparency and connecting personally. Don't hide your identity or affiliations. Show your personality while maintaining the integrity of Dakota State University.
Listen and monitor
Listen to what your audience is posting. This can help you reach your departmental goals and help you know how to best reach them and connect with them.
In addition to what your audience tells you directly, it's also helpful to listen to conversations that people are having about you.
Not all comments will be positive. It is part of your job to respond to those in an appropriate manner that could help positively change the perceptions of audience members.
Be active
Social media accounts require constant monitoring and posting. As a rule of thumb, you will want to post once a day and several times per week depending on which platform you are using. The key is to post content and interact with your audience often enough to keep them interested and engaged.
Be relevant
Social media sites offer you the ability to share information instantly with your audience. You will gain respect and trust with your audience if you are proactive in delivering timely information or using trending topics to stay relevant.
Check and recheck
Always take a moment to think before you post and always double-check any hyperlinks, hashtags, or handles before submitting. Whatever content you are putting on your social media site will be instantly viewed by your audience, and then spread through their networks.
Cross-promote accounts
It's always important to post interesting content for your site but remember to also comment on the postings of others in your audience. This will also help create the conversation that social media sites allow between you and your audience.
Be a valued community member
Updating your site with interesting news, current events, and facts that your audience might be interested in is a good idea. You don't want to constantly talk about only your department. It could get a little mundane and seem overbearing. Posting a variety of content will keep your channel interesting and engaging.
Keep private things private
Dakota State University respects and honors the privacy of its students, faculty, and staff. When conversing with fans, friends, and followers, it's important to remember to maintain and protect their privacy. Be vigilant and aware of FERPA and HIPAA privacy requirements.
DSU Social Accounts
Dakota State University
---
DSU Admissions
---
DSU Alumni
---
DSU Athletics
---
DSU Graduate Admissions
---
DSU Online Admissions
---
Other DSU Departments 
Trojan Zone Bookstore - Facebook