Dakota Dreams DSU Summer Camp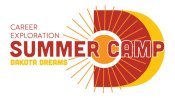 DSU welcomes 7th and 8th-grade students to join us for an exciting week on our campus in Madison.
The Dakota Dreams Career Exploration Summer Camp is a partnership of the South Dakota Board of Regents, South Dakota technical colleges, South Dakota businesses and industry, and the South Dakota Department of Education.
The opportunity is funded with federal dollars available to DOE through the American Rescue Plan Act.
Camp participants will have the opportunity for hands-on learning in the areas of:
Business: Accounting, Finance, Management, Marketing
Computer Information Systems/Project Management
Cyber Operations/Computer Science
Digital Arts
Exercise Science/Health & Wellness
Health Information Management
Physical Science
Teacher Education
This unique opportunity will include a day trip to Mitchell Technical College to explore nursing and engineering-related programs, tours of local industries and farms, and experience life on the DSU Campus.
Dates
Sunday, July 9 – Thursday, July 13; 5 days/4 nights
Where
DSU Main Campus (Madison, SD) with an Industry Visit to Mitchell Technical College. Students will overnight in an on-campus residence hall and eat on-campus.  
More detailed information will be added when available.
What to pack
 Personal Care Items (medication, glasses/contacts, personal assistance items, etc.) Toiletries (soap, shampoo, conditioner, deodorant, toothbrush, toothpaste, etc.) Bedding (sleeping bag and/or blankets, sheets, and pillow. No bedding will be provided) Towels/washcloth. Clothing including: light jackets/sweaters, closed-toed shoes (may be required in business tours), socks, undergarments, athletic wear including shoes for recreational activities, swimwear and towel, and nightwear.