General Education Mobile (GEM)
GEM is a partnership between the Community College of the Air Force (CCAF) and civilian academic institutions to offer general education courses to meet CCAF Associate of Applied Science (AAS) degree requirements. GEM allows an Airman to complete all general education requirements at one institution via online distance coursework for faster degree completion.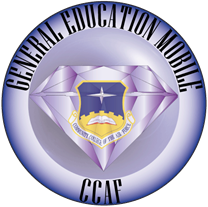 Dakota State University has partnered with CCAF to offer the following general education courses to fulfill the general education requirements for the AAS (choose one course from each requirement area below).
Oral communications

| | | |
| --- | --- | --- |
| CSMT 101 | Fundamentals of Speech | 3 credit hours |
Written communication

| | | |
| --- | --- | --- |
| ENGL 101 | Composition I | 3 credit hours |
| ENGL 210 | Introduction to Literature | 3 credit hours |
| | | |
| --- | --- | --- |
| MATH 114 | College Algebra | 3 credit hours |
| MATH 121 | Survey of Calculus | 3 credit hours |
| MATH 123 | Calculus I | 3 credit hours |
Social science

| | | |
| --- | --- | --- |
| ECON 201 | Principals of Microeconomics | 3 credit hours |
| ECON 202 | Principals of Macroeconomics | 3 credit hours |
| GEOG 101 | Introduction to Geography | 3 credit hours |
| GEOG 200 | Introduction to Human Geography | 3 credit hours |
| HIST 151 | United States History I | 3 credit hours |
| HIST 152 | United States History II | 3 credit hours |
| POLS 100 | American Government | 3 credit hours |
| PSYC 101 | General Psychology | 3 credit hours |
| SOC 100 | Introduction to Sociology | 3 credit hours |
| SOC 150 | Social Problems | 3 credit hours |
Humanities

| | | |
| --- | --- | --- |
| ENGL 210 | Introduction to Literature | 3 credit hours |
| MUS 100 | Music Appreciation | 3 credit hours |
| PHIL 100 | Introduction to Philosophy | 3 credit hours |
| THEA 100 | Introduction to Theatre | 3 credit hours |
| THEA 201 | Film Appreciation | 3 credit hours |