Trojan Center
The Trojan Center Student Union (TC) serves as DSU's community center and is the heart of our campus.  This is a place to meet your friends, grab a bite to eat, sit by the fireplace to read a book, buy spirit wear, engage with student organizations, and attend events. 
Beyond convenience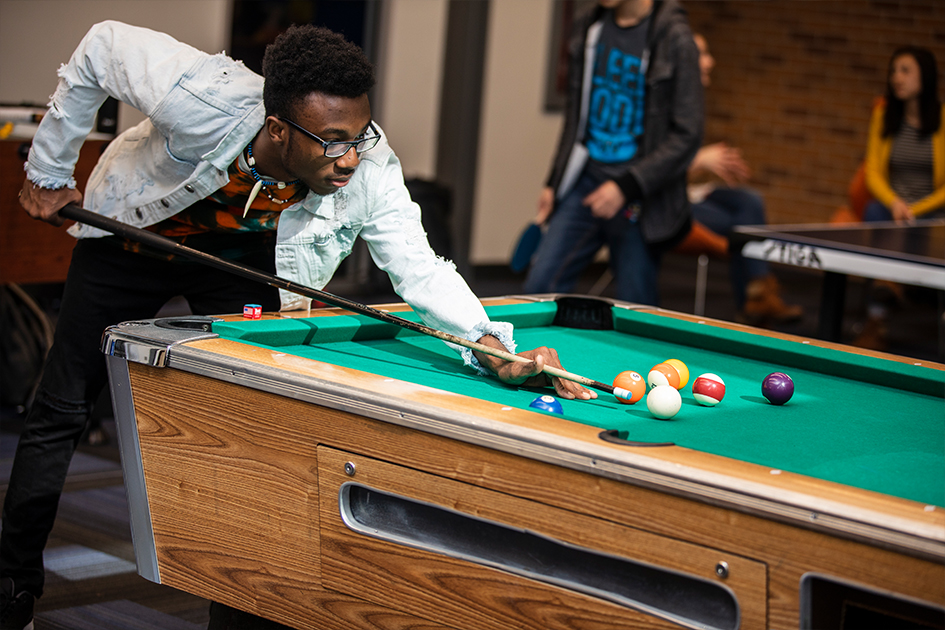 Enjoy your shopping experience while visiting the Trojan Zone bookstore and snag a snack from Bits 'n Bytes convenience store. Relieve some stress over a game of pool or table tennis available in the game room. The TC is a great place to maintain a good study, work, and social balance. With designated study rooms and regularly scheduled events, you'll find a reason to stop by the TC every day of the week.
Building Hours of Operation
Monday – Friday:             7:30 am – 1:00 am
Saturday – Sunday:         9:00 am – 1:00 am
Welcome and Event Services serves as the "front door" to campus.  This is a one-stop resource hub for students, alumni, and friends of DSU, as well as the place to shop for Trojan fan gear, apparel, and more.  You need information about resources offered on campus?  This is the place to find it!  Other services offered:
Lost and found
Check out ping pong paddles and balls, as well as air hockey paddles
Help with reserving meeting space in the TC
Student activities are an essential part of the college experience.  Through involvement in various clubs and organizations, Trojans may complement their academic studies while meeting new friends and gaining valuable experience.  Student Engagement and Leadership serves as the center for information on student senate, campus clubs and organizations. To get involved with one of these groups, visit.
Grab some official DSU gear at the campus store! Whether you need a shirt, coffee cup, or blanket, they have it all!
The student health nurse is located in the TC underground, Room 16.  You can take advantage of unlimited visits for minor illness and injury, as well as receive educational material.  For more student health information. 
The DSU Campus Safety office and Campus Watch is located in the TC Underground. 
If your campus-affiliated group would like to reserve a meeting room, table display, or entertainment room space, you may do so by using the 25Live reservation system. (Is there a link we can put in here?)
If you are an off-campus group and would like to make a reservation, you may contact us at 605-256-5146 for more information.
The Student Union adheres to the Campus-Wide Posting Policy.  Please review the policy prior to posting posters and flyers on the TC bulletin board.