Laptop Program
Dakota State has always been a school that cares and utilizes technology to the fullest extent possible. We use technology in all our classes to deliver a better academic environment and make our classrooms more exciting and interactive.
We'll give you the technology to succeed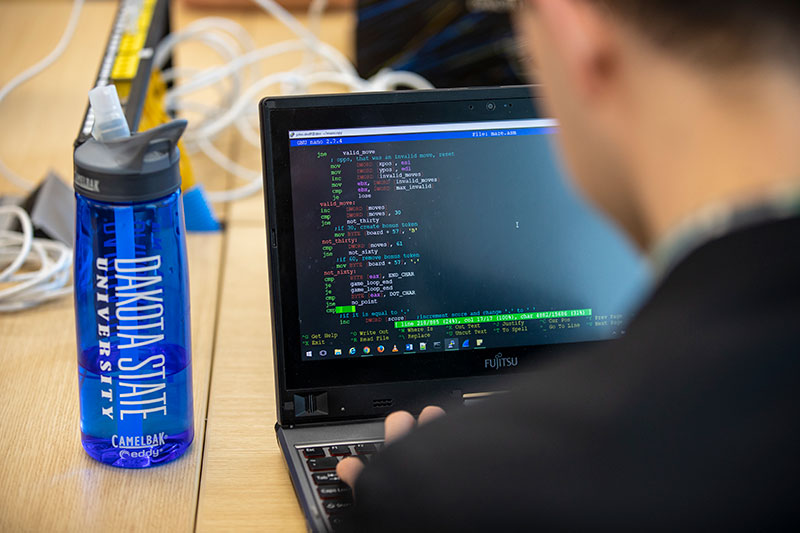 DSU provides full-time freshmen a new laptop in the fall. It's part of a campus initiative, the Wireless Mobile Computing Initiative (WMCI), which started in 2004. 
What to expect
You get:
The latest Dell Latitude 7440, a 2-in-1 Laptop configured specifically for DSU academic programs.

Licensed software installed on your laptop before you get to campus.
Universal access to secure wireless and wired networks across campus.
Warranty protection, replacement batteries, and on-campus Help Desk and repairs.2
Faculty that incorporate the use of the laptop PC into their courses.
A green-friendly, mostly paperless classroom environment.
You can:
Take notes in digital handwriting and write on the professor's digital presentation. Or, record audio during a lecture and sync quotes up with the digital notes you're taking.
Receive and submit assignments electronically. Access handouts and supplementary web materials online.
Easily organize and access your digital notes and back them up. Have more productive study sessions with your laptop acting like a digital binder keeping all your notes (written, audio and visual) saved in one location.
Collaborate with fellow students through a secure, campus-wide wireless network.
"Having laptops in the classroom is like having a mobile technology room. The laptops enhance our education because they enable us to digitally draw pictures on the computer, helping us to be more creative with our homework."

Josh Thomas, Brookings, SD, Elementary Education Major, Junior
Students are responsible for the cost of repairs for damage linked to careless or negligent use or loss. Students are responsible for the replacement of the laptop PC if it is lost or stolen. DSU recommends checking with your homeowner's or renter's insurance policy for coverage in the event the laptop is lost or stolen.