Academic Advising
At DSU, all undergraduate students are assigned to an academic advisor. You will work with your advisor on a number of things including, transitioning to college life, planning your course schedules,  and creating goals. Your advisor is here to support you, cheer you on in your academic success, and collaborate with you so that you can reach your dreams. Plan to meet with your advisor early – and often!
You can find out who your advisor is and their contact information by logging into your self-service registration and looking at your student profile.
Subscribe to our YouTube channel for helpful how-to videos.
Academic Advising FAQs
Each student at the Dakota State University has their own academic advisor. An academic advisor is meant to be your go-to person while attending DSU. Advisors will work with you on your transition to and through the university. Please see the Academic Advising webpage for more information.
The requirements for graduation can vary by college and department. Normally the minimum 120 credits required to graduate include general education, major requirements and electives. Please check with your academic advisor for specific degree requirements and to develop your own personal four-year graduation plan. Read additional information about Graduation requirements and procedures in the Undergraduate Catalog.
Each semester, students are assigned a time ticket. The time-ticket is set automatically and is based on your credits completed. There are a few groups of students who have first-day access to register otherwise everyone is given a day and time that their specific registration window opens. The window does not close but is best if you can register as close to that day and time as possible to ensure you get registered in the courses you need and want. Prior to registration, students must clear any blocks that will prohibit them from registering. This may include mandatory advising, financial, judicial, and others Tip: Plan to meet with your advisor approximately 3 days prior to your time-ticket day.
Tutorial: How can you find your time ticket or if you have a hold?
Students should communicate with their advisor to determine the number of credits that best fit their graduation plan and personal circumstances.  It is recommended that students take 15 credits per semester to complete a degree in four years.  Students may register for up to 18 credits without approval from their college. Students must register for at least 12 credits to be considered full-time.
The University allows students to use CLEP or AP credits towards their degree. See Testing Services for further information on DSU's Advanced Placement policy and a list of courses for which a student may receive credit based on AP scores.
Associate's Degree programs can be completed within two years or 60 credits. Students take introductory courses through which students can start to learn about a particular field or academic discipline They prepare students for a career and can often be transitioned to a bachelor's degree program. Students can review current associate degrees available in the Undergraduate catalog.
Bachelor's degree programs are four-year programs or 120 credits. In addition to requiring more credit hours to complete, bachelor's programs include more specialized courses. The bachelor's programs provide more in-depth and advanced study in a particular major. Students can review current bachelor degrees available in the Undergraduate catalog.
Minors afford students the opportunity to pursue a limited but structured concentration in a field of study outside their major. The minor may be a condensed version of a major or a distinctive subset of a discipline. Students should review current availability of minors in the Undergraduate Catalog and talk with their advisor about options.
Certificates are achieved after completing classes in a specific area or skill. They generally have less credits than a minor and give you targeted skills in an area or subject. Students can review current certificates available in the Undergraduate catalog.
Double Majors consist of two majors attached to a single degree, as opposed to two separate degrees, each with its own field of study. Students are required to complete all coursework for both majors. Ask your advisor about double majors and dual degrees for more information.  Look for programs that are linked closely together for example at DSU if you are pursuing a Computer Science degree, you might also complete a degree in Mathematics. The courses are similarly connected and do not required a large number of additional credits.
An Audit (AU) grade may be granted only when the student has elected the AU option on or prior to the census date of the term. This option may not be used for a major requirement or general education requirement and does not count as credits completed.
Students who are presently pursuing a degree at Dakota State University should obtain permission in advance to take one or more courses off campus and have the credit transfer back into their degree program. It would be best to confirm your course with your advisor prior to your registration. If a student takes a course from another South Dakota BOR school, the course will automatically be listed on the students transcript but if a student takes a course outside of the BOR institution, the student must send in their transcript for the course to be counted. Also remember to check with the outside institution for any admission requirements. For further details, contact your advising college or refer to the Office of the Registrar.
The Study Away program offers opportunities for students to study abroad during a semester, the academic year, summer or during Winter term.
The Career & Professional Development office and your academic department can provide you with resources for career development and internship opportunities. To schedule an appointment with a Career Advisor log into Handshake.
Completing "Registration Terms and Conditions"
Federal Regulations require DSU to determine student location during enrollment. As part of your registration you will need to answer three questions before you are allowed to proceed to registration.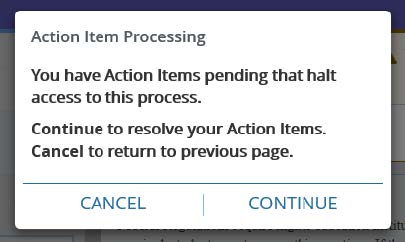 Go to MyDSU. Click on LOGIN TO SNAP button to access Student Registration.
In SNAP, click on STUDENT REGISTRATION. This will take you to Self Service Banner (SSB).

This box will pop up, click on CONTINUE.

Click on VIEW ACTION ITEM(S) in the upper right corner of this box.
Then click on REGISTER FOR CLASSES in each pending area. By clicking on REGISTER FOR CLASSES it will open the action item to be completed in the right pane.
You will be asked to choose the appropriate location for where you will be located while enrolled in a DSU course(s).
How to Select Location Choose:
Students taking all courses on-campus should select South Dakota as a location.
Students primarily located in South Dakota, but who are participating in supervised field experiences (internships, clinical placements, student teaching, or practicum) should select the state where their field experience is located.
Students not taking a class during a term should select I DO NOT PLAN TO ATTEND THIS TERM/I WILL GRADUATE PRIOR TO THIS TERM AND WILL NOT BE ENROLLED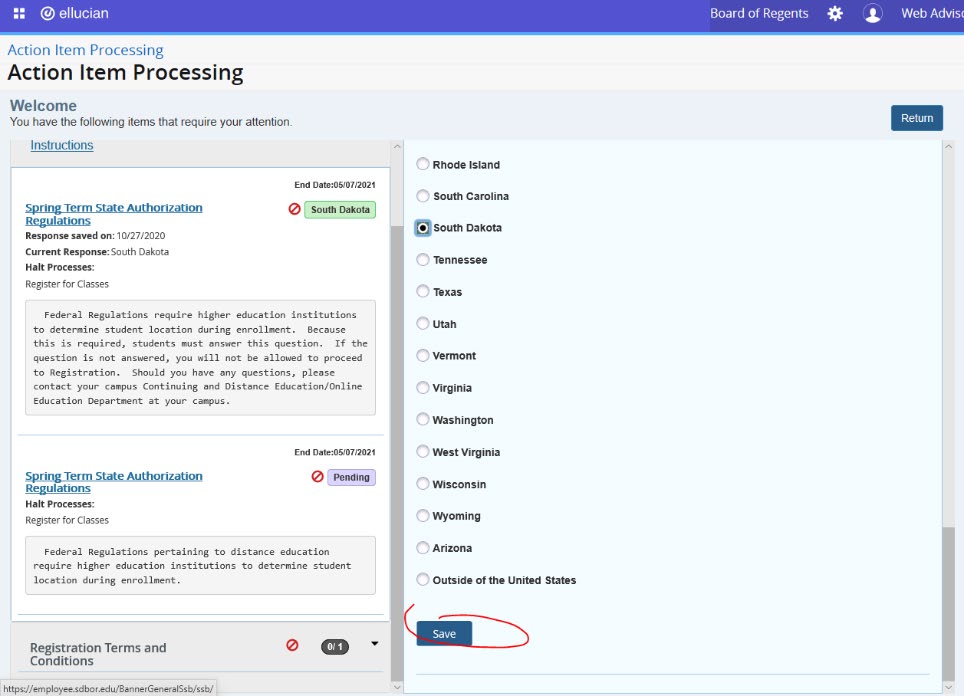 The gray PENDING buttons will turn green when you have completed each task.
You may need to click the little triangle on REGISTRATION TERMS AND CONDITIONS to make the remaining item visible: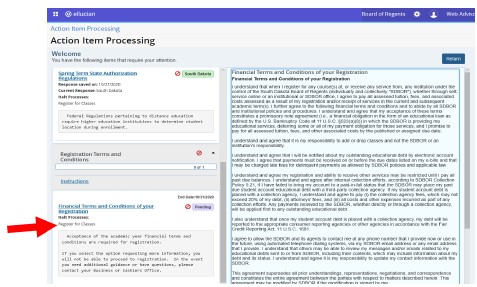 Once again, click REGISTER FOR CLASSES to open the action item in the right pane. Scroll all the way down to agree or disagree with the terms and click SAVE (if you disagree, you will not be able to register for classes).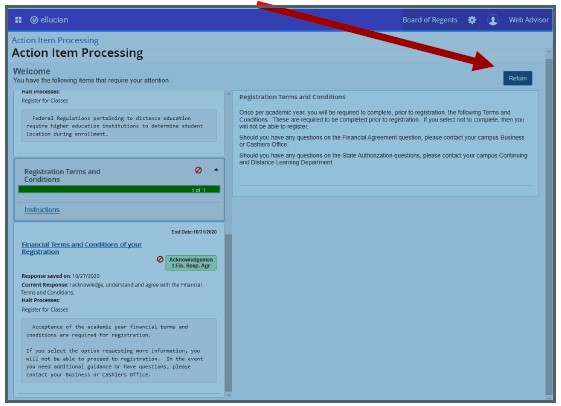 If all items on the left are now green, click RETURN in the upper right corner: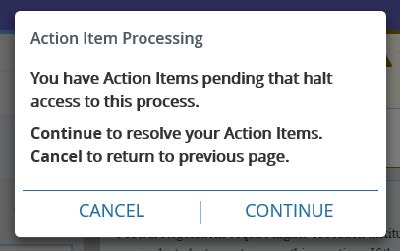 This box will pop up once again. Click CANCEL.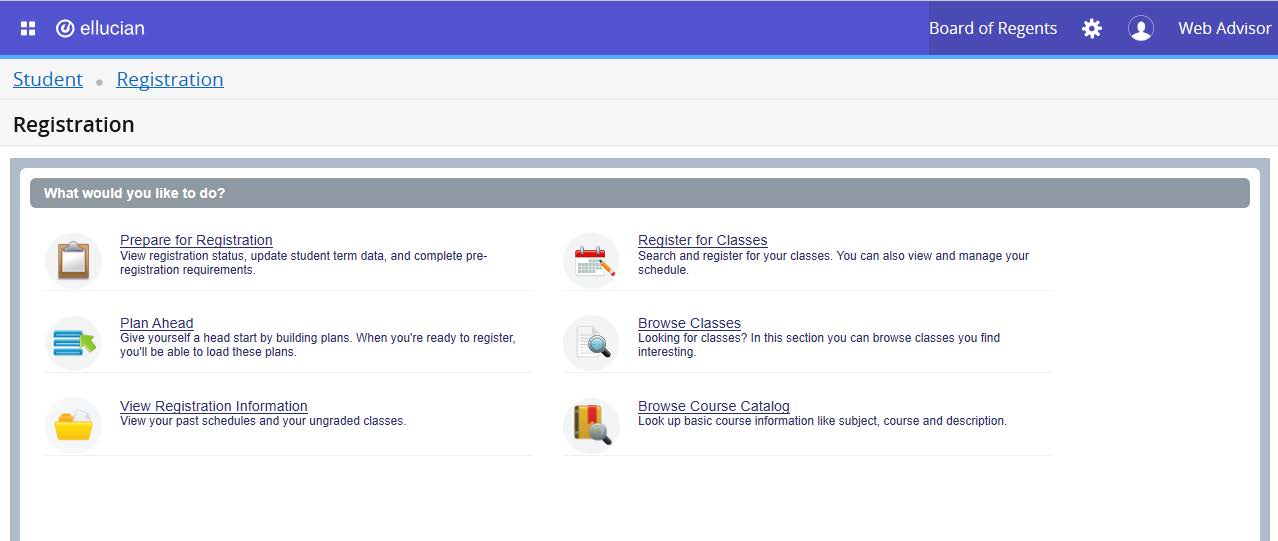 You should now be able to choose REGISTER FOR CLASSES from this menu and proceed with registration or schedule changes:
TIPS:
Make sure to hit SAVE in each action area (bottom of each right column).
If  SAVE will not respond, choose another state, then re-choose the correct state, then SAVE.
When completely done with each of the areas have them select the upper right CONTINUE.
If using a mobile/small laptop, try using a larger monitor to ensure the entire page is appearing.
If you completed all the items and still receive a notification box in the upper right, select Dismiss followed by Continue (in the upper right corner).
How to use TrojanConnect to schedule an advising meeting
Video Tutorial :https://www.youtube.com/watch?v=OL3v2m21b_A&t=2s
Steps to access TrojanConnect
Go to TrojanConnect
Enter your USERNAME- username is your Trojan email (username@trojans.dse.edu)
Enter your PASSWORD- password is the same as your email
Enter your DUO Push or code
Select LOGIN; the Student Main Menu page will appear
Select SCHEDULE AN APPOINTMENT
Select MEET WITH YOUR SUCCESS TEAM (select your Academic Advisor's name)
Use the dropdown to select why type of appointment
Next select  SERVICE (use the dropdown to select a reason for your visit)
Select FIND AVAILABLE TIMES
Select a date and time to schedule an appointment - your Advisors availability will display on the screen
Select an available time that meets your needs
Before continuing, validate the telephone number listed is yours, if it's not, update it to your mobile number
Select CONFIRM APPOIINTMENTto save your appointment. If you don't click on confirm, your appointment will NOT be recorded, and your advisor will not be able to see it and someone else could schedule at that time.
Reasons you might meet with your Academic Advisor:
Setting a strong academic foundation
Creating goals: academic, career and professional
Selecting courses for upcoming semesters
Creating a four-year graduation plan
Enhance your study skills
Referrals to accurate resources on campus
Connection to campus
Reasons you might meet with a Peer Advisor:
Assistance with understanding D2L
Assistance with using Self-Registration or Degree Works
Assistance with setting up a personal time-management schedule
Assistance with connection to DSU campus resources
Peer Advisors are available for any DSU undergraduate student to help support students success and create a connection with an upper classman on campus.
On campus advising questions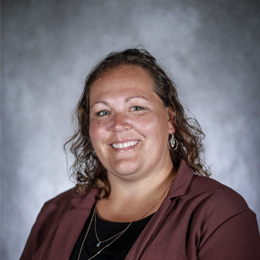 Kristen Uilk
Director of Academic Support Services / Student Code of Conduct Coordinator
Department
Academic Support Services
Contact
Office Location: Learning Engagement Center
Phone: 605-681-8166
Email
Website
Online advising questions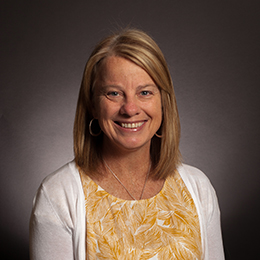 Sarah Rasmussen
Director of Online Education
Department
Office of Online Education
Contact
Phone: 605-256-5049
Email