VERONA Lab
The Vulnerability and Exploitation Research for Offensive and Novel Attacks (VERONA Lab), specializes in vulnerability research, software exploitation, software security assessments, and the development of new, cutting-edge tools and techniques with respect to software exploitation.
The VERONA Lab performs applied research in vulnerability discovery and analysis, for purposes of software exploitation. In so doing, the VERONA Lab can perform deep technical analysis of compiled binaries, attempting to discover and analyze vulnerabilities, which can lead to proof of concept exploits or be fully weaponized. Additionally, the VERONA Lab can also perform code audits to identify vulnerabilities that could potentially be utilized for exploitation.
The VERONA Lab is not merely focused on vulnerability and exploitation research for specific software; it also supports inquiry into the very foundations of the science and art of exploitation. That is, the VERONA Lab seeks to identify, refine, or create new or innovative methods for software exploitation. This could entail creating or improving exploitation techniques, or it could lead to the development of tools to help facilitate software exploitation. This cutting-edge research into tools or techniques could run the gamut from the more esoteric and theoretical, to the highly practical.
The VERONA Lab will provide training in the areas of exploit development, at every level, from beginner to advanced. This can take the form of anything from the creation of tutorials and guided exercises, to hands-on training and speaking engagements.
Some researchers at the VERONA Lab have developed a cutting-edge framework for software exploitation, the JOP ROCKET, that has been presented at DEF CON, one of the leading hacking and cybersecurity conferences globally.
VERONA Lab Goals:
Conduct original, cutting-edge research in the discipline of software exploitation;
Provide services for enumerating and analyzing vulnerabilities in software that may lead to exploitation;
Provide opportunities for undergraduate or graduate students or faculty to get involved in software exploitation;
Provide speaker events relating to software exploitation for the DSU community.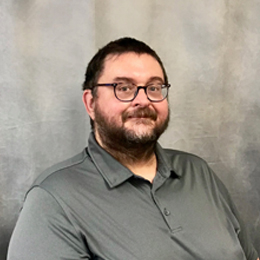 Robert Richardson
Instructor
Department
The Beacom College of Computer & Cyber Sciences
Contact
Office Location: East Hall
Phone: (605) 256-5838
Email
Website