Smart Home Lab
Through a partnership with East River Electric Power Cooperative and the National Rural Electric Cooperative Association, or NRECA, DSU students and faculty can now conduct smart home and energy-management research within MadLabs.
Project space resembles a home kitchen, with smart lighting, window shades, speakers, kitchen appliances and a Rheem® Marathon® water heater. With check-ins from East River, DSU students and faculty conduct digital research simulations through computer and TV screens. The results display on these screens and give viewers the feel of what a smart home could look like.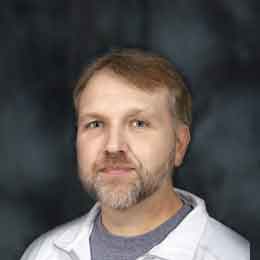 Tom Halverson
Associate Professor of Computer Science
Department
The Beacom College of Computer and Cyber Sciences
Education
Ph.D., University of Iowa
M.S., University of Iowa
B.A., University of Minnesota-Morris
Biography
Dr. Tom Halverson has been a Computer Science faculty member at Dakota State University since 1999. He received a BA from the University of Minnesota, Morris and MS as well as PhD from The University of Iowa. Tom focuses on teaching, student engagement, and out-of-class projects. He is committed to all facets of student success. For 10 years, he served as Dean, but has returned to a faculty position. Tom is the advisor to the DSU Computer Club – the student chapter of the Association for Computing Machinery (ACM). Through this group, he organized "Help Night" to encourage peer mentoring for all levels of computer courses. He also organizes student volunteers for campus events, K-12 outreach, and campus projects.
Contact
Office Location: Beacom Institute of Technology
Phone: (605) 256-5901
Email
Website