Current Student Information
Thank you for living with us! We strive to help you have a positive living experience from your first move-in day to your graduation day. Below is information that you may find beneficial as you make DSU your home.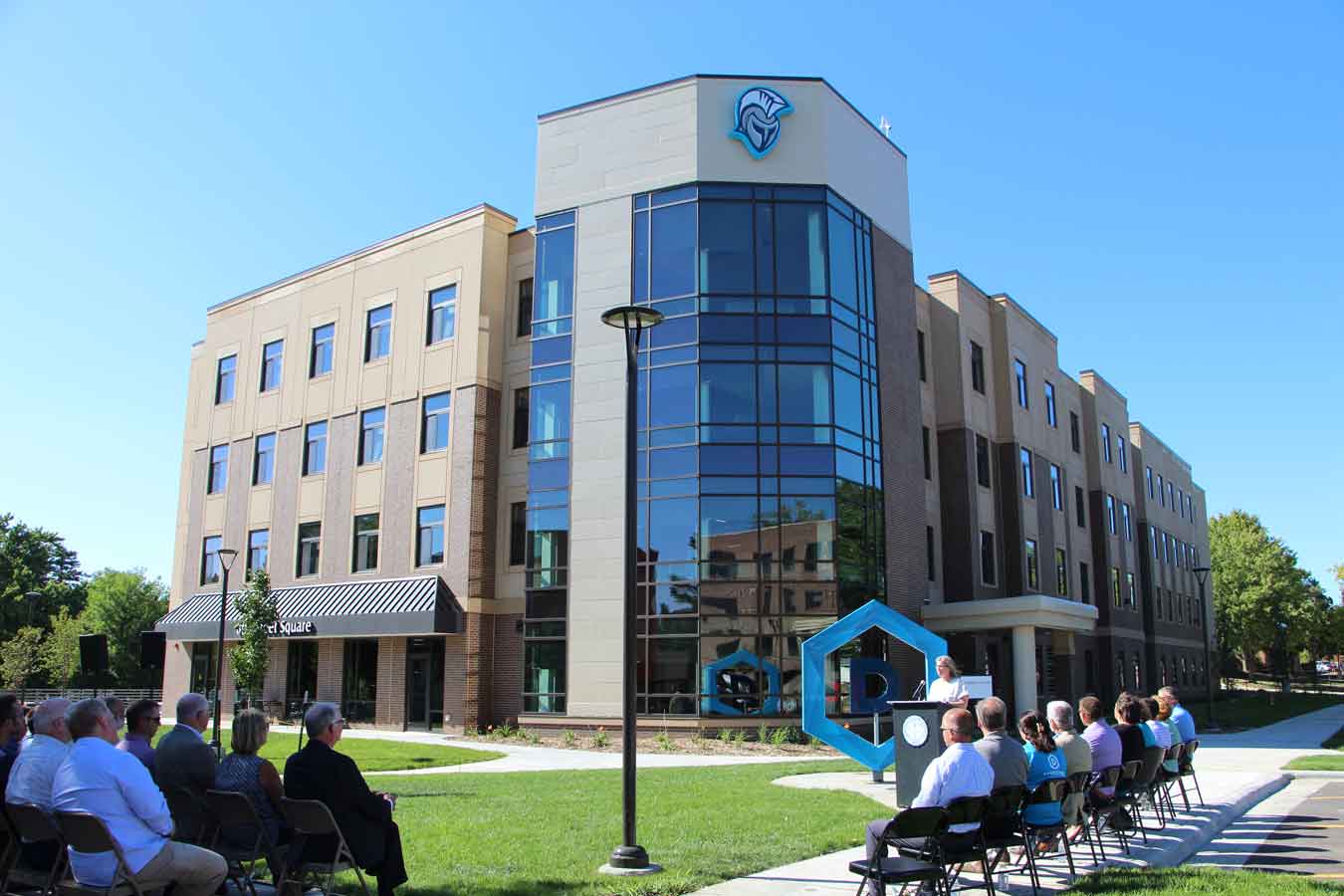 Each spring semester Residence Life will begin the room sign up process for returning students. Room sign up will be conducted in two different processes, Group Housing and Traditional Housing.
Group Housing sign up is where a group of individuals live together in a nontraditional residence hall. Buildings that are a part of group housing sign up include Residence Village, 8-Plex Apartments, Courtyard Suites, The 2-1-2 House, and Van Eps Honor Housing. In mid-February, Residence Life will send out information via email to all residence hall students with information about the process. The timeline for group housing sign up is below for the 2023-2024 academic year.
February 28, 2023 Group Housing Info Session 12:00 p.m. - 1:00 p.m. in the Club Hub, TC
March 1, 2023 Group Housing Info Session 12:00 p.m. - 1:00 p.m. in the Club Hub, TC
March 6-8, 2023 Group Housing Info Session 8:00 a.m. - 5:00 p.m. in the Residence Life Office, Courtyard building
Week of March 20, 2023: Group Housing selections made, and groups notified via email
Traditional Housing Sign Up
Traditional housing sign-up will take place in April 2023. More information will be posted at a later date.
Prior to Thanksgiving, winter & spring breaks, Residence Life will send an email to residential students with a survey to sign up for break housing. Links to the sign-up will also be posted below on the date indicated below. Students who wish to remain in the halls during breaks will need to respond to the survey. For winter & spring break, you will be required to pay a nightly rate. Information on rates for break housing & meals will be available in the survey links. Limited food service will be provided during all breaks for those that sign up. For more information about break housing, please contact our main office at residencelife@dsu.edu or (605) 256-5146.
2023-2024 Winter Break: December 14, 2023, to January 6, 2024

2023-2024 Spring Break: March 8, 2024, to March 17, 2024
Mid-April Residence Life will send out an email regarding Summer Housing to residence hall students. The email will outline the summer housing days and rates. For more information about summer housing, please contact our main office at residencelife@dsu.edu or (605) 256-5146.
While DSU and the South Dakota Board of Regents require all unmarried students taking six credit hours or more to live on campus during the first two years of school, some students may have circumstances that call for an exemption to that requirement. Or some students may require accommodations to their residence hall experience based on medical needs. Students can apply for such exemptions and accommodations.
Financial and medical exemption policies
There are two types of housing exemptions – medical and financial. Please see below for information on each option. All requests require signed and verified documentation that can take time to gather. Be sure to allow yourself enough time to complete and submit your application and documents prior to the appropriate deadline.
Fall semester deadline: July 14
Spring semester deadline: December 3
Financial Exemption Requests
Students requesting a release from the housing requirement based on verifiable extenuating financial circumstances must complete a Financial Need Verification Form and return it to the Residence Life.
Releases are not based on the assertion that living off-campus may be cheaper. A release will be considered when 1) the applicant has a significant verified need for financial aid as defined by the DSU Financial Aid office, 2) that need is not fully funded by university financial aid, or 3) when financial circumstances over which the applicant has no control creates a financial hardship (such as a loss of parental support due to death, divorce, loss of employment, catastrophic health issues, bankruptcy).
FINANCIAL NEED VERIFICATION FORM
Medical Exemption & Accommodations Requests
Students who need to submit a medical exemption or accommodation request are usually looking to:
Live off-campus
Be placed in single occupancy on-campus housing
Have an approved assistance animal in on-campus housing
Placement in a specific location
Medical-need requests work with Disability Services throughout the application process. An application, as well as a link to Disability Services, has been provided below for your convenience.
All mail and packages should be sent to the following address:
[Name of Student]
Dakota State University – Student
820 N Washington Avenue
Madison, SD 57042
Mail and package pick-up
On campus students will receive an email notification when their packages have arrived and can pick up their items at Residence Life, located in the Courtyard between 8:00 a.m. - 5:00 p.m.
During your stay, you may find the following links helpful as it is commonly used services from campus partners.
If you need assistance in the halls, please contact either your Resident Assistant (RA) or Residence Hall Director (RHD). RAs are student staff positions that live in residence halls. RHDs are full-time staff members who are responsible for ensuring you have a positive living experience. To contact your RHD you can stop by their office during business hours or call (605) 256-5146.
Housing
As a returning student you have more of a hand in your housing for the coming year.  We offer 2nd year students the opportunity to live in traditional residence hall room, an apartment at the 8-plex, or a suite or traditional room in the Courtyard.  Take time to check out your options by visiting the Residence Halls page, by asking a friend to see their room, or by checking in with your RA or Residence Life staff to ask questions.
Housing rates
Housing rates for the upcoming academic year will be finalized by March 31. You may see the rates for the current year by visiting the Tuition & Fees page.
Meal plan rates for the upcoming academic year will be finalized by March 31. You may see the rates for the current year by visiting the Tuition & Fees page.