What to Bring (and What to Leave Behind)
Love where you live
Think of your dorm room like a campground: you should leave it better than you found it.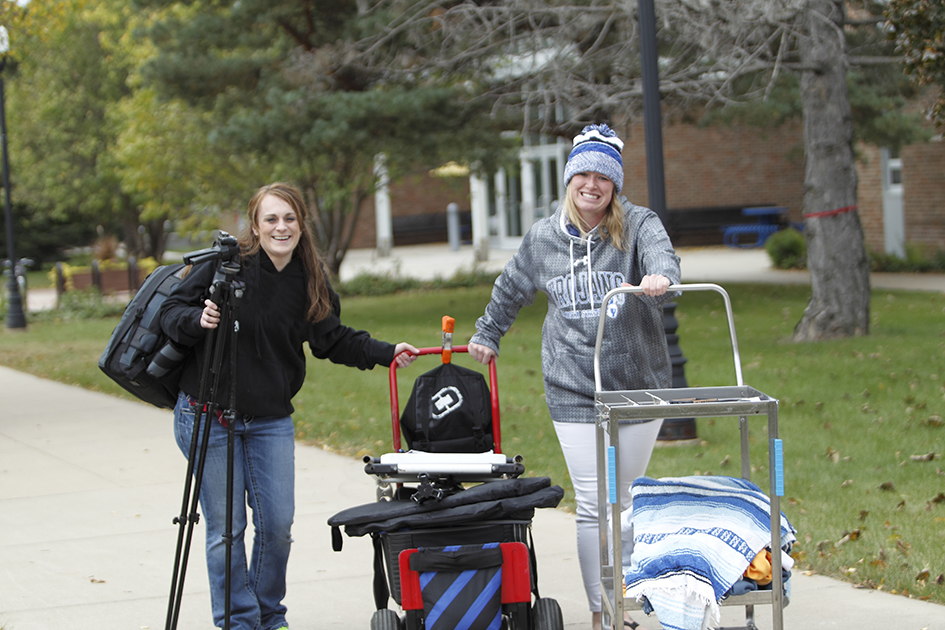 Below, you'll find a list of things you can bring with you, like small appliances and decor items to personalize your room. There is also a list of items that are off-limits, don't forget to check it out. Most of it's a no-brainer: weapons and fire hazards, for example. Some things (tacks and duct tape) cause damage to walls and furniture.
The list below should not be considered all-inclusive. Is there something we missed? Just ask. We'll make the call on a case-by-case basis.
We ask every resident to use common sense and ask authorized residence life staff if you have any doubt whether something's allowed.
Thank you for adhering to these expectations.
So, what is allowed? What's not allowed?
Allowed
Fun-tac poster putty or poster tape
3M hooks
Wickless candles
Glade plug-ins (except those with an additional outlet)
Candle warmers
Fragrance pots
Potpourri pots
Posters
Pictures
LED-based light strings
Not allowed
Duct tape
Double-sided foam or scotch tape
Cellophane tape
Nails
Screws
Tacks
Hooks
Pins
Carpet tape
Painting room
Contact paper
Foam-back or rubber-back carpet
Halogen lamps
Lava lamps
Neon signs
Sun lamp
Anything that would attach to the ceiling
Live Christmas tree
Outdoor designed Christmas tree lights
Decorations that cause a fire hazard
Multi-head extension cords designed to increase the number of outlets
Candles with wicks
Incense
Homemade loft kits or any other not furnished by DSU
Bed unit and mattress unless approved in advance by residence life personnel
Not allowed
Firearms
Air guns
Tasers
BB guns
Knives beyond those used as a common eating utensil
Bows
Arrows
Ammunition
Fireworks or other explosives
Dangerous chemicals
Metal tipped darts
Allowed
One microwave unit residence hall room no larger than 750 watts
Two refrigerator units per residence hall room no larger than 4.6 cubic feet
Coffee making machine with thermostat and automatic shut off
Crock pot with thermostat and automatic shut off
Hair dryers
Curling irons/hot rollers
Irons/table top ironing board
Electronics
Desk lamps
Television
Allowed to be stored in a room BUT ONLY USED IN THE FLOOR KITCHENS
Broiler
Electric skillet/fry pan
Electric grill such as a George Foreman
Pizza ovens and other pizza making devices
Waffle/pancake making device
Popcorn popper with thermostat and automatic shut off
Toaster/toaster oven
Not allowed
Hotplates
Electrical devices with exposed heating surfaces
Freezer
Commonly provided in each floor kitchen (although may vary from floor to floor and hall to hall):
Toaster
Microwave
Oven
Refrigerator
Allowed
Counter or floor-based fans
Not allowed
Window or portable air conditioners
Space heater
Window fan
Electric blanket
Reliable thermometer (forehead scan or oral)

If oral, include disposable thermometer covers and alcohol pads to the unit after each use

5-7 cloth masks (launder after each use)
Laundry detergent
Hand sanitizer for both your room and to place in your book bag, etc. as you travel
Disinfecting wipes to wipe down room surfaces on a regular basis
Kleenex tissues
Fever reducing medications
Adequate supply of all prescription medications
Adequate water bottles, and/or bottled water
Kitchen pots, pans, plates, bowls, silverware, dish rags, dish towels, hot pads, dish soap, scrub brush, kitchen caddy, other utensils
Bathroom caddy
Shower shoes/flip flops
Laundry basket