What to Bring (and What to Leave Behind)
Love where you live
Think of your dorm room like a campground: you should leave it better than you found it.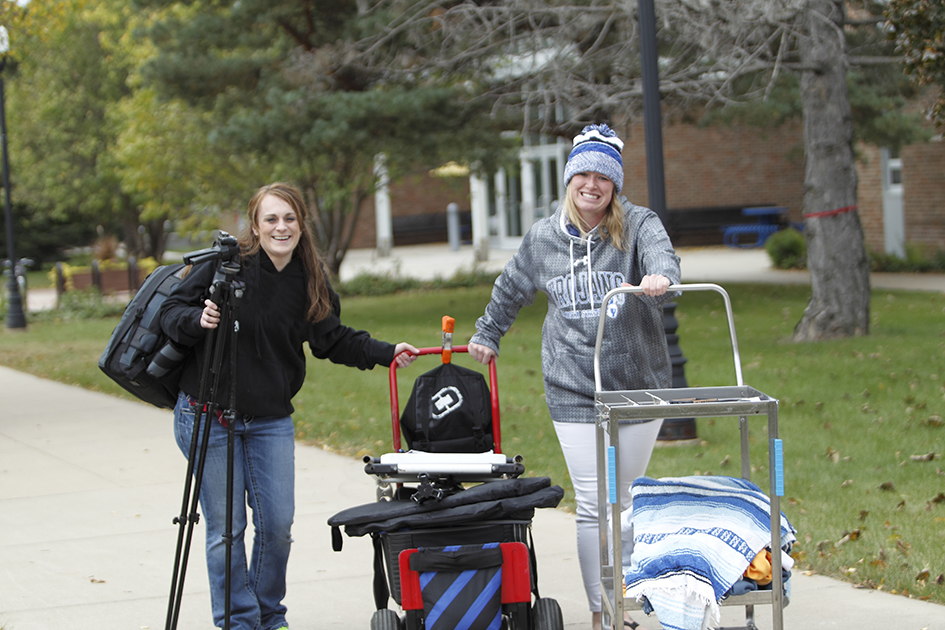 Below, you'll find a list of things you can bring with you, like small appliances and decor items to personalize your room. There is also a list of items that are off-limits, don't forget to check it out. Most of it's a no-brainer: weapons and fire hazards, for example. Some things (tacks and duct tape) cause damage to walls and furniture.
The list below should not be considered all-inclusive. Is there something we missed? Just ask. We'll make the call on a case-by-case basis.
We ask every resident to use common sense and ask authorized residence life staff if you have any doubt whether something's allowed.
Thank you for adhering to these expectations.
So, what is allowed? What's not allowed?
For each resident
Loftable bed
Extra-long twin mattress (36" x 80")
Desk
Desk chair
Dresser/closet (built-in or free-standing)
For each room
Blinds/window covering
Wastebasket
Outlets
Internet access
For each hall
Vacuum/Broom
Rubber mallets to adjust lofted beds
Television in lobby and lounges
Kitchen facilities with toaster, microwave, stove/oven
Homemade or rented lofts
Bed risers
Sofa bed
Non-UL approved power strips
Extension cords
Window fan
Electric blanket
Refrigerators over 4.6 cubic feet
Open element appliances

Space heaters
Immersion heaters
Kerosene heaters
Hot plates
Broilers
Ovens
Pizza cookers (i.e. Pizza Pizzazz)
Air fryers
Freezer
Sun lamps, halogen lamps, lava lamps, and neon signs
Window air conditioning units
Outside antennae/satellite dishes
Potpourri pots (candles and electric)
Candle warmers with open heating element
Open flame candles
Carpet padding
Nails and screws (or any item that could damage hall walls)
Living - or formerly living - trees, garland, etc.
Wall paint
Alternative lights bulbs (i.e. black light bulbs, color bulbs)
Dartboards
Weapons
Firearms
Air guns
Tasers
BB guns
Knives with a blade greater than 3 inches
Bows
Arrows
Ammunition
Fireworks or other explosives
Dangerous chemicals
Metal tipped darts
Recreational an/or toy guns replicating or mimicking weapons
Allowed
Fun-tac poster putty or poster tape
3M hooks
Wickless candles
Glade plug-ins (except those with an additional outlet)
Candle warmers
Fragrance pots
Potpourri pots
Posters
Pictures
LED-based light strings
Not allowed
Duct tape
Double-sided foam or scotch tape
Cellophane tape
Nails
Screws
Tacks
Hooks
Pins
Carpet tape
Painting room
Contact paper
Foam-back or rubber-back carpet
Halogen lamps
Lava lamps
Neon signs
Sun lamp
Anything that would attach to the ceiling
Live Christmas tree
Outdoor designed Christmas tree lights
Decorations that cause a fire hazard
Multi-head extension cords designed to increase the number of outlets
Candles with wicks
Incense
Homemade loft kits or any other not furnished by DSU
Bed unit and mattress unless approved in advance by residence life personnel
Each resident
Extra-long twin sheets
Towel (Bath, hand, washcloth)
Laundry basket
Detergent and fabric softener for HE machines
Clothes hangers
Trash bags
Toiletries
Flip-flops and/or shower shoes
Shower caddy
Allowed appliances in room

Mini-fridge (cannot exceed 4.6 cubic feet)
Iron and tabletop ironing board
Television
Mini projector
Fans, counter or floor-based
Keurig machines (no open heating element)

Allowed appliances that MAY ONLY BE USED IN THE KITCHEN AREAS (must have thermostats and auto-shutoff and no open coils)

Coffee maker 
Crock pot 
Electric skillet/fry pan
Electric grill (i.e. George Foreman)
Waffle/pancake making device
Popcorn popper
Desk lamp
Scentsy candle warmer (or other non-open heating element candle warmers)
Computer/laptop
UL approved power strips
Free standing furnishing (i.e. entertainment centers, shelving)
Cooking utensils, cookware, dishes
Umbrella, raincoat, boots
Flashlight and batteries
First aid kit/medicine
Over the counter medications (Tylenol, Benadryl, throat lozenges, cough syrup, etc.)
Prescriptions
Hand sanitizer
Face Coverings
Please note that items hung on walls must be done so they can be removed without damage to the walls or paint.
For Each Room
Below are suggested items for you and your roommate to share. We encourage you to reach out to your roommate and coordinate details before arriving on campus:
Microwave (cannot exceed 750 watts)
Carpet or area rug
Mini-fridge (not to exceed 4.6 cubic feet)
Television